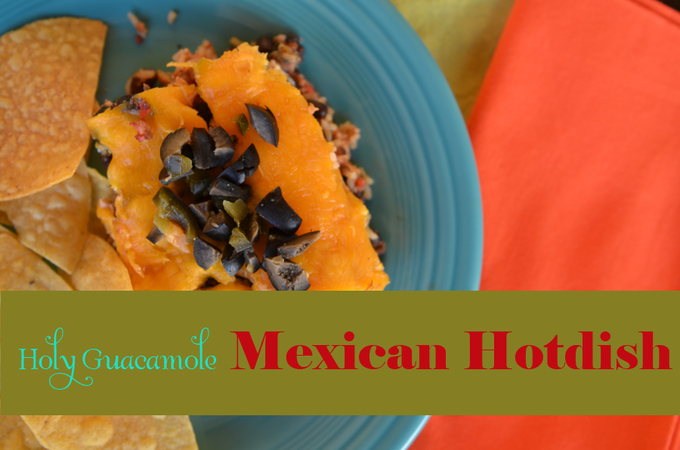 You can thank Stevie for this taco casserole recipe because here's exactly what he said at dinner.
Stevie:  "Is there a recipe for this?"
Me: "No, I improvised because I'm so desperate to go to the store and had to use what I had on hand."
Stevie: "I want you to go write it down right now because a month from now I want to be able to say 'Let's have Mexican Hotdish' and have this dish magically appear."
(he suffers from too many good dishes being forgotten because SOMEbody doesn't use recipes)
Me: "Do I have to name it Mexican Hotdish?"
Stevie: "Ummm, that's what it is."
Me: "Ummmm, only if you're from Minnesota."
But really, the name 'Mexican Hotdish' makes me wanna salsa dance so I'm keeping it.   There's far too little salsa dancing in the world as it is.  And the 'guacamole' portion of the name, you'll be getting later in the week.  We ate the guacamole so fast that no pictures were taken.  It's that good.
As for the hotdish, here's what you'll need:
1 1/2-2 pounds of ground beef
large onion, chopped
1 package of taco seasoning
2 T. ground cumin
4 cloves of garlic minced
1 can black beans, drained
1 cup of cooked rice
1 15 oz can of fire roasted tomatoes
salt and pepper to taste (I always salt as I go)
1 jar of good salsa ( I used some homemade salsa canned from last year but use whatever you have)
3 cups of crushed tor-tilla chips
1 16 oz container of sour cream
4 chopped scallions
2 cups of cheddar cheese
1 can black olives, drained and chopped for garnish
4 T. chopped jalapeños (I didn't use fresh but you could) for garnish
Serve with chips and your favorite guacamole!
Brown beef and then add onion and garlic.  Saute until onions are translucent.  Add tomatoes, salsa, black beans, seasonings and rice.   Crush the chips and layer them in the bottom of a 9×13 casserole dish.  Add the beef mixture and then layer the sour cream and green onions.  Cover with cheddar cheese and bake at 350 for 20-30 minutes or until cheese is melted.   Garnish with olives and jalapeños.
Serve with chips and your favorite guacamole and please your finicky kids and your foodie husband at the same time!
********************************************
And you DO NOT want to miss Angela's nursery make-over at lifeingrace girls!  It's almost as beautiful as Angela herself, whose blog is chocked full of fun and beautiful things!