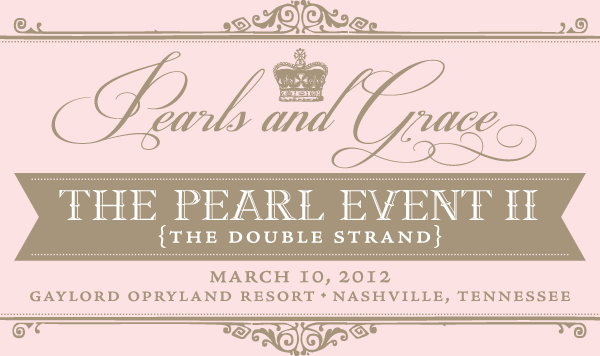 I can hardly wait for March 10th to get here!  I'm giddy with excitement and shaking in my boots all at the same time.  Only 41 days left…….
In case you missed it, Sibi is hosting her 2nd annual Pearl Event, where women encourage each other with their stories of suffering and trial and joy and how God is using those life events to bring glory to Himself.
I will be among 4 other speakers/sharers, along with Paige, Sarah, Jane and Sibi. We are all so blessed and excited to be a part and we want to meet you there!
I wanted to let you know that there are 75-ish tickets left and 7 rooms left at the special rate.
It looks like this baby's gonna sell out and I really hope some of you–the best internet friends in the world—can make it.
We will have a meet and greet on Friday night March 9th at Opryland Hotel, more details to follow.
We are also hoping to still get a few sponsors so if you'd like to help us in any way with donations or providing lunch or providing anything to give away, we'd love to hear from you.
It's going to be a day of awesomeness and I don't want you to hem haw around and miss it.   I'm a hem hawer from way back so I know your type.
Just do it.  Today. Sign up for $25 and meet me in Nashville!!!
You won't regret it.   And if you aren't completely satisfied with your day of awesomeness, I'll serenade you with my best Tammy Wynette impersonation.
It's a win-win.  I know the words by heart.
xoxo,
edie
p.s. Visit the Pearl Event Facebook page here!
p.p.s.  Thank you for all your beautiful emails about the post that was moved but not deleted.  Y'all make a grown woman cry.   You are dear, dear friends 🙂