This post is part of series called "31 Days to Rebuild Your House and Heart" and I'm writing it to chronicle our rebuilding process after we lost everything in a house fire last December. You can start here and read the whole series. Thanks for visiting!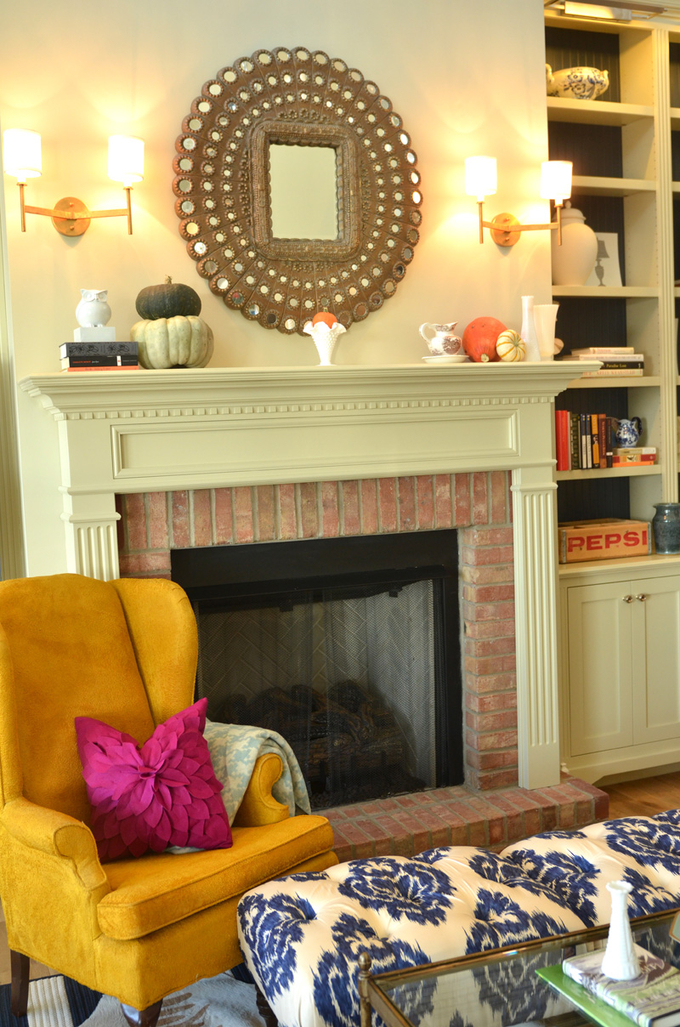 Next week, we'll delve into the details of plumbing, electrical, exterior, flooring, lighting, cabinets, countertops, etc.
But if there's one thing I learned in this process, it's to begin with the end in mind.
Think hard and long about how you want your house to serve you and others.
Where do you want to gather?  How much seating do you need?
Where will you place the lighting?  Will there be a fireplace?  What kind?  Where?
All these things must be decided up front and before you even have a clear vision yourself of how your house will *live*.
Collect plenty of inspiration.  More than you think you need.  Be willing to be flexible.
But cling tightly to the things that you really want—like a tall mantel with sconces and bookshelf built-ins with bookshelf lights.
Look close because I'm a little like the Nester and you may never see this exact arrangement again.
***********
The yellow thrift store chair cleaned up nicely and I may procrastinate having it recovered.
I kinda like it in its 1970's goodness.   The terry cloth could come in handy if you came in wet from the lake?!  Right next to the Horchow ikat benches too.
It's perfectly outrageous 🙂