1.
I told you about our church's plan to read the New Testament this summer.
Would you think less of me if I told you  we're woefully behind?
Why is it that it can be so hard (especially in the summer) to squeeze in time for the most powerful words on  earth?
These words of His aren't just any words—they are sharp and powerful and lifechanging.
The Word is so important that it even became flesh and 'dwelt among us'.
Christ Himself.
So, in desperation to find a doable way to catch up,  I searched for a free audio version of the scriptures that we could listen to in the car.
I found the ESV podcast version on my iphone  called 'Faith Comes By Hearing' and it is WONDERFUL.
It reads like a story, using different voices and some sound effects.
We all love it and we just may catch back up this week.
2. I read THE most fascinating article by Susan Wise Bauer this week, refuting some of the arguments made by Neil Postman on image-centered culture.
I love Neil Postman and find so much truth in what he says about culture and media.   I've never heard anything quite like Susan's rebuttal.
It reconfirms in my mind what a brilliant thinker she is and how blessed we've been by her homeschooling curriculum.    The article has four parts and is lengthy but
is so well worth the read.
3. I made paella and sangria for Father's Day.    Both these recipes are fantastic.    They will most definitely go into the regular rotation.
You should give them a try.    Your people will love you.
4.
The girls have been in VBS this week so I've been running around in Knoxville looking at countertops and wood and tile and appliances and outdoor furniture.
Here's what I've purchased so far::  two remnants of absolute black granite (60 x 20 and 48 x 24) for $565, which includes installation,   a floor model 48 inch subzero
refrigerator for $3000 less than the builder's price,   a Lloyd Flanders Nantucket wicker sofa at a steal and I'm waiting for a quote right now on the most gorgeous piece of Calcutta Gold
marble that I have EVER seen in my ENTIRE life.   It's a beauty.
Today, I plan to pick the tile for my shower and bathroom floor.   I'm probably using octagon and dot (all white) for the floor and white subway tile for the shower.
I also have purchased almost all my lighting online and I think I'll have to dedicate a whole post just to lighting.
Here's the sofa 🙂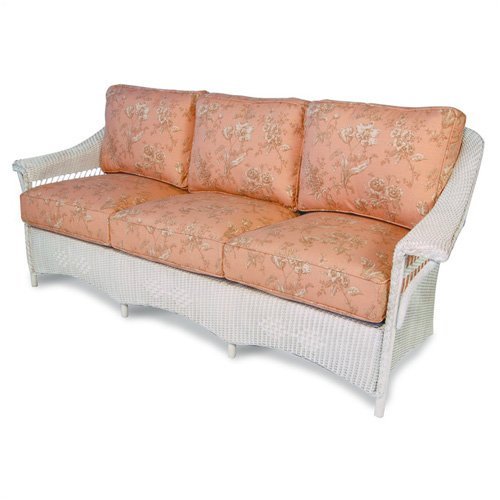 5. This is my inspiration picture for my screen porch.   This blue ceiling is very southern and is called 'haint' blue.
It's supposed to ward off evil spirits and make for happy healthy porch sitting.
I've got my blue narrowed down to 2 or 3 colors.  Any thoughts or suggestions?
(I know it really doesn't ward off evil spirits but I also love good southern  folklore)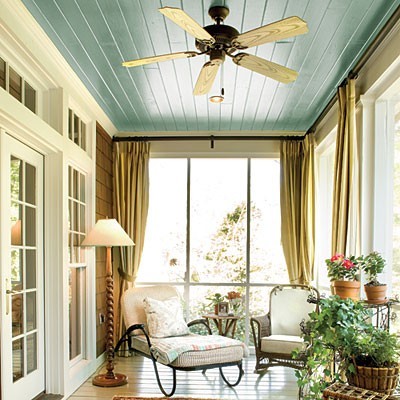 And this is my inspiration picture for my upstairs landing/catwalk.
I'm not a huge fan of railings but this one makes me so happy.  My builder showed it to our trim guys and they think they can do it!!    Yee-haw!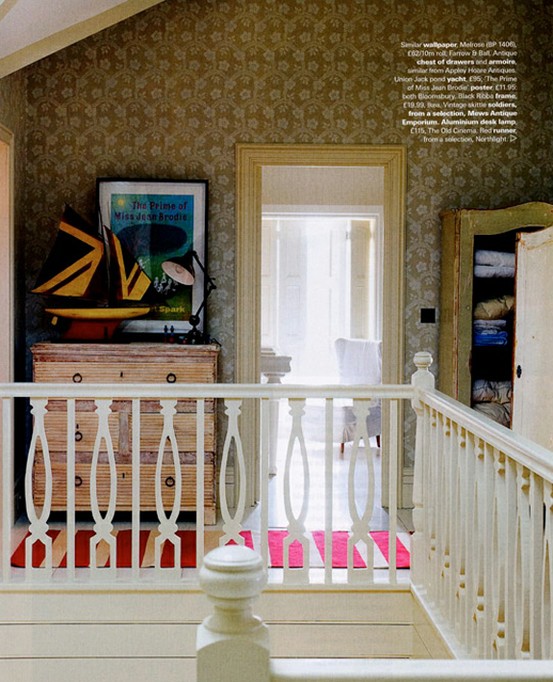 This is my hardwood floor inspiration picture.   Wide plank, worn looking, deep rich color.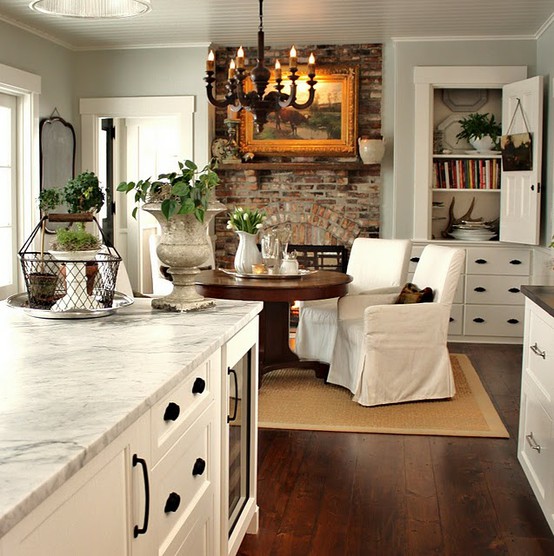 6.  
I've listened to some really good podcasts lately that you might enjoy:
Christ in the Old Testament–The Flood—-this could be one of the most fascinating podcasts I've ever heard!
The First Pentecost, simply amazing!
7.   
A big hug and kiss and a heartfelt thank you to the top ten referrers to this blog.   I love you and admire you all!
Darby at Fly Through Our Window
Melanie from My Sweet Savannah
Shannan from Flower Patch Farm Girl
Lindsey from the Pleated Poppy
oh and I couldn't stop at ten when one of my favorite bloggers is next
Emily from Chatting at the Sky
Thank you all!   You inspire me and teach me and make me think.   LOVE from me to you!!!
8.
My current favorite Mumford and Sons song.