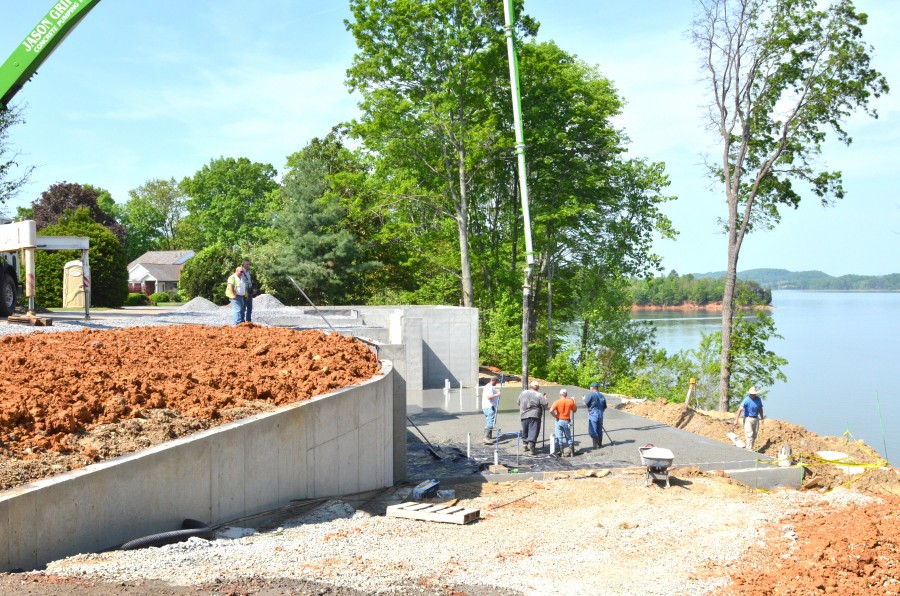 The foundation was poured this week.  Such exciting times!  We added our scrawl to the semi-wet stuff, profound things like 'Emme was here'.   I was trying to think of  the perfect scripture but I guess that'll have to be written on the wood after the framing is done.     I managed an E.W. +  S.W.  surrounded in a heart.     If you look closely at the bottom pic, you'll see floor trusses!  Framing starts tomorrow.   I have half a mind to move school out to the job site and let the carpenters teach my girls math while I dream of cooking dinner by the lake again.   Tomorrow I have an appointment to pick out tubs and fixtures.  I'm planning to do a clawfoot tub in our bathroom and then just cheapies everywhere else.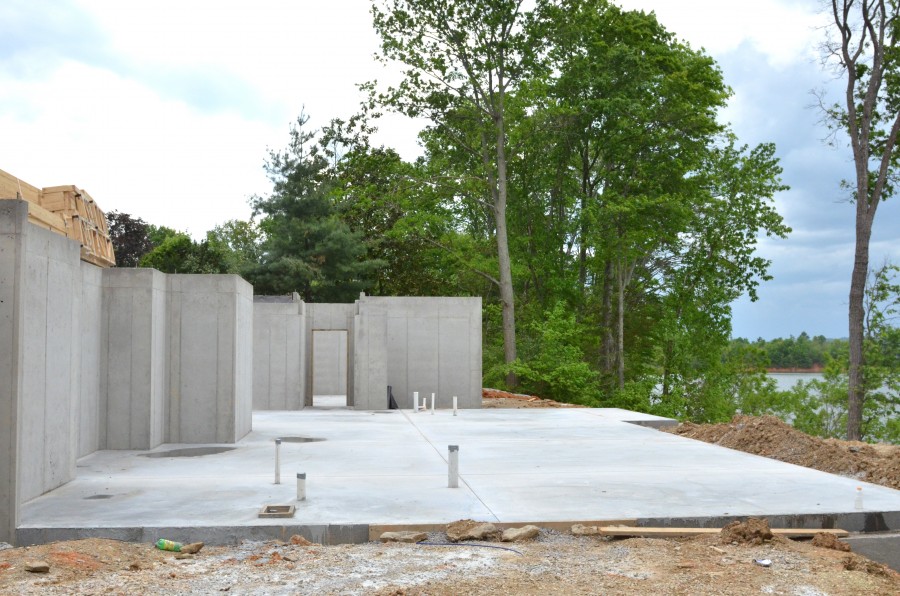 As far as the kitchen floor plan goes, we've decided to leave it as is except for the addition of a pocket door from the living room into the pantry.    We carefully weighed all our options and finally decided to have a fancy butcher block  custom made that will span the area between the left side of the stove and the 18 inch counter top and will be on casters.    It will have a marble top and be snazzy as can be.  It will be about 3 feet wide (to span the area needed)  but only 2 feet deep so that it can be moved into the workroom when not in use—which given my kitchen habits, could be never.    I went with structure over function here and hope I don't regret it.  In case you need to refresh your memory, here's the kitchen floor plan again.  Thank you for all your suggestions—I read and considered them all.   I'm also working with a 'new-to-me' online designer to help me with the girls' room.  I've never worked with anyone before and I'm using their room as a testing ground.   It's been SO much fun so far.  I email her with links and photos and random phrases forty eleven times a day.   And she hasn't fired me yet.  I can't wait to show you what we've been working on.    She appreciates my quirky ways and understands my immortal fear of things being too matchy.   You're gonna love her.
In case you didn't notice, I've blogged 3 days in a row.   My computer may indeed implode.
I'm adding things daily to my tumblr site, which is where I store online inspiration photos and links.
Happy Thursday!
xo,
edie