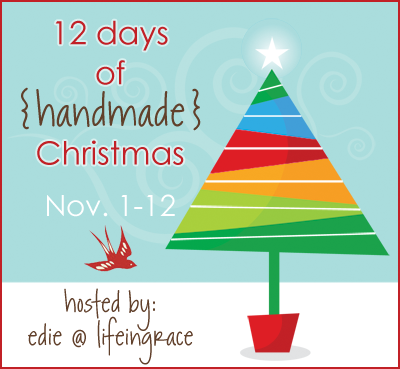 Welcome my new friend Crystal from the blog Little Bit Funky!  Crystal has a fun blog and a great Etsy shop, also called Little Bit Funky,   full of goodies.   Go visit and shop for some of those Christmas gifts before the madness sets in.  And it will set in.  Take it away dear!
I am a mom to two, wife to my one and only and a daughter of Christ. I love to sew and create and blog and share. I am real and honest and genuinely care. And apparently I can rhyme, too. 🙂 I love to laugh and think I'm pretty funny. I have an addiction to fabric, ribbon and pretty things that I have no intention of getting help for. I'm thankful to be living a downright dreamy life after all I have lived through. God is good. All the time. Love the messy. Love the beautiful.
Thanks for letting me participate!
🙂 Crystal
Who doesn't love a nice zippered bag? Once you get the hang of making them…they are as easy as one, two, three.  Just get over your fear of zippers…okay?
You can click on any of the photos to make them bigger…
Here is what you will need:
2 pieces of outer fabric (OF) (9 by 6 1/2in)
2 pieces of liner fabric (LF) (9 by 6 1/2in)
iron on fabric stabilizer cut to a slightly smaller size than your
fabric(I got it at Joann's)
a zipper–this one is 7in
Iron your backing onto the fabric that is going to be the OUTside of your bag.
Ok…you are going to line up the first items to be sewn.
Lay your OF face up.
Lay your zipper centered on the OF and face down.
Lay your LF face down on top of that. (I have this folded back in the photo to show you)
Another view to show you…
Line up the top edges as shown and pin.
Sew along the edge…if you have a zipper foot for your machine…Learn how to use it today.  It really does help.  If you don't have one…you will have to sew along the side…butting your sewing foot up against the zipper edge…when you get to the pull part of the zipper…with your needle IN the fabric…lift the foot…and wiggle the pull past the needle…then lower the foot and continue on. 🙂 Otherwise you will wonky up your sewing line.
But seriously…if you have a zipper foot that you have never used.  Get to it.  Ok?
When you fold back the OF and the LF this is what it will look like.  You can iron it flat if you want to.
Here is the back.
Then you are going to sew the folds down…use the zipper as your guide.
Now I am going to pretty up the other side of the bag before I sew it to the zipper (you can skip this step and still get a pretty bag)…I'm going to add a ruffle to this one…I like a raw edge so I just cut a piece of fabric yay long and wide.  What ever makes you happy…the longer the piece of fabric…the more ruffle…the more happy your bag will be.  That's a true statement.
I just centered the ruffle in the middle…and "free ruffled" along the edges as I sewed…tucking in here and there…
Then sew down the opposite side…And we are ready to move on…
Now we're going to make our next little layering…the SAME as before only now the other side of the zipper will have fabric on it…and make sure OF faces OF and LF faces LF.  Ok? Pin. 🙂 Then sew it just like you did the other side…then unfold and sew it down…just like before.
Here is what we have so far…you see how the ends don't quite line up…you can trim them a bit to line them up again…and be sure to un-zip your bag half way.  Don't forget that…ok?
Flip the fabric over and make OF face OF and LF face LF…see photo.
When folding…you are going to want to fold the zipper into a V shape…with the point of the V pointing towards the LF…
Starting about three inches or so from the edge of the bottom of the LF…sew around all sides…leaving a 4in opening on the bottom of the LF…trim corners…
Turn the bag right side out…sew shut the opening in the lining…and tuck into the bag.
Almost done…
I like to use a coordinating color embroidery floss to reinforce the edges of the zipper…using a simple wrap around stitch (whip stitch?).  I actually have another tutorial showing you a different way to do a zipper…coming soon.
Done and done.  You can do this.  I'll answer questions as best I can in the comment section.
Once you get comfortable making them you can dress them up all sorts of ways…have fun and be creative.  Make away friends.  Fill a shop with them…make them for your friends and family…whatever floats your boat. 🙂
Happy making!
And for a little smaller project, here's how to make a tissue cozy:
1. Start with four rectangles of fabric of your choice, each measuring 5 1/4in by 4in.

2. Lay two of the pieces together, wrong sides together, putting the piece that you want facing OUT (this will be the bottom piece of the cozy) on top.