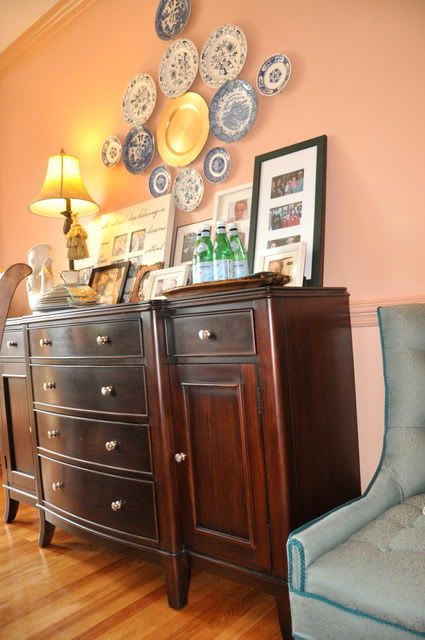 This room was inspired by a photo from Cottage Living which you can see here, and by my love for all things vintage. And the more I live with it, the more I love it. My favorite seat in the room is this comfy chair that I bought at a thrift store for $2 and then had recovered with this wonderful vintage-y blue fabric. Grandmotherly meets hip in this chair. Julia meets Julie.
And today Elea and I meet for a little game of 'Miss Merry Mac'. I show you this to demonstrate the very flesh-y color of this paint. In this post, I go into pathetic detail about the colors and forbid you to say mauve or peach, so go there for my highly dramatized story of how The Duchess (wall paint) meets the Cowboy (trim paint).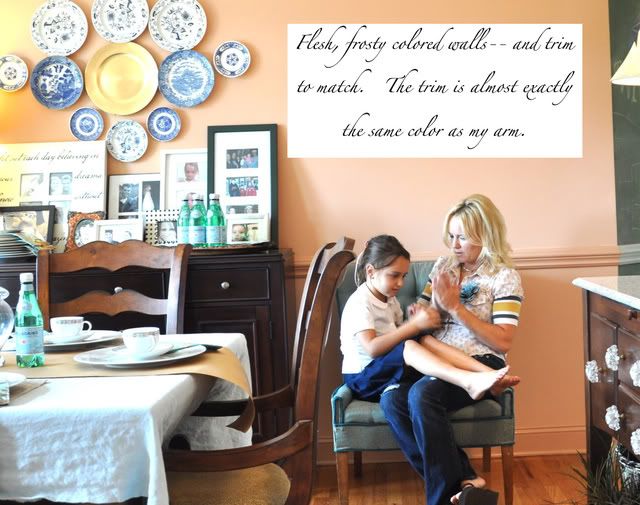 The other side of the room looks like this and from this side, the color appears a little richer.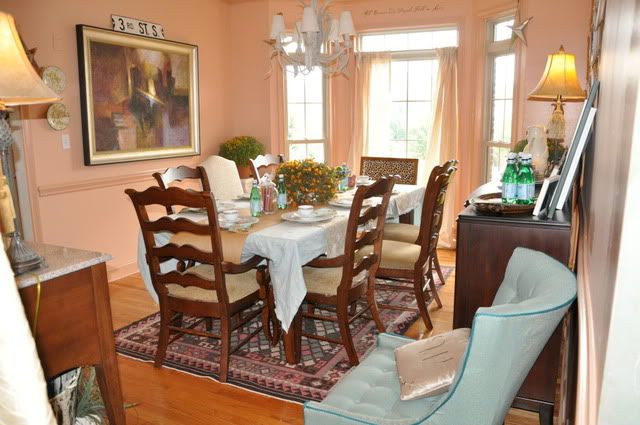 Speaking of truly deepening and adding layers to a paint color, try painting the trim a wee bit darker—but in the same color family–as the wall color. I love the result. It reminds me of an old English study. My favorite 'find' for this room is the 3rd St.S. sign that I bought for a steal at a vintage store in Steve's hometown. It happens to be the street that houses Zion Lutheran Church—where he went to church and school. His Lutheran heritage has changed our lives in dramatic ways which I document
here
and
here
. And the sign adds an urban touch to my old English style dining room.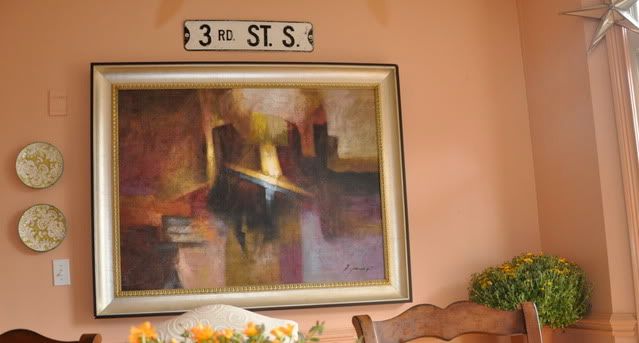 I faced a dilemma with this room due to my beloved 'wall words' above the bay window. I apparently loved wall words before they were cool and I happen to ADORE this one, which is the first one I ever bought—-nearly five years ago. Should I just scrape them off and start over? Should I gingerly remove them and try to salvage them? Since I've tried that and apparently am not a patient/detail oriented person, I decided to paint over them and retrace them with a black magic marker. If you look closely, it appears that I have an essential tremor or at the very least am 85 years old. I do not and am not. I'm gonna blame it on the fact that it was 12a when I was doing it—-that's my story, and I'm stickin' to it.
But only someone 7 feet tall would notice that—so I think I'm safe. And my favorite wall words take on a whole new look against the new paint.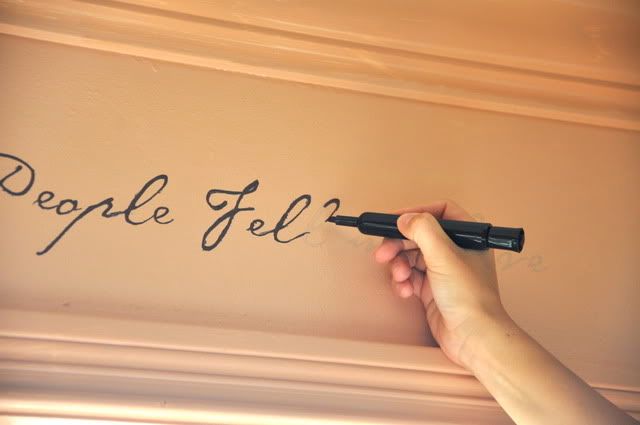 The side panels that flanked the window before looked out of place so I'm on the hunt for a beautiful vintage fabric to complete the look. For now, I left the middle panels and the glass stars. I also moved the animal print chair down from Caiti's room which is officially my 2nd favorite chair in the room.
Next time you have company which involves children, roll some butcher paper over the table cloth and decorate the table with glass containers of colorful crayons and pencils.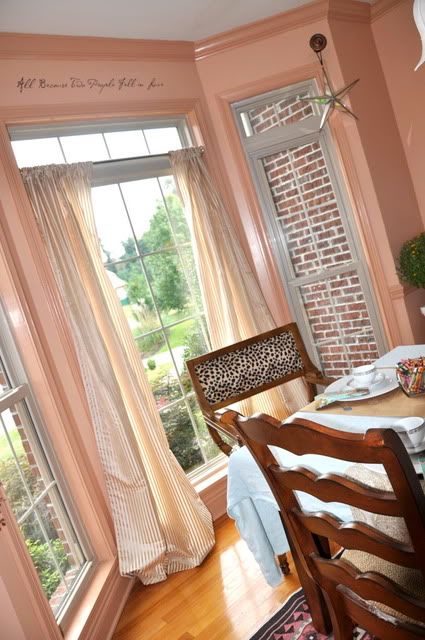 This room has become one of our favorite spots. It's cozy, colorful, inviting, and very different than every other room in the house. Besides window (mis)treatments, the next project in here—-inspired by my creative neighbor Leigh Ann–is to paint the chandelier. We're thinking metallic gold but I'd love your suggestions. And we plan to recover or replace the light fixture covers.
Hope your enjoyed the tour of the newly painted/redecorranged dining room.
Here's the
before
/
after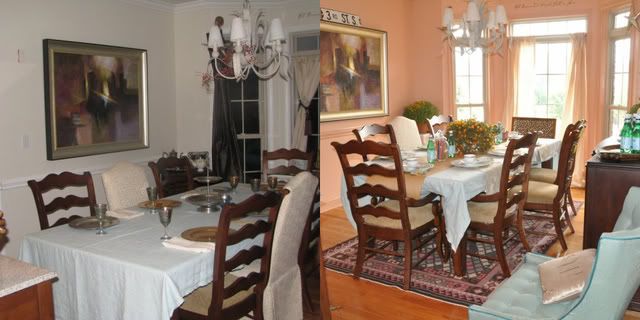 Notes:
1. Wall paint color—Duchess of Windsor Pink–satin— by Ralph Lauren.
2. Trim color—Coronado Dunes by Behr—semigloss.
3. When using such a bold and seductive color, choose a fully contained room, and seriously consider painting the trim a shade or two darker. It made ALL the difference in this room.
4. To make a room look unique (where you collected pieces over time) and not too
decorated
, try not to be too matchy-matchy. I love that the plate wall is a little bit different shade of blue than the chair and also different than the blue in the rug.
5. Add pieces of whimsy and natural items to keep the room from feeling too 'stuffy' or formal. I like the road sign and the mums and rosemary. The mums can't stay forever so I may look into little fig trees to go in that spot.
I'm joining Kimba's DIY day so click
here
for lots of creative ideas.