I received a comment on a post recently that said, "Your life looks almost perfect". And I am so grateful that most of the time, it feels almost perfect—-except for when my heart is broken. Like today, when the tears would not stop flowing. And even as I type these words, I get that same tightening in the back of my throat. All summer I keep pretending that they aren't leaving, that something will miraculously change and my precious little status quo will be preserved. But the walls swiftly close in. Time marches on, with no regard for this uneasy pit in my stomach and the nagging ache in my soul.


It dawned on me today…….that maybe that's why I paint with blue these days. Shades of blue to comfort this veil of tears that seems always on the horizon. And this vintage, grandmotherly fabric reminds me that I'm not the first to walk this mother journey. I remember recovering this chair when they were little—I took their pictures while they sat eating breakfast—– on the first day of school—-he was 7, she was 6. They had yet to know true heartache. Today, I recover it and pray. That God will comfort us as we learn to live and love in a different way.


I remember that despite our sin and failure, Christ clothes us in His love and forgiveness—-He covers our frailties. He makes all things new.
They won't sit at my table every night for dinner. My days of feeding them are numbered. And as I hang beautiful blue plates on the wall, I mourn the chairs that will soon sit vacant. I fight against the tides that threaten to wash over me. I splash water on my face again, pull myself together say that they won't be far away. Just farther than ever before. Children are ours but for a time—-to nurture, to love, to shepherd—and then we must give them back.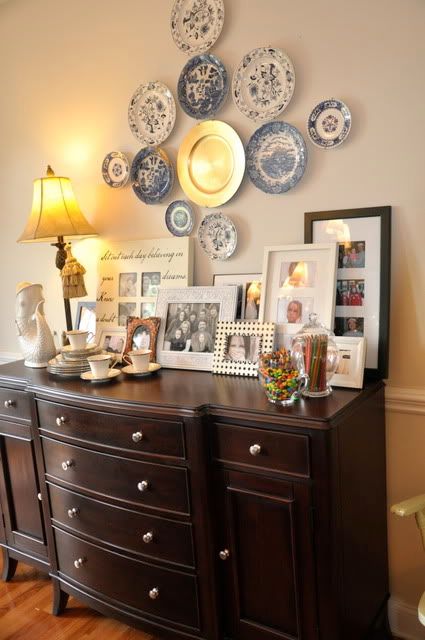 And as I searched in vain for one last plate hanger, I looked at my almost finished wall, and thought, it's perfect for now. It's just like me. Somethings' not quite right.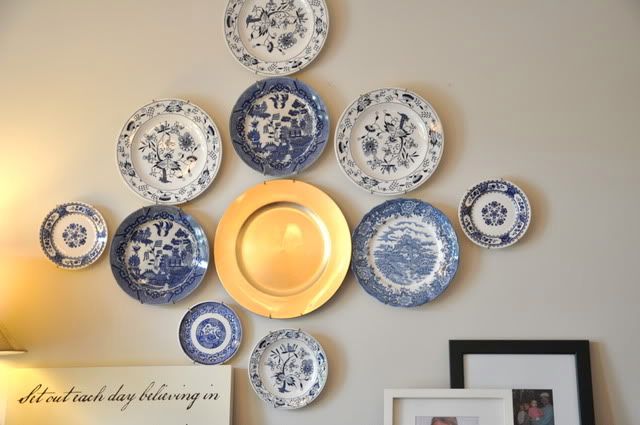 Sometimes as hard as we try, there are no answers. Only tears. And one incredible Savior who has gone before us, given us meaning in our suffering and hope in our despair. He says