A few things I learned during my comment-fast:
1. As soon as I typed the words "I'm closing my comments during Lent", I instantly regretted it and wondered if I'd be able to hold out for forty days. I knew it would change blogging for me. I knew it would help to clarify the 'medium' of blogging—that it would solidify in my mind the fact that this medium is not neutral. It conveys certain information better than others. It favors short inspirational blurbs and beautiful photographs. There are temptations lurking everywhere but especially those that threaten to steal our time. Time that might be better spent with our 'in-the-flesh' family and friends or reading a great book or serving our neighbor. I developed a healthy 'detachment' during the Lenten season that enabled me to step back and regroup. That said, I still love this community. I still love to write.
2. Who knew that with the closing of comments would come a curious case of writer's block? Apparently your feedback motivates and inspires me to write—and without it, I don't seem to be bringing my A game. So, I'm glad you're back. I've missed your encouragement. Maybe I'll get my 'mojo' back.
3. I have used the 'extra' time I've had productively. Be patient as I readjust and try to hang on to the balance and priorities I nurtured during Lent. Inevitably something suffers when we try to 'do it all'.
4. This 'fast' of sorts helped to set the rhythm for Lent and even if just in a teeny way, was a good exercise in denial of the flesh. The flesh wants to be gratified…..instantly……in every way. And sometimes just the smallest denial is enough to gain momentum against its onslaught. Do I think I became more 'spiritual' because of this. Absolutely not. If anything, I became more keenly aware of how weak and undisciplined I can be. Thanks be to God that He has given salvation to us freely through faith in Christ. When I am weak, He is strong.
In other news, I decided to forego the expensive and generic senior pictures/senior announcements and do it on my own. I did a little photo shoot with Taylor and got some great pics to use for his open house invitations and his announcements……
this one's my favorite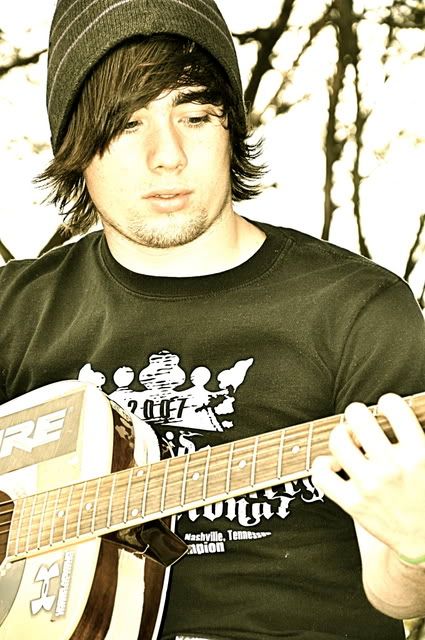 I've also been FRETTING over paint colors for a week. I'm still not exactly sure what I'm choosing…..but when I go to Lowe's at 7 am, I'm sure I'll pick the right cabinet/wall/ceiling colors for my kitchen. By the time you read this, it'll be too late for you to help me but I'll be sure to show you the progress!
One more thing. We are going to the Midwest Homeschooling Convention later this week. I'm so excited to hear Susan Wise Bauer, Jim Weiss, Jay Wile, Mark Hamby and others. Do you have any advice for me? Have you ever been or better yet, are you gonna be there? Are there any other speakers that I must hear?
So now it's your turn. If you've never introduced yourself before, I'd love to hear from you. If you're an 'old friend', then reassure me that I can make it through this week; I'm having some painting done in my kitchen, going to Cincinnati for the homeschooling convention, and my two teenagers are going to prom this Saturday!!!