Y'all have no idea how much fun this Retro Cottage Kitchen has been for me.   First, just the fun of watching it all come together, then the fun of the big reveal and the linky party.  I'm exhausted!  But I want to thank you all from the bottom of my heart for all your kind words and encouragement.  And those of you who joined Mr. Linky, I love all your projects and plan to feature of few of them later today or tomorrow!   
A few thoughts from the Retro Kitchen: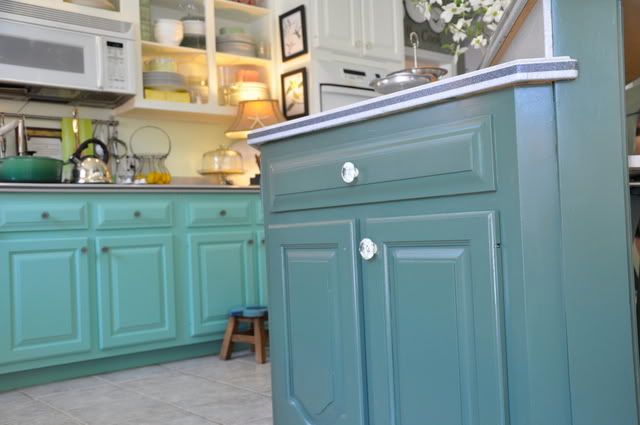 1.  The little girls (7 and 8) have been walking around ON the countertops trying to pick their favorite  cup.  I think Elea has settled on the flower fairy mug and Emme is still undecided.  Picking out a glass  or bowl to use for dinner has become an epic adventure.   
"NO, Mom, I don't want to use that bowl today, I used it yesterday."
Moral of the story:  Open shelving may have its' downside.
2.  I was talking to my sister on the phone yesterday while I looked at pictures of my kitchen on my computer…….while SITTING on the sofa.  I could just walk into the kitchen and see it for myself, I guess, now couldn't I?  But in the picture, there are no dirty dishes, nor are there children with dirty little feet walking all over the countertops, nor is there a 50 pound golden retriever jumping onto the island to try to reach the brownies.  I'll stick with the pictures for a few more days.
4.  I'm still waiting for Hobby Lobby to restock the vintage glass knobs and I have two more cabinet doors to paint and hang.  I thought I'd better confess that in case you decide to pay me a visit.  And consider yourself warned, children will likely be walking on the countertops contemplating which pretty plate to use for lunch!
5.  The most common phrase I've received about my kitchen is, "It's sooo you."   I take that to mean that you can easily envision me wearing and aqua skirt with a cute white ruffly button down, a yellow and orange scarf, and a dark green military jacket…..all as one outfit.   And I'm pretty sure I have an ensemble like that.   My eclectic tastes are pretty easy to spot.  
For all you new friends visiting, I thought you might like
this
post (about my son Taylor leaving), or maybe
this
one (about southern women)….to see if you might become a subscribing friend to lifeingrace.  Thanks for visiting!