1. What is your faith/denomination? 
We belong to the Lutheran Church Missouri Synod—-ie. the conservative 'branch' of the Lutheran church.   My husband grew up Lutheran while I journeyed through fundamentalism and then pop American evangelism before embracing Lutheran doctrine and practice.  I often blog about my journey of faith in Christ.  I recently wrote a post on Lent (new to me as a former Baptist) which you can read
here
.
2.  What type of camera do you use?
Nikon d90.   I love it and really still BARELY know how to use it.  I shoot in auto mode almost exclusively, which I am a wee bit ashamed to admit.  I edit photos on iPhoto but plan to get photoshop soon.   My advice for taking good pictures is:   1.  Take a lot of pictures and a few of them will be great   2.  Take pictures close up.   Even closer.
3.  How is been hard giving up your career?
I have written about this
here.
  But I will say that staying home with my children has been THE most blessed gift my husband could have given me.  I feel honored to do it and eager to learn to do it well.  I've never been more sure of anything—than that this is what I was made to do.
4.  How do you manage to do it all?
I'm so glad you asked because it gives me a great opportunity to say absolutely, unequivocally that I DON'T MANAGE TO DO IT ALL.  Not by a long shot.   My bathrooms are dirty,  I haven't showered in two days,  I have 76 unmatched socks sitting on top of my washing machine.  My husband shakes his head at the outlet covers that I still haven't replace from my kitchen remodel!
5.  Do you have any outside help?

Not unless you count these two 'merry maids'.  
6.  Where did you get your necklace?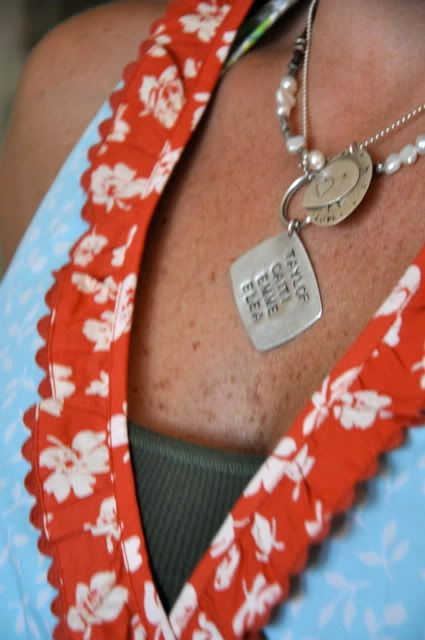 I bought it
here.
 I love her stuff.   And I love buying from mom-artists.