Warning, you may need a mask to enter this post 'cause I'm Hooked on White Spray Paint.
First, let me start this little spring-y goodness with an introduction.  Meet my new pool guy. He is a her.  Her name is Emme, she's eight years old and she is excited about her new job.  Come July…..she will likely have quit or been fired.    But for today,  she vacuums like a champ.


And now through the delirium of the vast amounts of paint fumes I've inhaled, I give you 'spray-painted spring'.   Almost everything you see in the following pictures has been spray painted white.  The check out lady at Lowe's very surely suspects fowl play and may not be party to my antics if I try to purchase another can.   But spring has sprung at my house.   Come on in…..
Eggs, birds, and  nests…..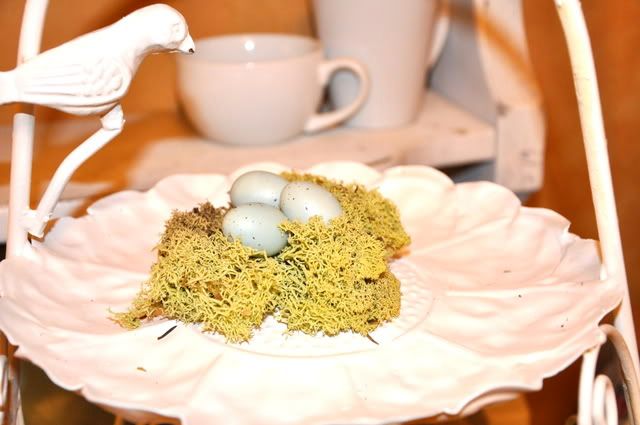 Succulents, moss, and starfish…….
A once-hideous ceramic bird that begged me to take him home from Goodwill and paint him white.  I said yes.  He loves me.  I consider myself a sort of wildlife rescue organization.  If you hear of any other birds in need of help, let me know.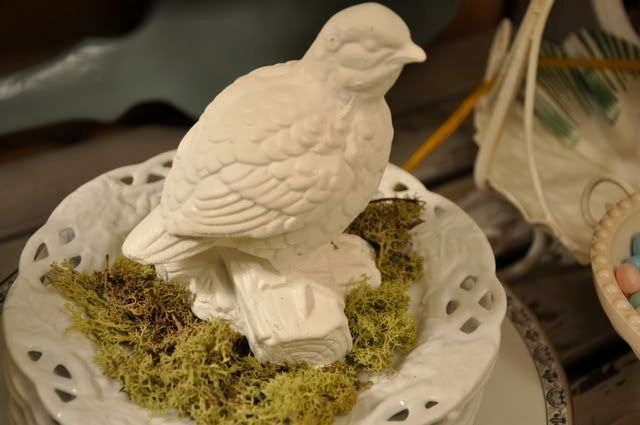 A very distressed garden bench moves inside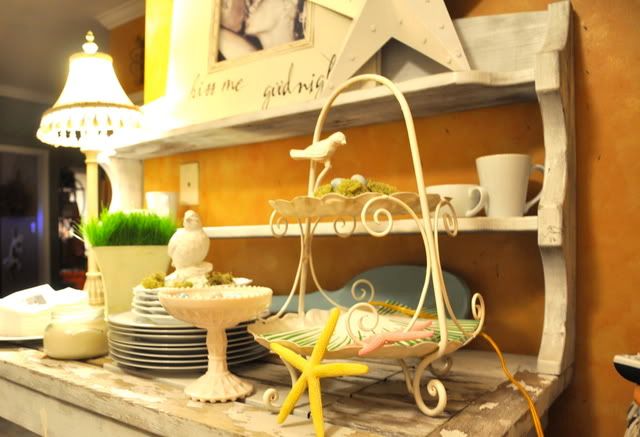 Beautiful silk fabric lightens up the room…..and God Himself decorates most wonderfully on the weeping cherry tree….
And this luscious rye  grass…..was planted about 10 days ago.  You must do this.  It will restore your faith in your ability to grow things.  Or at least your ability to plant things and watch them grow.
More succulents  in white urns……
And a little cheery silky  lightness to the beds…….where we enjoyed our new favorite movie….. Sense and Sensibility.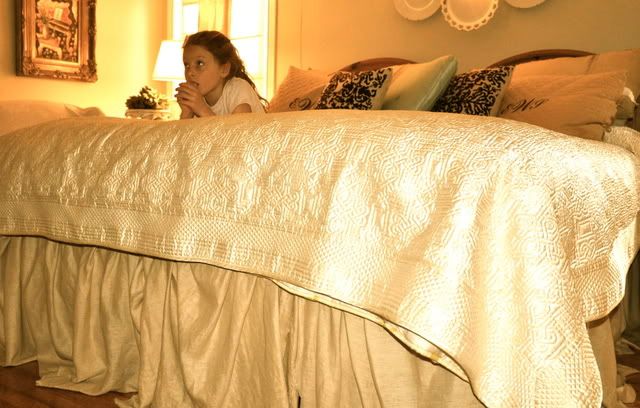 So, here's my advice to you:  look around your house and collect things you think should go to Goodwill.   Then spray paint them white and call it 'spring'.   Rescue some birds 'in distress'. And I would also advise planting some rye grass seeds in various pots so that they will be ready  for Easter.    Or plant the seeds in small glass containers for place settings for Easter dinner.   Plant some succulents inside.   Spray and plant.  Plant and spray.  Spring will thank you.  And so will the birds.  Visit
Rhoda's
site for other spring inspiration.