Beef Enchiladas.
 You must try this recipe.  Your family will crown
you with many crowns.   And rise up and call you blessed.
You can start how you like, but I'm gonna slice a little piece of this homeade
Jalapeno Cheddar Sourdough Bread that I made from
my sourdough starter.  Grab a piece and let's get started.

First, brown about 1 1/2 pounds of ground beef with 1/2 pound of pork sausage.   I start every 'beef' dish this way.  And Stevie says, "You know it's gonna be a good day when you leave for work and beef is browning on the stove".  Yes, you do.


Next, we're gonna make a roux. Making a roux is essential to nearly everything I cook, so don't let me lose you yet. Melt a stick of butter in a large pot, then add 3 drizzles of olive oil. Sorry for the inexactness but that's just how I cook. Then add equal parts flour. So, I'd probably add a little over 1/2 cup since we're using 1/2 c. butter. Cook that for about a minute until the flour starts to brown. You just made a roux.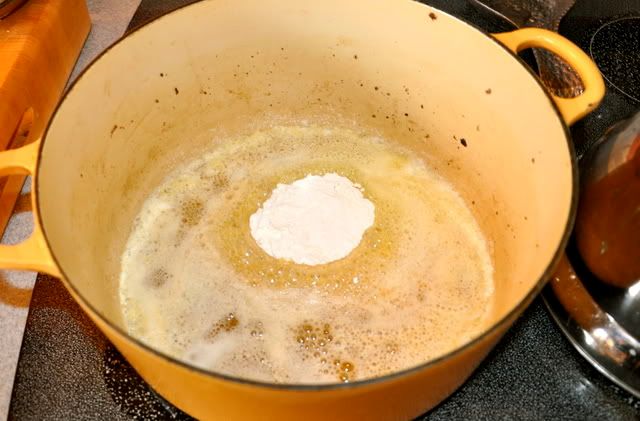 Add to the roux the following items: a few generous shakes of Worchestershire sauce, 2 T. cumin powder, 2 heaping T. of garlic and herb seasoning (I buy mine at Sam's and it's salt free…I use it in EVERYTHING), salt, pepper, 1/2 t. dried red pepper, 1/2c. chicken or beef stock, 2c. milk and stir.  Then add the cheese.  I buy the cheese I've shown below.  It works best for queso dip and for my beef enchilada soup (which is this same recipe with a lot more stock and milk)  and for this.  I buy one block with jalapenos and one without….but if you like a lot of heat, get both with.  I chop the cheese up into blocks and then add it in and let it melt.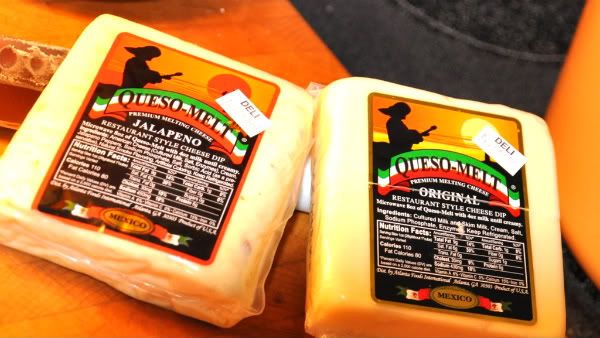 I then add a can of black beans, 1 small bag of frozen corn that I've thawed in the microwave, and a can of drained diced tomatoes.  Drain the black beans too, BTW.  Then finish it with a generous tablespoon or two of honey.  I add honey to everything I make as well.  It balances the flavors nicely.  Now taste it. It may need more salt, cumin, heat (red pepper), garlic.  I always end up adding a little more of this and that at the end.


Then take your flour tortillas generously fill them with the beef mixture. I use regular burrito-size ones and it usually takes 1 1/2 packages of them. I just keep making them until the beef runs out and usually I have enough to share with another family.  I keep those aluminum containers on hand so that if I take food to someone else, they don't have to bother with returning anything.  Then I spoon a little of the mixture on top of the enchiladas and bake at 350 for 20-25 minutes.  Serve with chopped cilantro, jalapenos, sour cream, and salsa.


The dog will sit at your feet and beg…..


The children will come runnin' and invite friends…..(We were glad you joined us for dinner, Morgan)


And if you're feeling overly ambitious and naughty, you can make this Chocolate Chip Pound Cake that I made yesterday. A sure sign you've thrown in the towel on your resolutions. Enjoy!

And I know what you're thinking, it was supposed to be beef stew. Well what if I want to do a video tutorial? Give me some time. And a Food Network kitchen.  And stay tuned this weekend for more on the laundry room. God bless you all for your most encouraging comments. We are all doing much better!  You're the best blogger friends a girl could ask for.
BTW, I do love stretch, but it's take a little longer because I have to resize the photos everytime … and then it's does funky jazz like this…where the pics are sometimes ginormous and sometimes tiny.  Don't say it…..operator error.  I know I know.