Edited to add:  I'm joining Kelly's Show us Your House Party.  Click here to see more decorating and home ideas.  I did this project in January and already want to change it.  I. am. so. fickle. 
We'll get to the laundry room soon, but let me show you a few details that you might miss otherwise……this little cutie was sitting on my washer today.  I can see why.  I just wanna sit in there too.  It's so inspiring.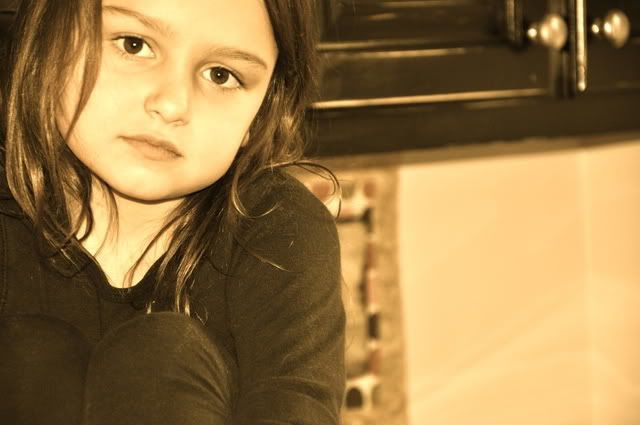 This is my new motto for laundry in 2009. Very original, I know.  Cindy?  Cindy has agreed to be my laundry accountability partner….to keep laundry from loitering in the laundry room.  It's a little like the blind leading the blind, but at least I'll want to sit in there now.  That's a step in the right laundry direction.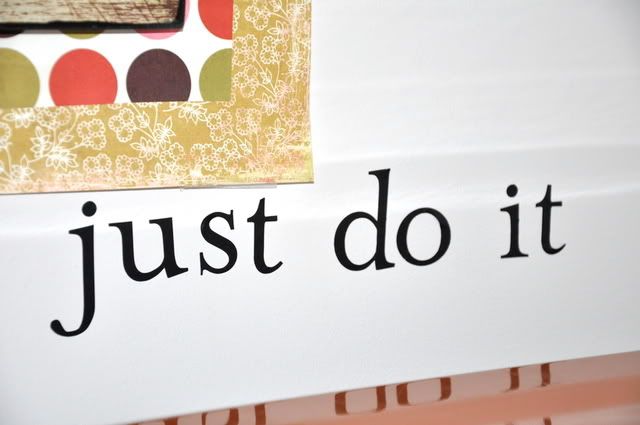 and this little bird and starfish ditty just adds the milk to the oreo……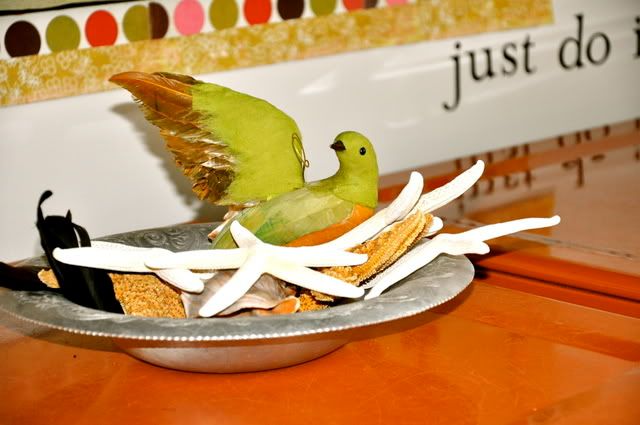 I've been looking for the perfect place to feature this beautiful bird that Denise made me for my birthday.  Perfect. And thank you kindly Denise.


And Emme wanted to make sure you saw her new skirt….that we finished sewing today. Let it be declared: A seamstress I am not.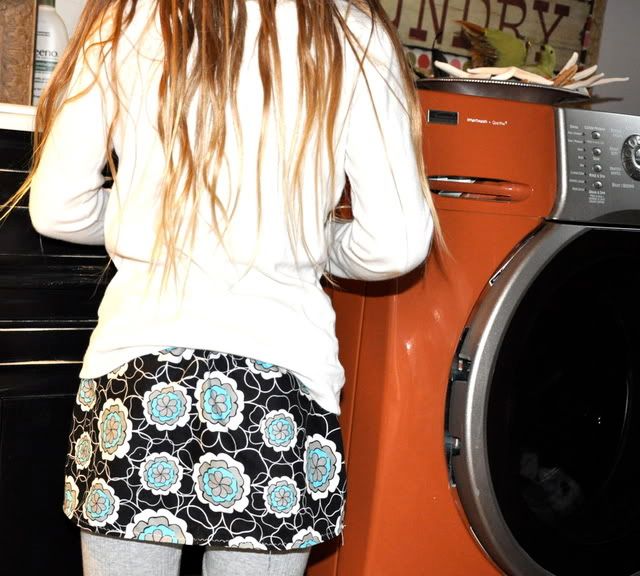 I framed the no.6.  I do not know why.  But I like it.


Elea Grace is pulling on my arm and wants me to remember to show you her skirt too. Cute huh? Albeit a little short.  And hence the leggings.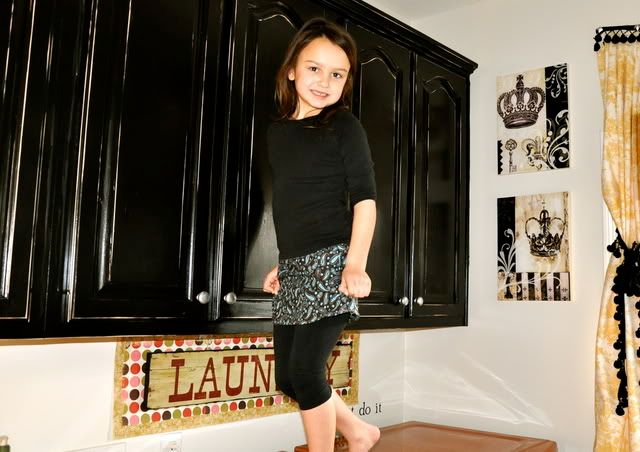 Now I pinky swear that I did not do this on purpose.  But this is the only BEFORE picture I could find.  I'm sorry it's so small….although in how much detail does one really need to see a dishoveled laundry room?
         BEFORE
Now for the how-to……
1. Do not under any circumstance be afraid to paint cabinets.  Just sand 'em.  Then paint 'em. Husbands don't usually like this idea but Stevie can testify to all you rule-following men:  It's cheaper than getting new ones.  A lot cheaper.  Paint away, he says.  I used an electric mouse sander and went over them once with that.  I then used semi-gloss Valspar paint and painted two coats.  I've had that paint for a while so the name and number of the color have since rubbed off.  There's a generous amount of it in my hair if you'd like to take a strand for matching.  Just find a color you like and go with it.  Don't stress.  It's just paint and if you hate it, you can paint over it.  I'm a lover of all things distressed, so after letting the 2nd coat of paint dry well, get out your trusty mouse sander and begin to sand the
edges
of the cabinets.  You'll have to hold the sander in creative positions to avoid sanding the 'body' of the cabinets.  Sanding just the edges–but not every single last edge–is what makes them look 'worn' but not poorly painted.
As for the LAUNDRY sign, I bought the sign at Hobby Lobby.  Normally 19.99 but if you get it at their half price week, even better.  I then made a 'frame' using 2 different kinds of scrapbook paper which I just taped to the wall.  I then hung the sign over that.  I've made similiar signs and decoupaged scrapbook paper onto plywood and then hung the sign over that. But I wasn't sure I if I'd love this paper in the room so this was a less permanent option. I still think I need to find paper that has some robin-egg blue in it…..but I think it turned out pretty good.
 Paint the walls the color 'Foxtrot' (satin finish) from the Valspar collection at Lowe's.  I j'adore this color. I painted my dining room this color 2 years ago (2 days before Thanksgiving) and it is like eating a thick creamy vanilla shake.  It's the most wonderful vanilla ice cream color you've ever seen.  Thick, rich, luscious.  I would swim in a vat of it.  As a matter of fact, I look like I've been swimming in a vat of it.  I am a very messy painter.  And I'm not a patcher.  I don't like spackle (although I've thought of using it on my face occasionally).  So I usually find something to hang over the imperfections.  If your a patcher, by all means, patch away.
Creatively use fabric to dress the windows:
I did actually line this beautiful yellow toile (which I found at an antique store in town for $5.99 a yard:  I used 3 yards for this project) with muslin to make it 'hang' prettier.  I started sewing it together and about half way through, my needle on my machine broke.  This my friends is why I don't sew very much.  I always run into mechanical difficulties.  But no matter, I shall not be derailed.  I hung the treatments by using upholstery nails and pushing the fabric directly into the wall. I just made the pleats as I went along.
I then took this pom-pom trim (from Hobby Lobby) and used the same upholstery nails to add it to the top and cover up my unfinished fabric.  I  took the rest of the trim and tied it around the fabric about 1/3 of the way down from the top.  I added a tassle to consummate the love fest between the fabric and pom-pom trim.  Notice that I hung the mistreatment about 10 inches above the top of the window to lengthen the look.  The Nester will have to look on and be proud.  And although I've been mistreating windows for years, I feel like she gave us all needed permission to do it with pride. So thank you dear
Nester.
I spent about $90 redoing this room and $15 of it was on this pom-pom trim.  But it adds so much and gives the room a finished look. (Never mind that just to the right of the window, I still have painting to do. Never mind that)  I bought those 'king and queen' canvas paintings at Hobby Lobby on clearance for $4.  And that cute little tassel for $2.
So, without further adieu, I present to you my laundry room (that reminds me of an Oreo cookie)…..which sadly I cannot fit into one picture.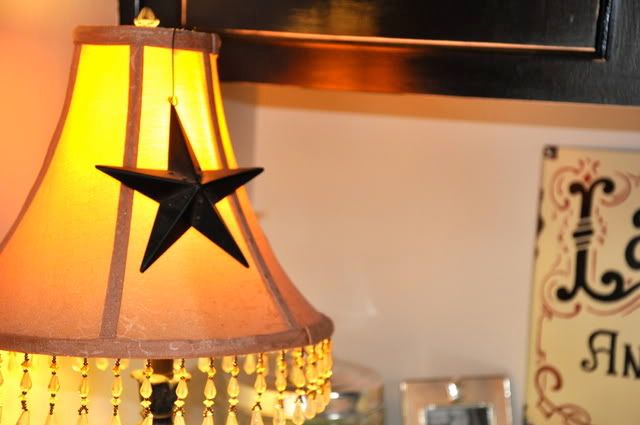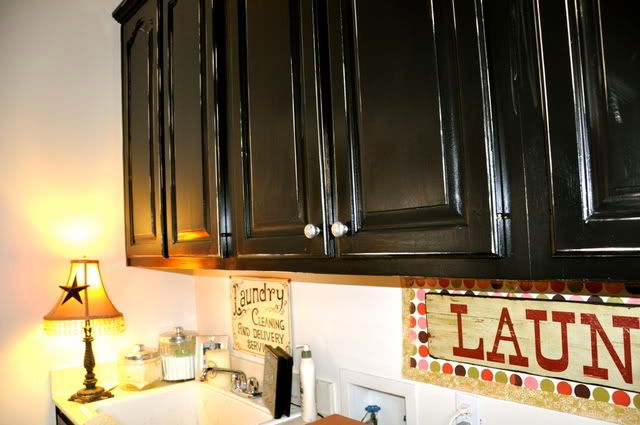 Before you even say it, here's a few things you should know.
1. You don't
even
want to know what's behind those beautiful black distressed cabinets.
2. The other side of the room is undone–unpainted, unorganized, undecorated.
3. This project is a trial-run for my kitchen redo….which will be coming in February—I hope. I'm busy picking paint colors and praying to win the lottery.
4.  My blog makes me look more creative and more productive than I am.  I spent 3 hours Saturday evening in a semi-comatose state on the sofa surfing the net.  That said, I'm able to accomplish what I do because I stay home ALOT.  Being home is the key to making home projects happen. It's not for everyone.  It's just how I function best.
5. I seldom do anything by the book.  I actually bought a curtain rod which I will probably return because I like my make-shift window treatment better.  And our cordless drill  needs a new battery.  
6. Oh and the two missing knobs, they're still drying.  This project is hot off the press.
If you have any further questions, email me at ediewadsworth@hotmail.com
Hugs and love and a blessed day!  
BTW, my wonderfully creative and kind friend
Patty
has a new blog!  You're gonna love her.