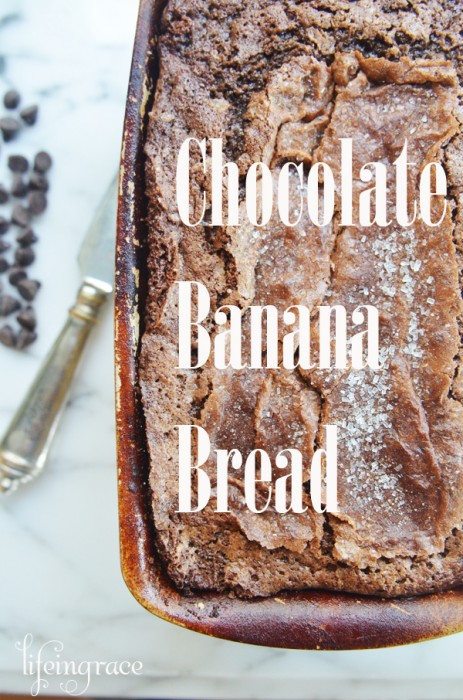 So, here's the thing.  I've been messing around with this recipe for a couple weeks.  I think it's pretty perfect now.  It's a very moist cake bread (who am I kidding?) and tis best to let it cool before you cut it or it'll be, shall we say…… gooey.  But, once it's cooled, then I like to slice it, put a little butter on it and then warm it up for about 8 seconds in the microwave.  Not a second longer.  I know, the irony of it all. After you verify the deliciousness, you can deliver the 2nd cake bread to someone you love.  The end.
What you need:
2 sticks of softened butter
3 eggs
2 cups sugar
3-4 mashed ripe bananas
2 cups all purpose flour
1 cup cocoa
1 t. salt
1/2 t. baking soda
1 t. baking powder
1 t. vanilla extract
3/4 cup buttermilk
1 cup of chocolate chips (I use semi-sweet)
The topping (optional but good!
1/2 t. cinnamon and 1/2 t. cocoa mixed with 1 T. sparkling or sanding sugar
Directions:
Cream butter and sugar until fluffy.  Add eggs and incorporate well.  Add bananas and mix until combined and then add the rest of the ingredients and mix well.  Divide the batter evenly between two loaf pans and then sprinkle the tops of batter with the sugar/cinnamon mixture.   Bake at 350 for 50-60 minutes, until a toothpick comes out clean. Let cool completely!