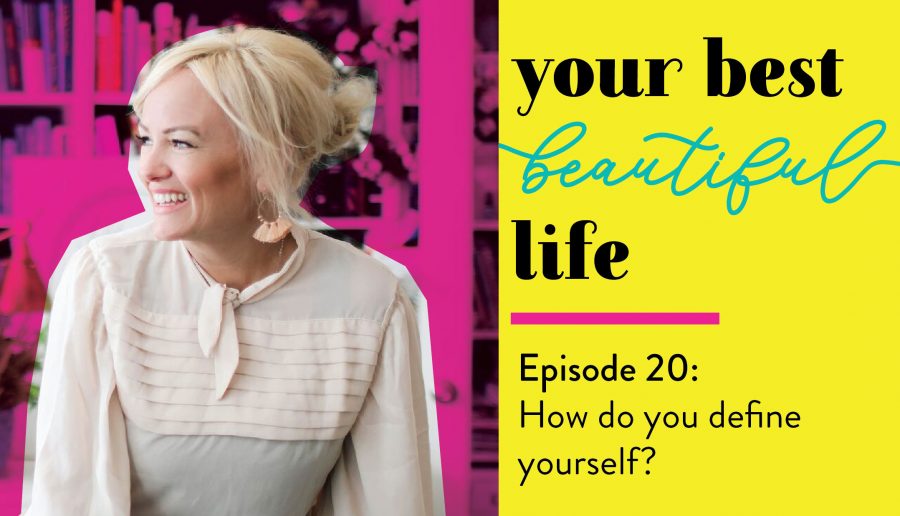 Episode 20 is all about defining who you are and what you are capable of. Are you allowing your past, your circumstances, the other people in your life or something else to define who you are? How do you want to show up? Who do you want to be? Can you begin living from your future self instead of at your past self? Let's talk about it!
Who we think we are is often an accumulation of who we've been. We go to our past to see who we are, so it's like an accumulation of who we've been and what we think other people think we should be. We're going to challenge all of that today.
We love to attach labels to ourselves and sometimes we hide behind that label.
I want to be a better version of myself next year than I am this year, next month than I am this month, next week than I am this week. And if I want to do that, I'm going to have to think better thoughts about who I am. And that's part of the magic of learning to live from your future.
Whatever your thing is that you keep telling yourself, ask yourself, "Is this serving me?"
Where do you want to be in five years or a year or next month, and how can you start generating the thoughts and feelings that you need to generate in order to get there?
This episode of Your Best Beautiful Life is brought to you by one of my favorite things in the world, my Young Living oils and supplements. Especially as women, we know that we're the glue that holds so many things together and we just want to feel better and have more energy and having more control over our moods and feel less stressed and have our hormones not be crazy. I want you to imagine a life where you've plenty of energy, plenty of patience, and all the passion to do the things you're called to do.I lead a group of over 8,000 women and I educate them in a private Facebook group and help them get started on this natural lifestyle.
If that interests you, head over to www.ediewadsworth.com, grab your starter kit and get started with me today. It is so much fun. You're going to enjoy the journey.

Get on the waiting list here for Life Mentoring School
Get Dr. Edie's Book All the Pretty Things Here