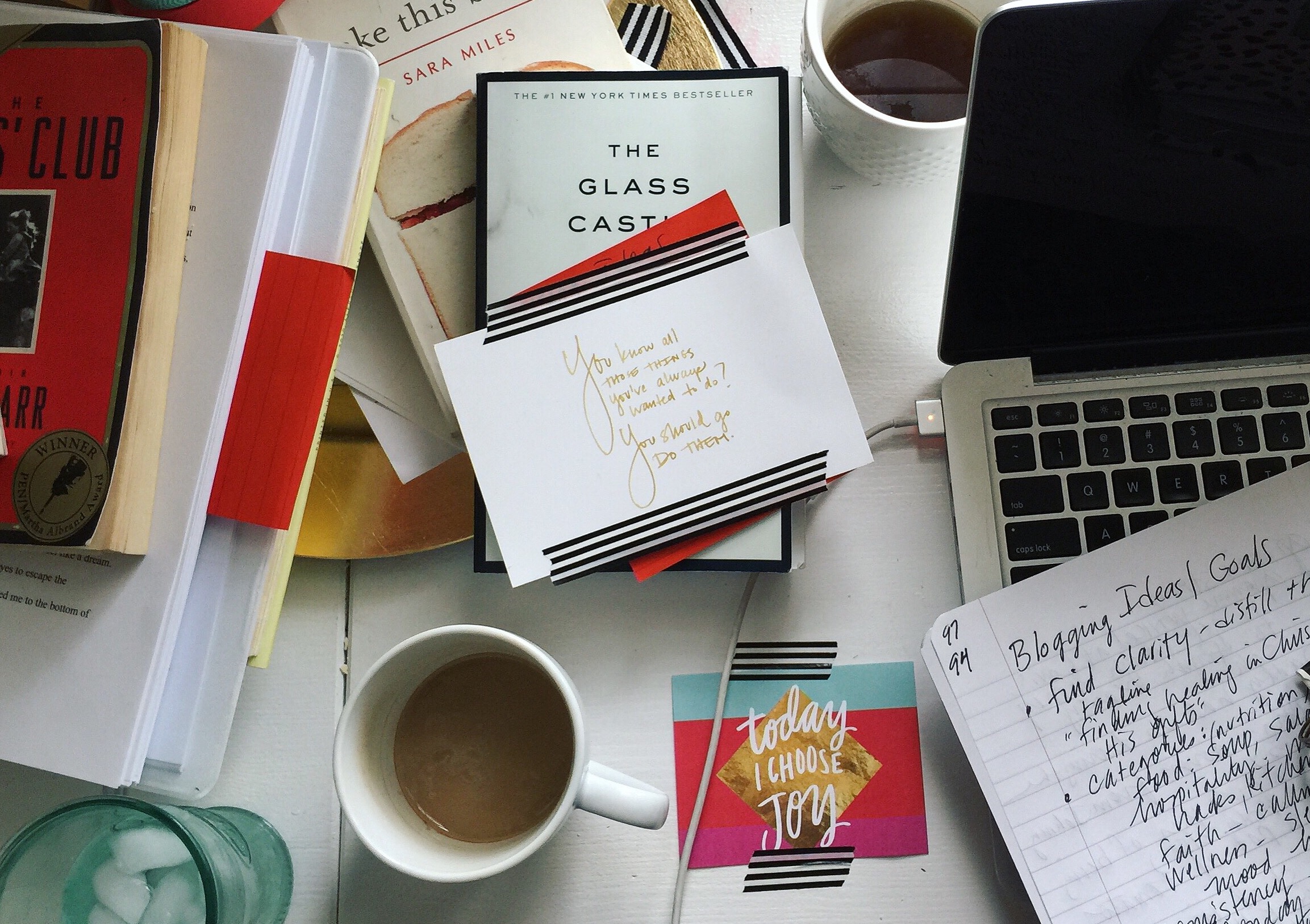 Last year, on the front page of my journal/notebook/scratchpad, I wrote out the first part of Isaiah 61.  That wonderful passage of scripture is always the old testament reading for January 1st on the PrayNow app, which I adore. It's also one of my favorite all time passage of scripture and so with it written on page 1 of my notebook, I read it most days and thought about it and mulled over it and tried to superimpose my life over it.
Jesus was handed the scroll of the Prophet Isaiah at the synagogue in Nazareth when he spoke these astonishing words:
 "The Spirit of the Lord GOD is upon me, because the LORD has anointed me to bring good news to the poor; he has sent me to bind up the brokenhearted, to proclaim liberty to the captives, and the opening of the prison to those who are bound; to proclaim the year of the LORD's favor, and the day of vengeance of our God; to comfort all who mourn;  to grant to those who mourn in Zion— to give them a beautiful headdress instead of ashes, the oil of gladness instead of mourning, the garment of praise instead of a faint spirit; that they may be called oaks of righteousness, the planting of the LORD, that he may be glorified. They shall build up the ancient ruins; they shall raise up the former devastations; they shall repair the ruined cities, the devastations of many generations."
These are the words that Christ spoke about Himself. He is the One who brings good news, and binds up the brokenhearted and opens the prison. He comfort those who mourn. He raises up the ruined cities.  Because of His overwhelming love for us, we live in the year of the Lord's favor, the jubilee year, the year that debts are canceled and slaves are set free.
I want that freedom.  That's why the first few days of the year has always been my very favorite.  A new year, a fresh start, a slew of resolutions, and goals—it's the perfect storm for holing up in my bed for a few hours with warm socks and warm coffee and an oversized sweater and planning for THE BEST YEAR EVER.  That's what I tell myself every. single. time.
This year was different.  My uncle died late New Year's Eve so we spent the first few days of the new year on Brown Mountain, eating ham, soup beans, cornbread and too much mocha cake, sharing stories and stale pots of coffee for too many hours to count.
Our little buddy was with us too.
All that to say, I didn't finish my book yet and I didn't finish writing out all my goals.  I don't even have a word yet for 2016 like all the cool people do.
To top it all off, the combination of crying and laughing in equal parts with equal vigor for the last few days left me puffy eyed and exhausted this morning—the day I was hoping would lead all the others days to goal reaching nirvana.
So, I'm raising my glass (of rewarmed for the third time coffee) to choosing people first over goals and projects and really everything else.  I hope I to cultivate more of that kind of courage in my to do list.
My botched up plan is this:  post Isaiah 61 everywhere I spend my time so that it informs and inspires the rest of my goals.  Sugar detox? Sure, but why?  So that I have more energy to help pry open some prison bars.
Pray on my knees everyday? Yes, but why? So that He will give me new eyes my to see the brokenhearted.
Increase my income? Yes, so that I can bring good news to the poor.
Launch a book? I sure hope so.  Because I pray He uses me to comfort those who have mourned this messy thing we call life.
It'll probably be the end of January before I get all my plans in order but I sure hope that the God of all grace continues to give me a voice to proclaim the year of the Lord's favor.
We are free. Not because of what we can gin up in ourselves on the coat tails of a resolution high, but because He has set us free.
And because of that freedom, we set our sights on them—the precious ones He is putting right in the way of all our tasks and hopes and dreams.  They are not an interruption to our best life ever.
They have been sent to raise up the former devastations of our self obsession.
They are messengers from Him.
I hope we are brave enough to listen.