* A little love from the archives, with new content resuming next week.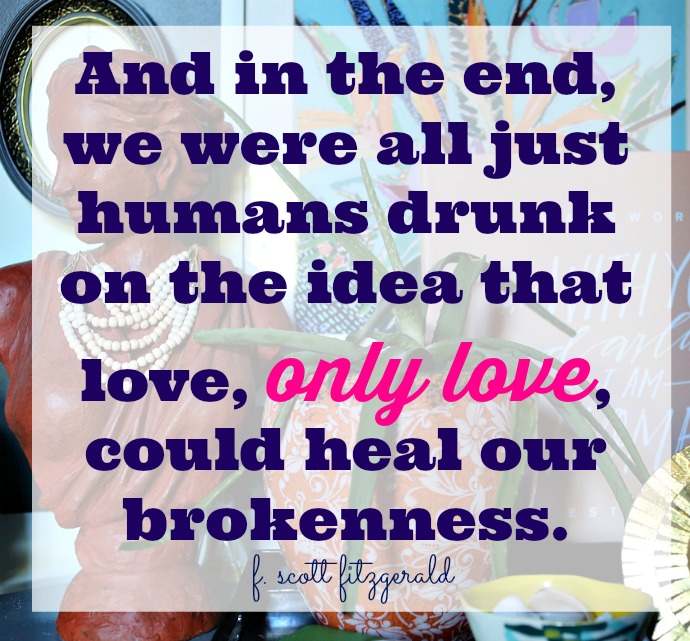 None of us escapes it.  We are a bruised and broken people, in desperate need of a rescue.  We are all plagued with sin, doubt, fear, greed, selfishness, addiction, evil, and most assuredly self-righteousness.  We are harsh and unkind and lacking in mercy.  Or we are weak, undisciplined, and lacking in courage.  But we are all the same. 
Fortunately for us, our Father knows it all.  He is not surprised or angry or aloof.
He doesn't seek revenge but only redemption.
He became one of us to know the depth of our struggle and He is right there in the dirty midst of it all.
He won't leave.  He won't lose His nerve.  He will never give up.
So, when your strength has left you and you can't hold on……
Don't worry.  Love holds. Love never fails.
He, who is deeply acquainted with your grief, will bear the weight of it all, even this,  and will never grow weary.
Trust in your Father, who works every circumstance for the homecoming and healing of His glorious children.
He will not rest until you are remade and restored.
He will persevere until the end, because of Love.
Only Love.
***********************
MY NEWEST BLOG SPONSOR:
This post is generously sponsored by my YL. I am into natural choices for my family, and this is the main way I help boost our immune systems and alleviate lots of minor aches, pains, and injuries.  Read more about how we are using them everyday! My Young Living essential oils are also my newest business venture, and the oils are so well loved that they sponsor my blog!!! Thank you, friends!  Enroll by clicking here.   I also have a new private Lifeingrace & Wellness Facebook group for those of you interested in using the oils to promote a healthier lifestyle for your family.  Just let me know if the comments and I'll get you added.