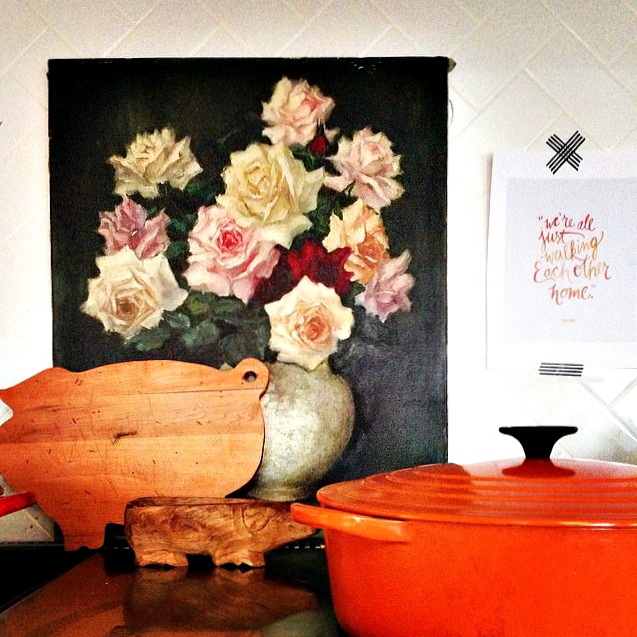 Every memory I have of her house is nearly the same—the morning's bacon fat is hardening in the iron skillet, her handwritten list is on a spiral  steno pad topped with her reading glasses, the breakfast dishes are littering the sink and the smell of supper is already floating from the oven, her Bible is splayed out on the dining room table, its margins full of her heart's murmuring.  I tear up every time I think of her and as much as I've always loved decor, I can't recall any details from her kitchen save those.
What I remember is how I've never felt more cared for in anybody's home.
I was working 70 hours a week as a resident and she often picked my kids up from school until I could pick them up.  I would drag in, exhausted and often tearful, wishing that I had dinner waiting for my family on the stove and sad that life was so busy and overwhelming. She didn't make me feel less than.  She reassured me that my kids knew how much they were loved and she'd read a little scripture to me and then send me home with enough food to feed my family and make me feel like life wouldn't always be this way. That was nearly 18 years ago and it's as clear to me as if it were yesterday.
I've spent the last 18 years trying to be Susan to the people in my life.
She changed everything about everything for me.  She inspired me without condemning me.  She loved me with food and words and childcare and with an indescribable hope that this way of life—this way of love—was possible for me too.
So, if you're in a season where nothing looks like what you planned, hold on to grace.  Hold on to hope.  Thank God for your Susan, who has been Christ's hands and feet to you and then get ready, because your day is coming—your day to make a place where people feel cared for.
And just a little warning, Susan's life is harder than you think because loving people always is.  Making a safe place for another human heart will require that you bear burdens that no one else sees.
I'm so thankful for her love to me, for making a place where I knew I was loved. I will never be able to repay her.
This is the Jesus way of hospitality.  What a blessing to have been the recipient of so sacred a gift.
 ************************
Tell me the story of your Susan.  We all have one!
MY NEWEST BLOG SPONSOR:
This post is generously sponsored by my YL. I am into natural choices for my family, and this is the main way I help boost our immune systems and alleviate lots of minor aches, pains, and injuries.  Read more about how we are using them everyday! My Young Living essential oils are also my newest business venture
, and the oils are so well loved that they sponsor my blog!!! Thank you, friends!  Enroll by clicking here.