"Of the Seven Deadly Sins, anger is possibly the most fun. To lick your wounds, to smack your lips over grievances long past, to roll over your tongue the prospect of bitter confrontations still to come, to savor to the last toothsome morsel of both the pain you are given and the pain you are giving back–in many ways it is a feast fit for a king. The chief drawback is that what you are wolfing down is yourself. The skeleton at the feast is you." ~Frederick Buechner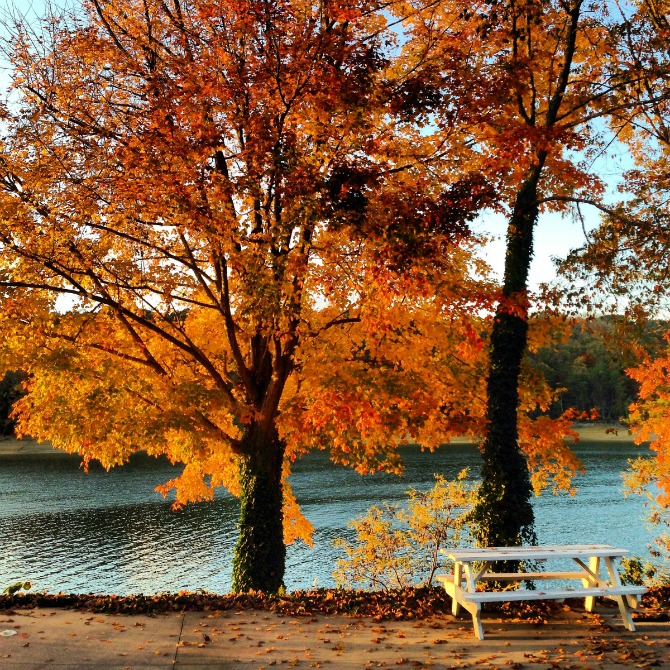 I hit send on my memoir and my eyes filled up with hot tears, which came spilling over faster than I could catch them.  Then I climbed in bed, curled up in a  ball and slept for two hours, mascara smearing the pillow and the arm of my shirt.  When I woke up, I looked outside and wondered how long the trees had been blazing with autumn.   Writing your story is like deep sea diving for long stretches of time, coming up for air only long enough to bring items from the past onto the boat so you can see them more clearly and try to discover what they mean.  Some of the things I dug up made me sad, many made me laugh, and others made me angry.
The anger surprised me most because it's almost impossible to make me angry. Or thus says my pride.  I've never been able to stay mad, almost no matter what the circumstance.  But the anger was there, right there in the light of day and there was no denying it.  I got angry when I looked back at a little girl that no one protected. I got angry at the times I felt abandoned and alone.  Then I got angry at myself.  For heaping my pain onto people who never deserved it and never saw it coming.
The  anger that rises up in us needs somewhere to go, because if it lingers in us too long it becomes like poison.
A few days later I heard a song and I saw in it a picture of what our Father does with all that collective wrong we heap on each other. He comes in with guns blazing to mow down our demons, the ones tormenting us from without and perhaps especially the ones killing us from within.  And in the strangest turn of events, he takes all that evil and wrong and pain and hurt and anger on Himself and dies on a cross to save both the oppressor and the oppressed within us all.
This is love that we can't even fathom.  This is the compassion of a Father who will go to every length to protect us from all the enemies that threaten us, those that rage against us and those that rage in us, bearing in His body the world's collective misery so that you and I can go free.
He gives us His life and in turn takes on our death.
This is what it means to be cherished and protected against the gates of hell.
He lays Himself down on the altar and willingly becomes the Feast, the innocent One ravaged for us all.