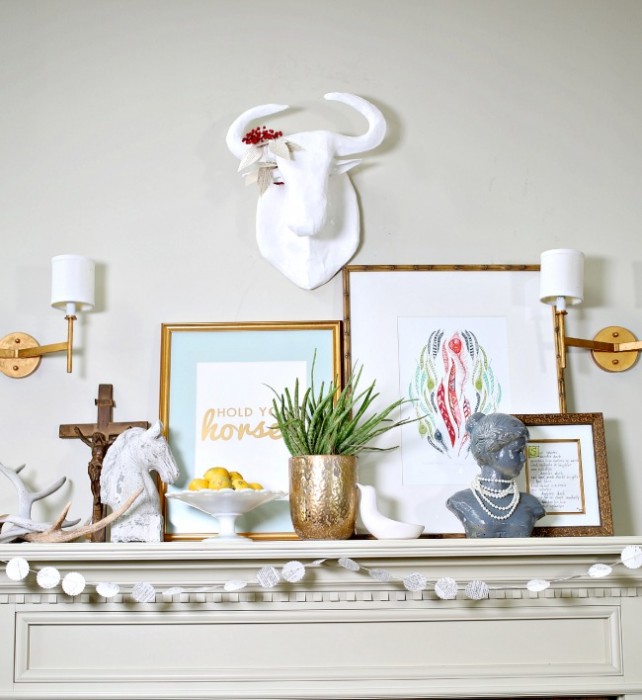 Okay, it's no secret.  I'm the queen of the cluttered mantel.  I've TRIED less is more.  I really have.  And it's almost Lent, so less is more made sense in my head.  Just not on my mantel.  AND? I'm pretty passionate about Lent and especially how we often need to add things to our lives (prayer, generosity, kindness, study, etc)  just as much as we need to subtract them.
So.  For my early Spring, Lenten mantel, I give you the following very full mantel.  Here's what I love about it.
1.  The crucifix—It will be the perfect Lenten reminder of His scandalous love toward us.  And I know how some Christians will say that they don't like the crucifix, because He's not there anymore, He's risen!  Yes, he is, but first we must journey through Lent, through his pain and suffering and hell.   Then Easter will be all the more sweet.
2. Hold Your Horses sign by Stephanie Creekmur.  It's the perfect Lenten reminder.  Wait.  It's not Easter yet.  Walk slow through Lent and then we'll run with fury together to the empty tomb.
3.  Lemons and Aloe.  Things alive add so much life and movement to your mantel and welcome Spring, without screaming Spring.
4. The gold planter was from Anthropologie and gives the perfect amount of shine!
5. The little white birdie planter is so cute.  A Christmas gift from West Elm.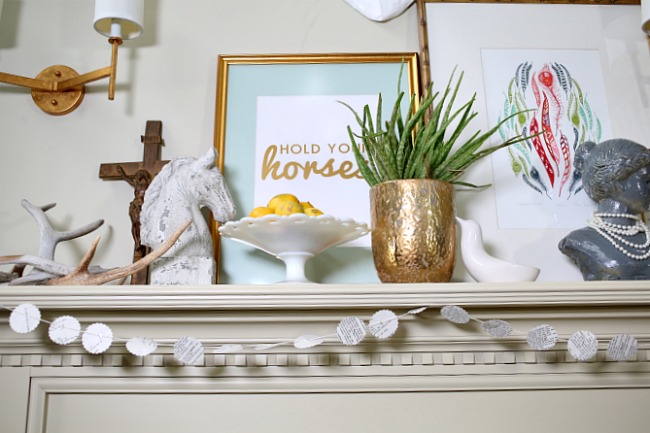 6.  The antlers give hints of a  crown of thorns.
7.  The feather print is from Anna Marie Horner's print collection.  Framed at Hobby Lobby from a recycled antique store frame.
8.  The bust was Hobby Lobby a year or two ago, spray painted and bejeweled with my pearls.  I'm always having to hunt down my jewelry and hats, because they're always scattered around my house being used as decoration.
9.  The original poetry from my friend, Kim, after our fire.  It says—
Sun splashes, dapples dark

mountain lingo lightens my world

God reflects in laughter

Sun splashes, dapples dark

red lips, pink cheeks brighter

her face

God shines in a smile

Sun splashes, dapples dark

warm hands spark creativity

God radiates his love

Sun splashes
It is one of my most priced possessions.  I tear up every time I read it.  I'm not sure Kim knew how much her art would touch me, change me, mold me.
So, yes, a cluttered, storied mantel that hints of sacrifice and promises redemption.  The best spaces tell a story.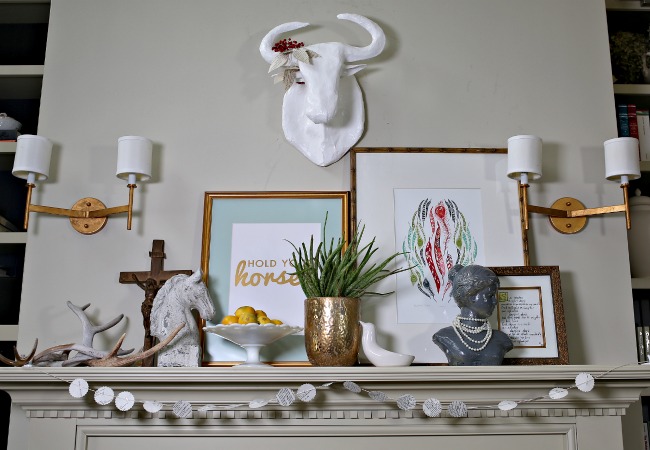 ******************************
If you've never been taught much about Lent, I'm doing a Lenten study that will begin on Ash Wednesday.  Not sure if it'll be through email, a facebook group, or just on the blog.  But, be watching so we can journey together.
Also, meet me on Instagram today and show me your freshened up mantels, perhaps using some of my mantel advice from earlier this week!  Use the hashtag #loveyourmantel.  See you on IG or Facebook, if you don't have an IG account!