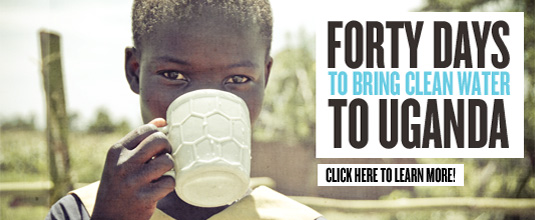 Today, we begin our Lenten pilgrimage in a 40 day trek to the cross, where we remember the sufferings of Christ and His stubborn love toward us.
The penitential season of Lent reminds us that we are not what we should be.  It's a time of stripping away, peeling back the layers that keep us from seeing ourselves rightly.
It's easy to think I'm  kind, generous, temperate, disciplined and loving when life is good, there's plenty of excess, and I'm not being tested.
But Lent reminds me that I'm none of those things and that I must lean hard into Jesus who is kind, generous, temperate and loving in my place.
One of the ways I know I need Him so desperately is when I try to practice a Lenten discipline—I've fasted from chocolate, coffee, social media, sugar, bread, wine.  Those periods where I try to deny myself something reminds me that I've constructed a house of cards that seems to be standing on the firm foundation of caffeine and sugar and Moscato.  If you've never practiced a time of fasting/self-control,  I urge you to try it.  If nothing else, you'll realize, like me, that you're not very disciplined and self-controlled.  And that is the beginning of repentance.
This year, I've decided to partner with Blood:Water Mission and some other awesome bloggers to do something different.
It's called 40 Days of Water and it goes something like this:  you forego the expensive latte, the glass of wine at dinner, the diet coke at lunch and donate the money you would spend on your drinks to provide clean water for folks in Uganda.  You can sign up here to participate with me and I'd be so honored to walk alongside you to build a well together—with the excess money we often spend so mindlessly, we don't even realize we do it.
You can be as specific as you'd like and even give up every drink but water for Lent but don't fall into the trap of legalism.  The focus of this is the people in Uganda who need clean water.   Keep track of the money you would have been spending on those drinks and donate that money at the end of the 40 Days to the Blood:Water Mission for the Agali community in northern Uganda.
You can sign up to join the 40 Days of Water with me (I'd be so honored!),  follow Blood:Water on Twitter, with the hashtag #40Days and on Instagram at @bloodwatermission, with the hashtag #40days.  You can also join their facebook page for inspiring links and updates on their work in Africa.
When you turn on your faucet this morning to get a drink or wash the dishes or take a shower, say a prayer of thanks, that it's just that easy to access the basic necessities of life.  You didn't have to walk miles to get it, it was clean when it came out of the faucet, it cost you very little.  And then say a prayer for those who don't have that luxury.

Forty Days of Water – 2013 from Blood:Water Mission on Vimeo.
(Blood:Water Mission is a nonprofit started by the Nashville based group  Jars of Clay to bring clean water and blood to Africans in need and those infected by the HIV virus.)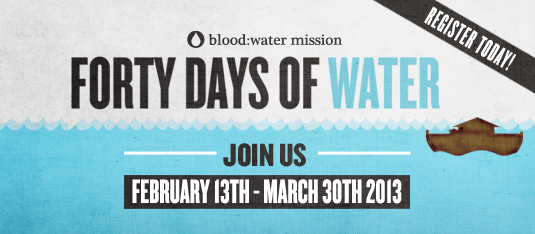 Anne Jackson wrote a 40 Days of Water Journal that you can download, that will walk you through the 40 days with inspiration, facts and reflections on the water project.
In whatever way you can participate, I will be grateful.
If nothing else, pray that our brothers and sisters who struggle for life's basic necessities will have clean water to drink and will learn about Jesus, who came to bring us all His life-giving water so that we would never thirst again.

************************
For every person that signs up with me for the 40 Day program, I'll donate an additional $2 per person at the end of the 40 Days. Just leave me a note in the comments that you are planning to support the clean water program in Uganda!