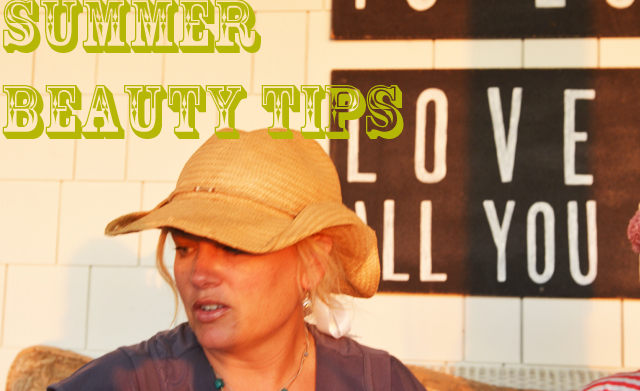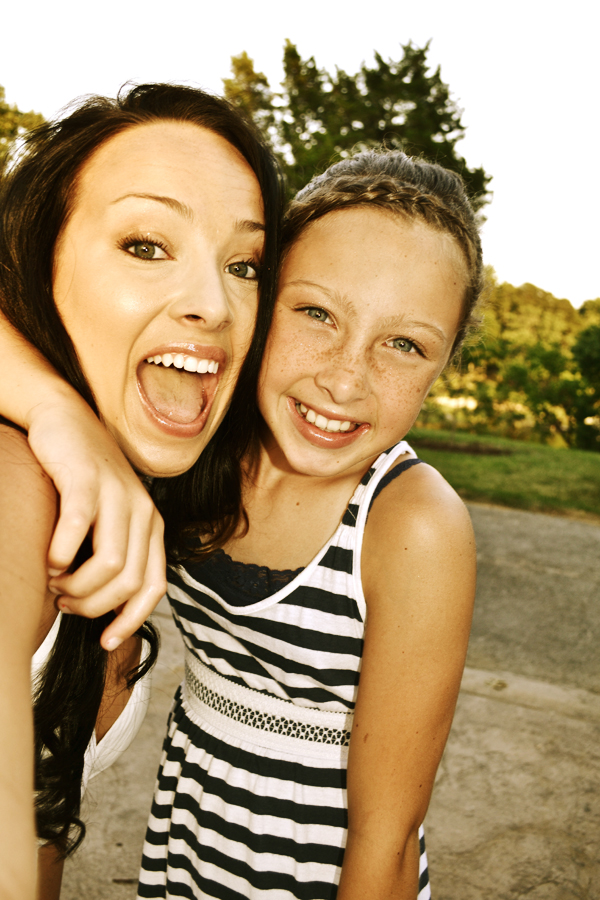 I have 3 daughters, ages 10, 11 and 19.
Three daughters+one mom=a lot of beauty products and paraphernalia.
And how do you teach your daughters about the appropriate amount of grooming and primping and beautifying, all the while still teaching them about true beauty, which can't come from a jar or a tool? It's not that easy but my younger girls are at the age where they want to talk about it. They want to use a little makeup and are starting to be very interested in shaving. They polish their nails often and dream of using creams and lotions and powders. Oh, I remember the longing to be grown up. And while I still encourage all their little girl qualities, I don't want to dismiss their interest in the womanly arts.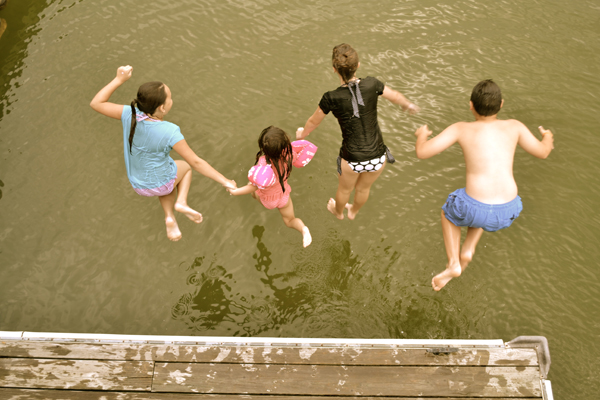 This weekend while we all three were home and floating in the lake, we talked a lot about beauty and especially as it relates to summer. I asked the girls each to give their favorite summer beauty tip/product and then we made a fun little video where we interviewed each other about our top beauty secrets. It was so much fun to hear their thoughts on the subject!

Here are the highlights from the video:†(p.s. In the video I say the Venus Embrace is new but I meant itís new in our house! Itís been around awhile 😉
Do's
1. Smile and be gracious!
True beauty comes from the heart. Attitude is everything. You can be a stunning runway model with a crabby face and matching attitude and your beauty will be scarred. But you can seek to put others first and be a good listener and smile and your beauty factor is magnified times one hundred. We all agreed that smiling is the one beauty tip you can't do without! And it's free so be generous with it.
2. Simple Summer Hair
Wear simple braids and messy buns or better yet—-wear a hat! Simplify the hair routine. Who has time for all that rigmarole when there's swimming to do, s'mores to roast and fireflies to catch. I love my straw hat in the summer and it just adds the perfect amount of ease, style and sass. My girls watch videos of how to do cute braids and easy styles and it makes summer hair fun. Find a cute hat or updo and don't be afraid to wear it!
3. Nail Detail
Everything's a little more bare in the summer so attention to the smaller details goes a long way. Invest in a few good supplies and learn to do your own manicures and pedicures for each other. I love nothing more than going to the nail salon for a pedicure but I usually only make it once or twice in the summer. Otherwise, we keep supplies on hand with our favorite polishes and try to keep the nails groomed. Again, instead of watching the Disney channel, my girls watch videos on how to properly groom your nails and then they teach me their tricks!
4. Skin with a Summer Glow
This is where the talks get thick at our house. We have tweens that want to shave and although we've convinced them (I think!) to wait another year, we still talk about it a lot. Don't you remember the agony of wanting to shave so bad and your mother trying to convince you to wait? It seemed so brutal and unfair! I want to be a good listener and I don't want to be dogmatic about it. It's just hair—I'm not gonna die on that hill! Our favorite skin secret is shimmer lotion! We just add a bronze colored body glitter to our favorite lotion and voila! Beautiful, glowing, shimmery skin! †
Don'ts
1. Don't forget your sunscreen but let yourself get a little sun-kissed first!
2. Don't wear heavy makeup. Let your summer glow show through! I don't wear foundation in the summer and yes, my freckles and age spots show through but they're part of who I am! I love the lighter look of summer makeup.
3. Don't wear shorts if you're over 40. Okay, I'm just kidding. Sort of. I have found that I just don't do shorts all that well. I prefer sundresses and skirts. It hides a lot of imperfections and it tends to make me feel less self-conscious. By all means, if they still make you feel pretty, wear them!
4. And by all means, don't forget to try the Venus Embrace razor. I've always been a Venus girl but this one has the Ribbon of Moisture for a smooth glide and the comfort grip which is perfect for my daughters who are starting to shave. To boost the 'smooth silky leg' factor up twenty more notches, try their Satin Care Passionista Fruit Shaving Gel, with its sparkling fruity scent. You'll be humming island tunes by the time you're finished! Venus also has a bunch of great tips for first-time shavers. Go check 'em out!
Now, tell us your secrets for the chance to win a $50 Visa gift card!
Rules:
No duplicate comments.
You may receive (2) total entries by selecting from the following entry methods:
a) Leave a comment in response to the sweepstakes prompt on this post
b) Tweet about this promotion and leave the URL to that tweet in a comment on this post
c) Blog about this promotion and leave the URL to that post in a comment on this post
d) For those with no Twitter or blog, read the official rules to learn about an alternate form of entry.
This giveaway is open to US Residents age 18 or older. Winners will be selected via random draw, and will be notified by e-mail. You have 72 hours to get back to me, otherwise a new winner will be selected.
The Official Rules are available here.
This sweepstakes runs from 7/26 – 8/23.
Be sure to visit the Venus brand feature page on BlogHer.com where you can read other bloggersí reviews and find more chances to win!
Have you checked out the Life Well Lived section of BlogHer.com? There are some great tips and expert posts on everything from Looking Your Best to Getting Happy and Getting Organized!