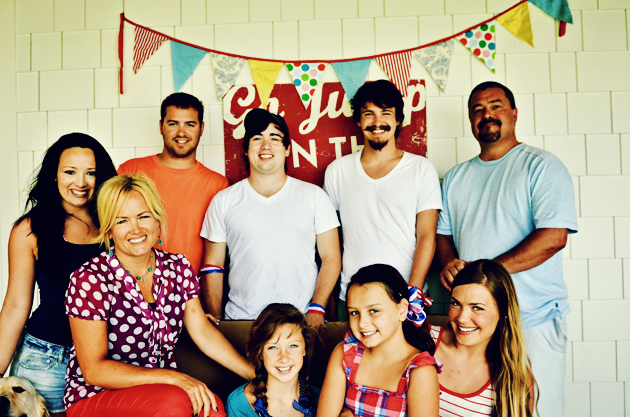 We had such a lovely visit with our family this past week and are slowly adjusting to the quiet house. I'm always a little lonesome when everyone leaves but as we clean up and rearrange, I relive the happy memories all over again. At the height of our fun, we had 20 house guests and beds scattered here and yon to accommodate anyone who wanted to stay. I had ten pages of handwritten notes (about menu planning and to-do lists) that I followed to a 'T' until the last day, when I decided that 'farmer's salad with grilled salmon and cheesy garlic bread' just wasn't happening. We ordered fried chicken, take-out style, from our favorite gas station and called it a day.
My motto is (borrowed from my mother), "the more you eat, the better I feel." I do love to entertain and feed people and love on them while they're here. It will go down in the history books as the best staycation ever.  More pics and stories to follow when I can form more than 2 coherent thoughts in a row !
During our Fourth of July festivities, we received the most tragic and horrifying news that two of our friends lost their boys to a freak lake accident. It's been hard to think of anything else, as we go to bed and wake up every morning with these precious families in our thoughts and prayers. Many of you may know my blog and real life friends, Denise and her daughter Kelly. One of the boys killed was Kelly's son, (Denise's grandson), and his best friend Noah. My little Elea was in Noah's kindergarten class back before we started homeschooling.  They were both such great kids and will be missed terribly.  Please keep all these friends in your prayers in the coming days as they grieve and try to somehow make it through this loss. God is so faithful to us and has joyfully received these boys to Himself. He knows the depth of our heartache and He will not leave us to grieve as they we had no hope.  He is our Father and His grace and mercy will sustain us against all odds.  I sit here today  heartbroken for my friends, wishing there were something to do or say that would ease the suffering.  I cry out to Jesus, whose death and resurrection gives us the blessed assurance that one day, with Noah and Nate, we too will rise with Him.  You can read about the story here and donate to the fund for the families here.
Prayer for these impossible days:
Lord, have mercy.  Christ, have mercy. Lord, have mercy.
Merciful Father, You know how difficult these days are for me.  In Your holy Word, You have promised to hear those who cry unto You in the day of trouble.  Listen to my cries for mercy and send help from the sanctuary of Your grace.
Preserve me from bitterness of spirit, and rescue me from every temptation to despair.   Calm my frustrations with the knowledge that my life and the eternal life of all my children is secure in Your redeeming love, for we are baptized into the death and resurrection of Your Son.   Draw me out of crippling worry and heartache, which stifles faith, and cause me to take comfort in the Gospel.   Sustain and strengthen me under every cross and affliction, that Your grace might be made perfect in my weakness.
Give me confidence to pray without losing heart and to trust in Your mighty deliverance according to Your good and gracious will.
Father, into Your hands I commend myself.  Hear me, for the sake of Your Son, who alone is my Brother and Savior.
Amen.