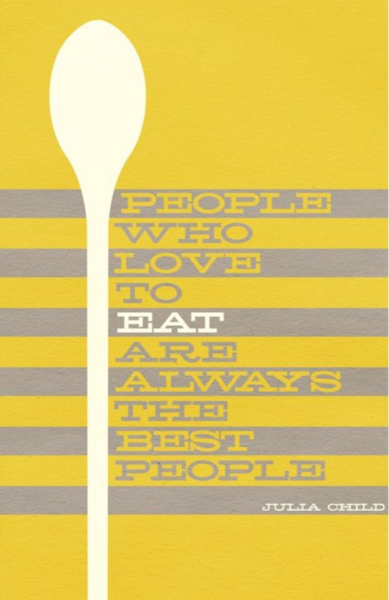 I just bought this poster here on Etsy!
If you've never traveled with a foodie then I cordially invite you to my next vacation.  It's the only way to go.  The whole trip is planned around the food and restaurants.   It's just that simple.  Stevie and I have been traveling this way since we met.  We are disciples of Frommer's and I don't think he's ever led us astray.   We have found some of our very favorite restaurants this way, such as Lou Mitchell's in Cheecago (a great breakfast spot always crowded with locals),  Catch 22 in Hilton Head (very small quaint hole-in-th-wall with todiefor prime beef), and one of our faves,  Bound'ry in Nashville.   We make very tasty memories together, that Stevie and I.
Enter San Diego.  Stevie had done his homework and we were not disappointed.
Our first stop : El Camino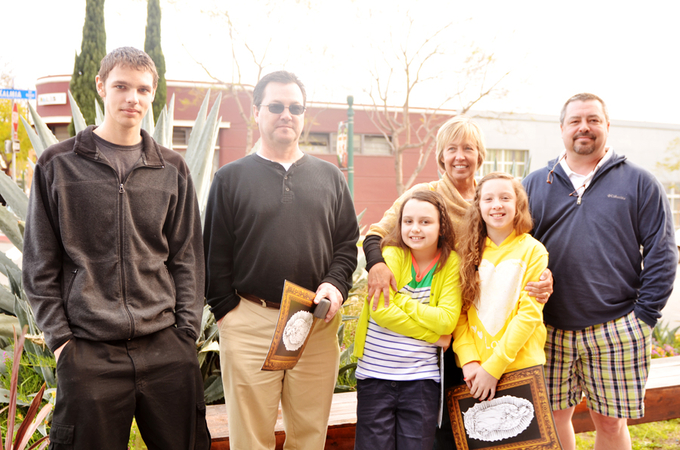 El Camino, a small mexican restaurant crowded with locals and VERY loud music.   I had the fish tacos and a margarita.  Stevie had a steak and shrimp burrito.  We had sister Julie and brother Jeff and Daniel along with us so we made them play along in our foodie games.   You must taste all the food on the table and vote for the best.  Stevie won that night which should have been an ominous sign to me that he was gonna take the week.  But I kept ordering like the foodie champ that I am.
Breakfast at Broughton Villa
The next morning we headed out for La Jolla to have breakfast in a little villa over the Pacific Ocean.  Sebastian told us about it and he's a foodie too so we knew it'd be good.  Julie *won* with the yummy chilaquiles.  The orange juice was fresh squeezed and the coffee was so flavorful.  The girls bragged about the pancakes and the scenery was hard to beat.  Just outside, sunning on the rocks were all the seals.  It was a beautiful morning all around followed by a hike around Torrey Pines.   That was our favorite day in SoCal.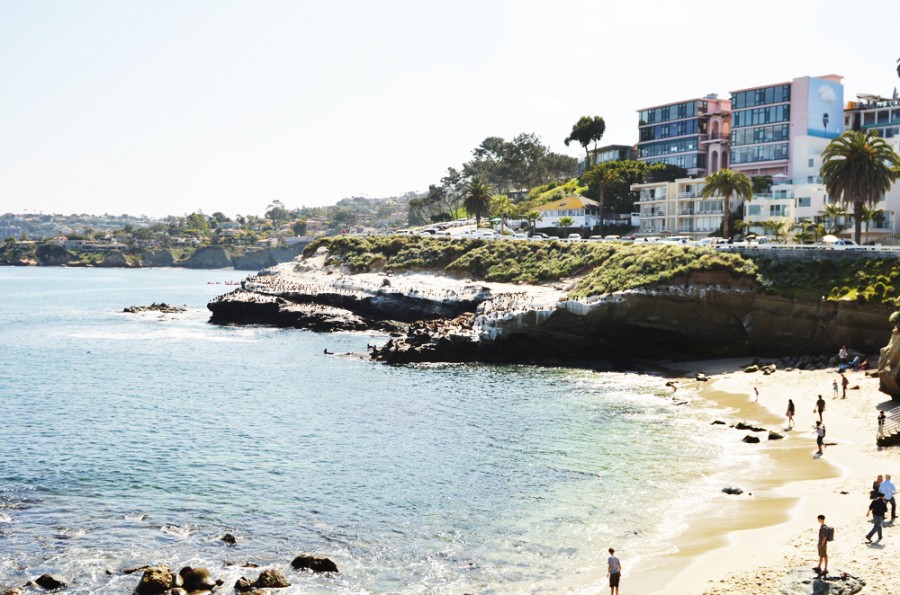 Authentic Eyetalian at Buon Appetito
We frequented Little Italy for pizza (twice) and for a very scrumptious dinner.   Stevie ordered Osso Bucco and I had sea bass with a morel mushroom sauce.  I think it was a tie.  The food was so delish and most of the staff spoke Italian.  We ordered tiramisu to go.  Also, todiefor.
Pizza at Filippi's
I'm gonna go ahead and say that there is nothing better than stellar pizza. And it was stellar. I should know because I had it  hot, warm and cold. Terrific crust and perfect sauce.  We were all winners on this outing. If you're finding me to be more neurotic than you once hoped, I apologize.  Foodies are like trekkies.   It takes one to know one.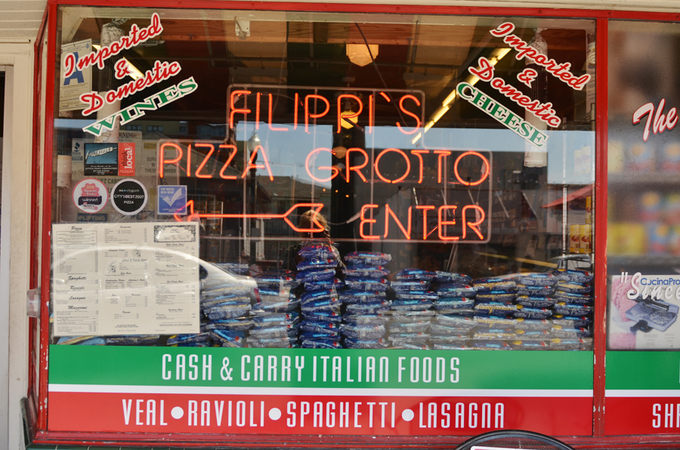 Lunch at Sear Sucker
This was the day our children chose 'excellent lunch downtown+ping-pong with parents' over Sea World.  We have the best kids!  And it was our favorite Frommer find.   Darn it if that Stevie didn't win again.  He ordered the burger.  He always wins when he orders the burger.  I had a short rib sandwich with horseradish sauce.  It came in close second.   They don't have ketchup but instead serve a homemade tomato relish which was at once quaint and delicious.  The decor had me at hello with its Texas/Wild West feel.   The blue lady iced tea was fantastic and the children were happy to leave with suckers.   They served a complimentary lemon bar for dessert, a gesture not at all lost on me.   I really love dessert and free dessert brings a tear to my eye.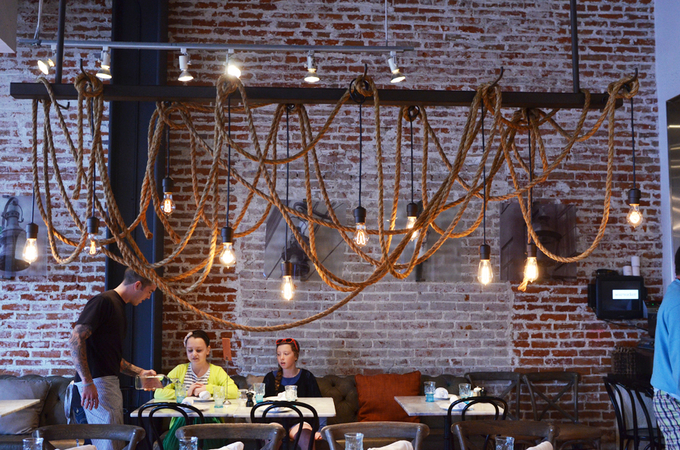 This decor speaks to my deepest Texas soul.  (Do I have a Texas soul? I'm pretty sure.)

I felt so at home here and so completely inspired.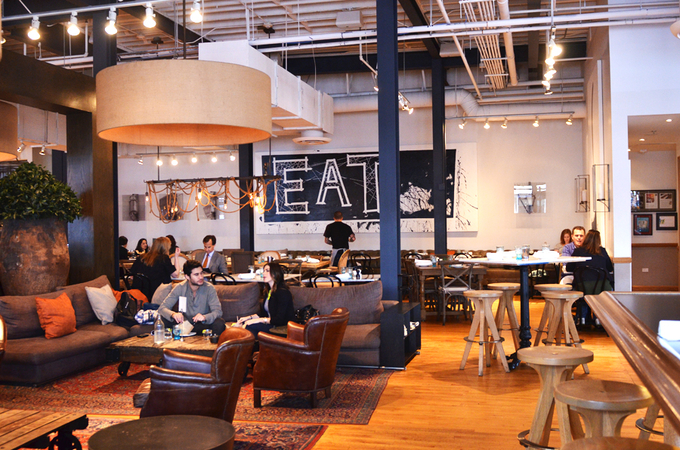 And that, my friends, is how foodies travel. We ran out of days before we ran out of restaurants. And the best ones are always the ones that you would probably never try or find otherwise. Frommers' makes happy travelers.  And lowers the chances that you'll end up at McDonald's or Subway out of frustration!
But as much as I enjoyed the food and decor and beautiful variety of plant life in Southern California, I wanted to kiss the ground when we finally made it back home. I'm a Tennessee girl at heart and there's no place for me like being surrounded by these mountains and rivers and lakes.
Home sweet beautiful home!
Now, tell me your favorite little haunts to eat.  And then go ahead  and tell me what to order.   Three cheers for foodies!
And three cheers for Amy who is posting an adorable DIY ruffled shirt over at lifeingrace girls!