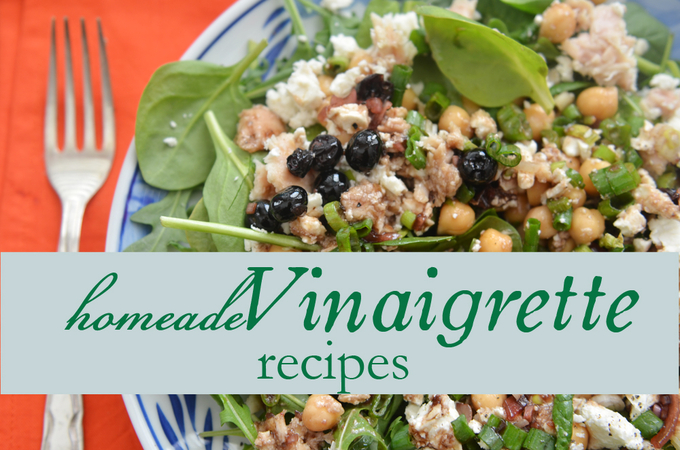 I haven't bought store bought dressing in ten years and when I do have occasion to eat it, I'm always disappointed.
Well, that's a bit of a lie. I do from time to time buy ranch dressing so my girls will make nice will their carrots.
But dressings that we eat on salads? Only homeade, baby.
And it's so easy that I hope you give these vinaigrette recipes a try.
I make three basic vinaigrettes and almost always have 2 of the 3 on-hand at any given time.
I make them up on Monday and then use them all week on our salads.  Like pioneer woman, I store mine in mason jars because they're so convenient for shaking and storage and well—-who doesn't love a good mason jar?   I'm from the South so we all know that the mason jar is essential to any Southern kitchen.  Not only do we get our 'corn from a jar' but we get our vinaigrette from a jar as well.
I make an endless variety of vinaigrette recipes depending on what I have on hand but I'll show you my top 3 most common.
Now the honest truth is:  I NEVER measure anything when I'm making a vinaigrette but when you're first starting out, you should measure until you get a feel for the proportions.
The general rule is a 3:1 ratio of oil to vinegar.  (I never use quite that much but just experiment with what you like.)
After that, it's all up to your imagination.
Balsamic Vinaigrette
1/3 cup balsamic vinegar
1 chopped shallot or small onion
1 T. zesty honey mustard
2 T. honey or brown sugar
1/2  c. extra virgin olive oil
salt and pepper to taste
I usually let the shallots sit in the vinegar for a while (a few minutes to an hour) to develop their flavor but you don't have to.
Red Wine Vinaigrette
1/3 cup red wine vinegar
1 shallot or small onion
1 T. sugar
1/2 cup extra virgin olive oil
salt and pepper to taste
Berry Vinaigrette
I love berry vinaigrettes and make whichever kind is in season.  My favorite  is strawberry but I've been making blueberry for the past couple months.  Substitute whatever berry you have and substitute sugar or honey for preserves.
1/3 cup apple cider vinegar
1 T. homeade strawberry preserves
1/2 cup olive oil
1/3 c. chopped strawberries
salt and pepper to taste
I add all my ingredients to my mason jar and give it a shake and then store it in the fridge until we need it.  I also like pretty labels so you can print this pdf (of the vinaigrette labels), print them on plain white computer paper, cut them out and then use clear packing tape to attach them to the jars.  The tape covers the entirety of the paper so you can usually get a few washes in before you need to change the label.  Truth of the matter is, my vinaigrettes are so similar that I don't wash them every week, but instead just make the new dressing in the same jar.  I'm a granny like that.  You do whatcha want.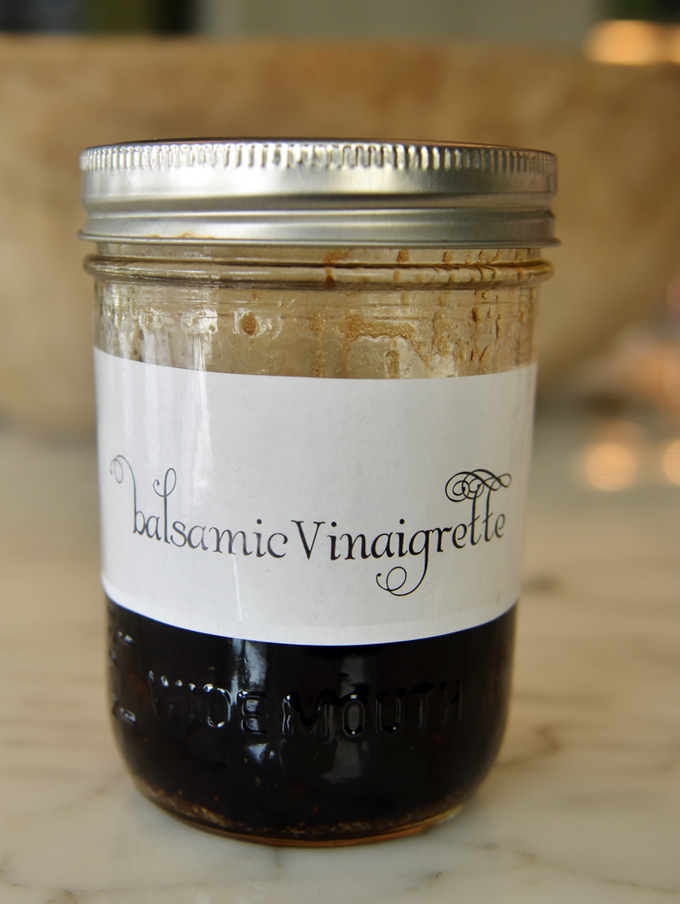 I'd love to know if you make your own dressings—leave you recipes in the comments. If not, would you be willing to try it? You'll never go back!