Inspiration is everywhere and sometimes you're lucky enough to find it right next door!
You're in for a treat today because I convinced my friend Julie, who has the most wonderful cottage I've ever seen, to let me photograph her house.   It's a magical place and full of inspiration everywhere you turn.   It was a God-send that we moved next door to her after the fire.   She is an amazing mom and person.   She is unbelievably kind and such a servant of others, she reads Chesterton, Lewis, and Tozer and has raised bright, inquisitive and well mannered children.   She bakes and loves design and had nearly every single copy of Cottage Living.   Instant friends, I tell you!
She has created such a cozy haven for her family and I don't exaggerate when I say that it's one of those spaces that changes you and how you look at homemaking.   I'd give anything if Lucille Maud Montgomery (author of Green Gables) could describe it for you.   I can tell you that nothing I say and none of my pictures will do it justice.
When I walked in today with my camera, it was the essence of fall—-maple candles burning, the lingering scent of pipe tobacco and crackling wood—-all drawing you into it's enchantment.
Thank you Julie for letting us peak!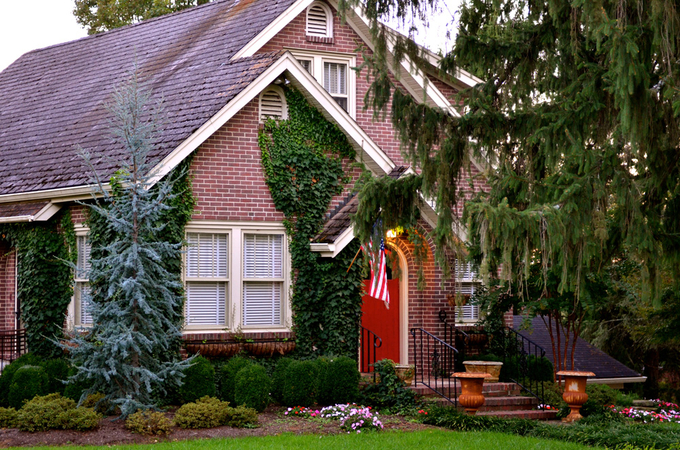 the other side of the red door……..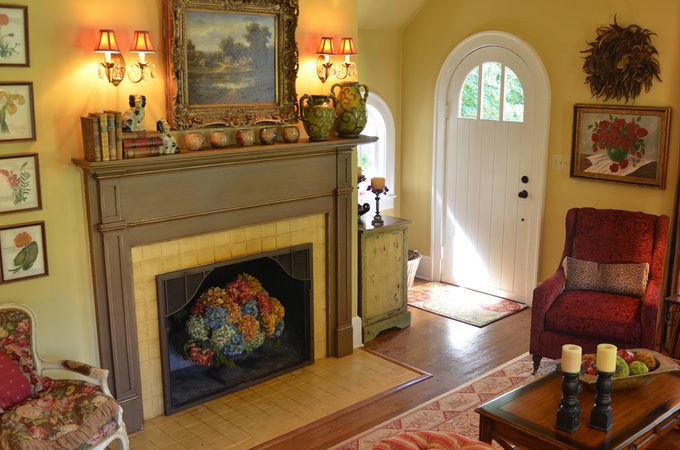 the dining room and the inspiration for my round dining table purchase…..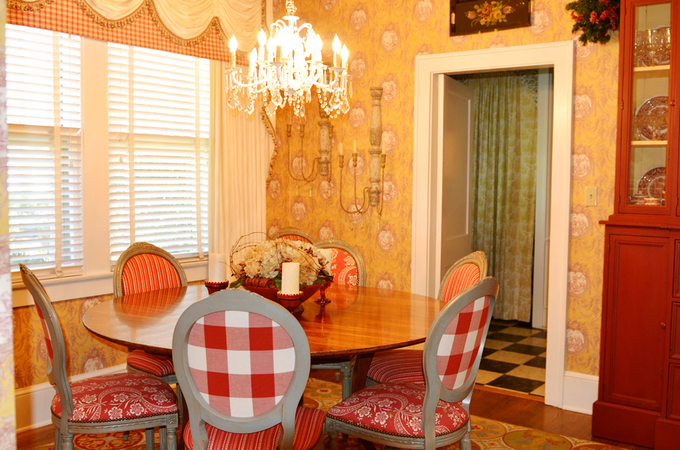 the other side of the dining room….(i'm dying for the antique floral oil paintings–she found them on ebay after very a long period of research and looking)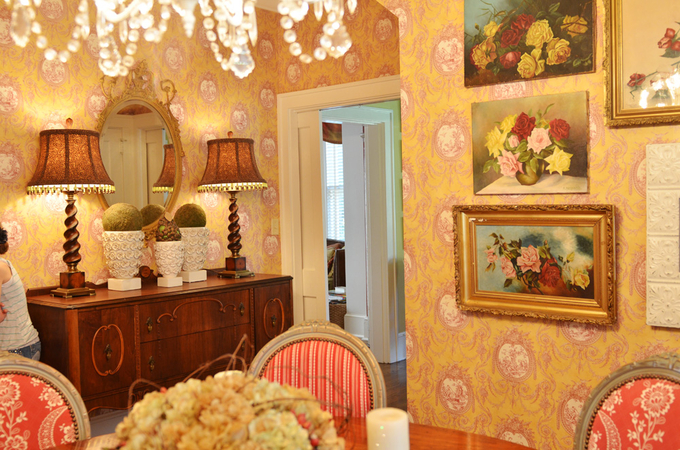 the master bedroom….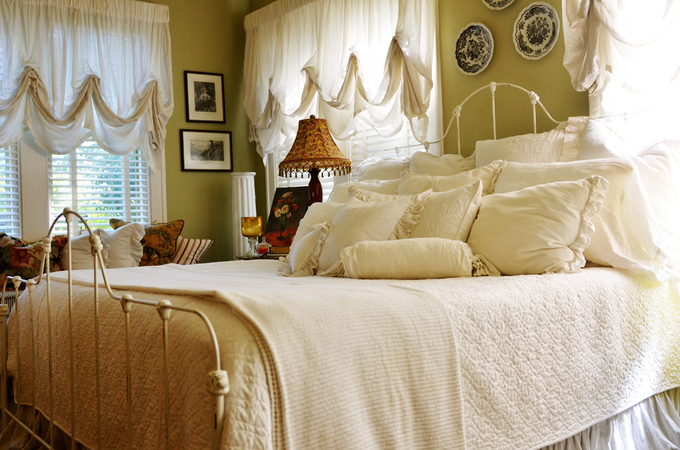 and the very quaint master bath—note the details in the shower curtain, the cabinetry and the carrera marble countertop!  i love it all!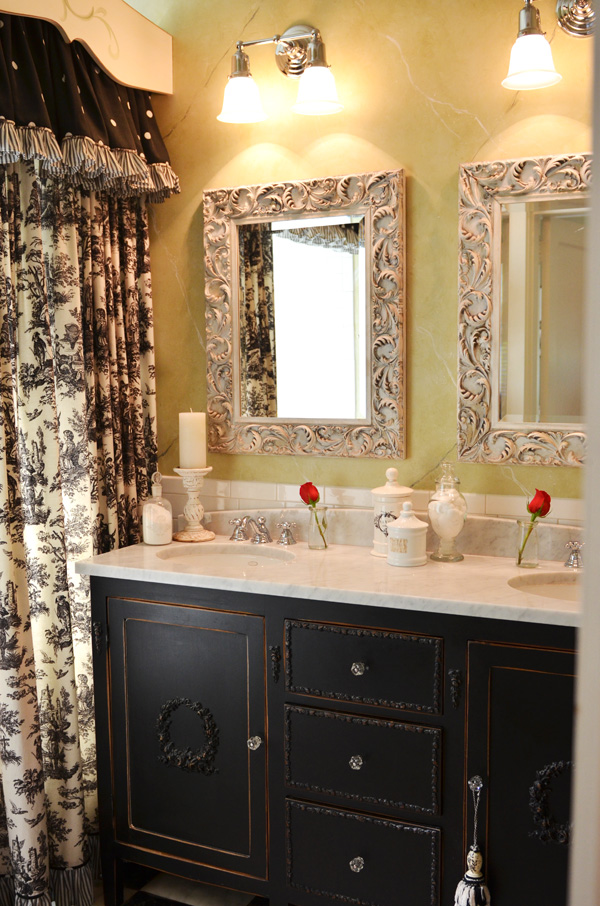 i'm completely smitten with the kitchen—all open upper shelves—-i swoon!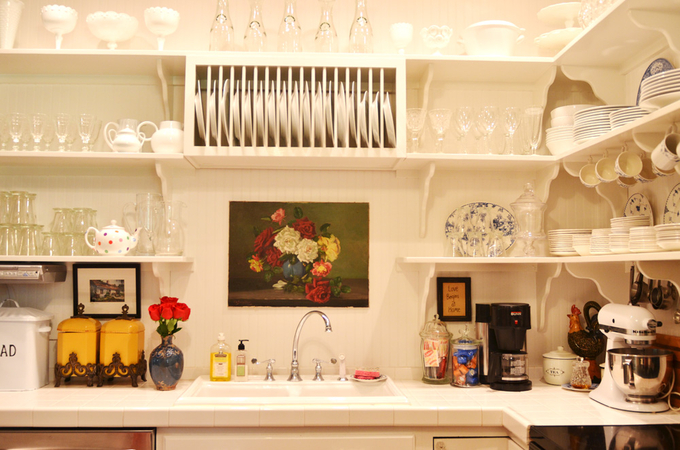 her daughter's bathroom…….(are you wondering how there can be so much eye candy in one spot?! i know, i know—it's incredible)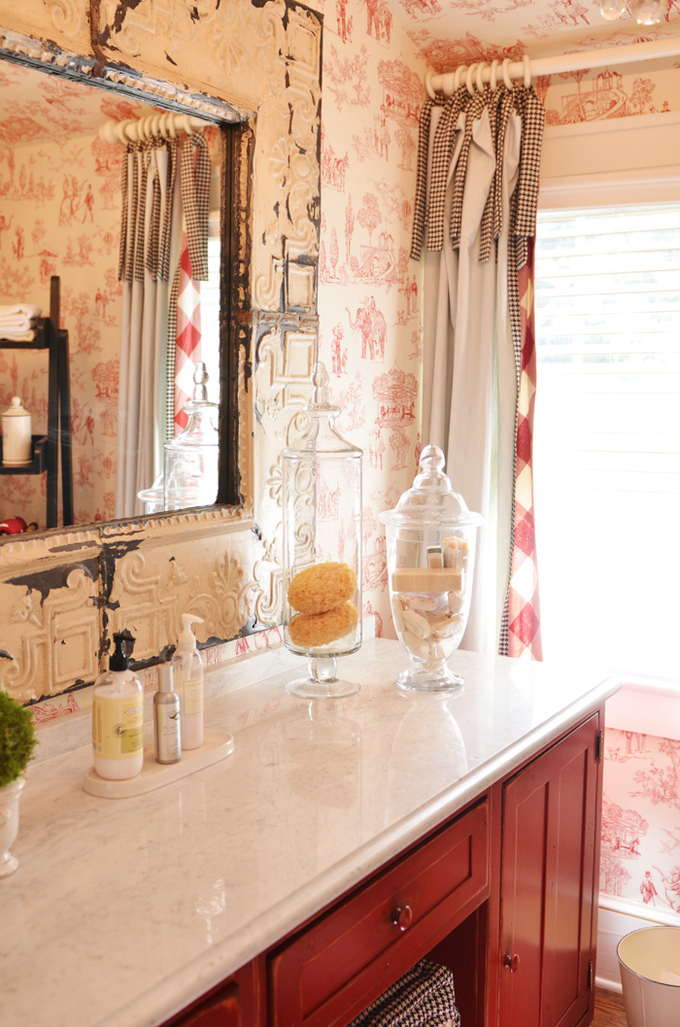 and the most adorable vanity EVER!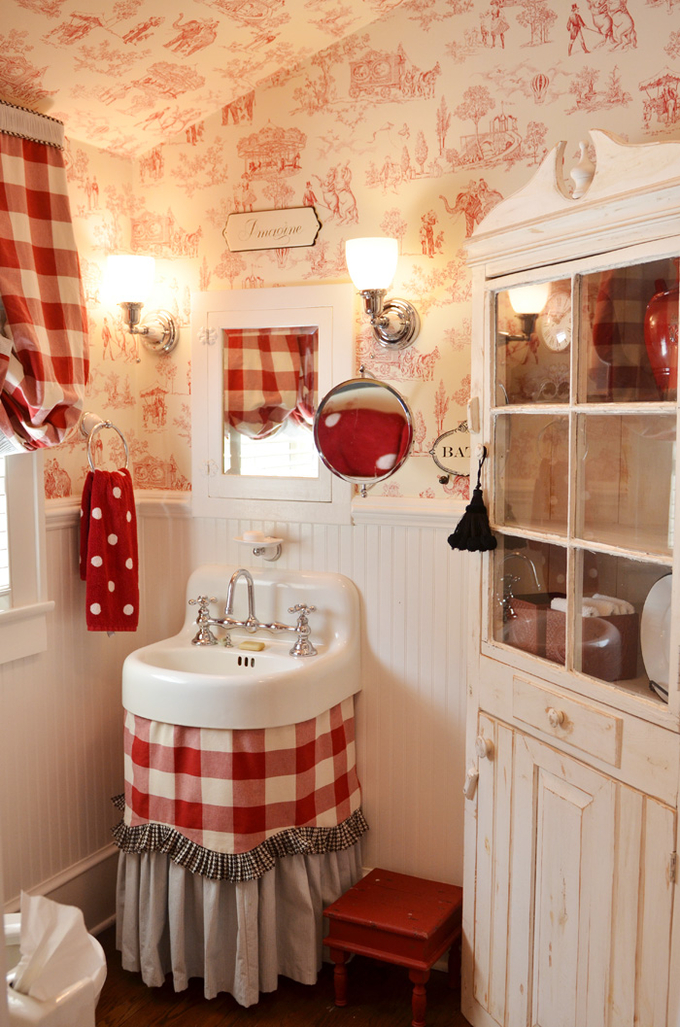 her daughter's room…..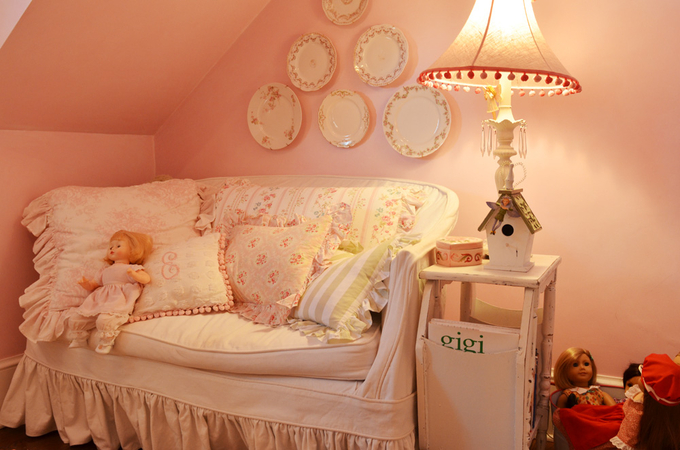 in all its lovely pink goodness……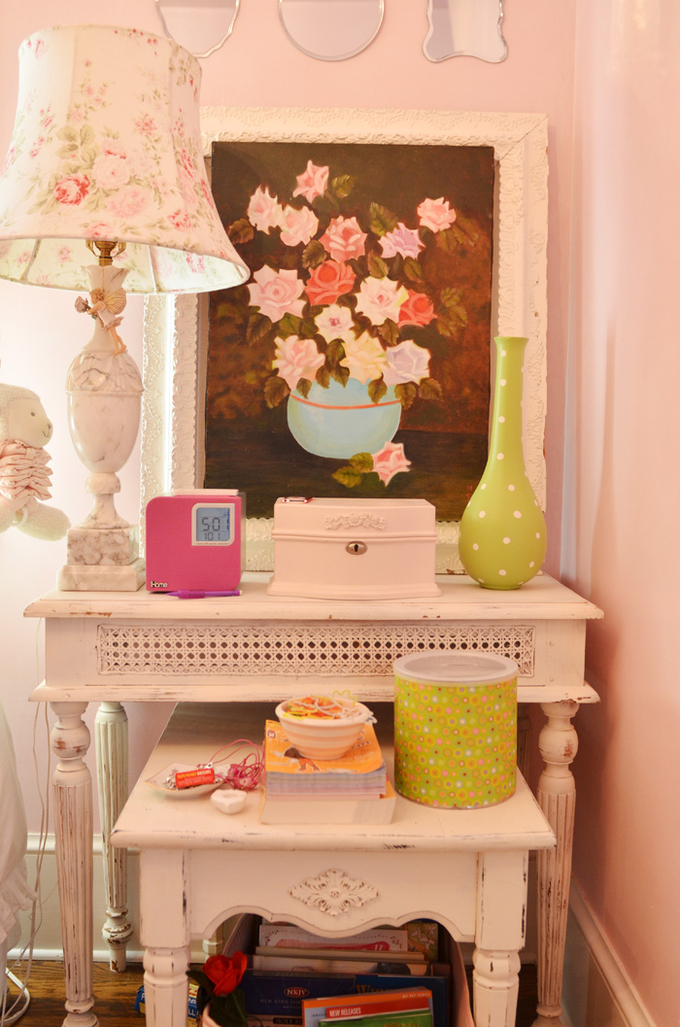 and last but not least, my favorite room, and perhaps the smallest and coziest in the house—-the library.   i could live in there.  forever.    and read and read and read and read.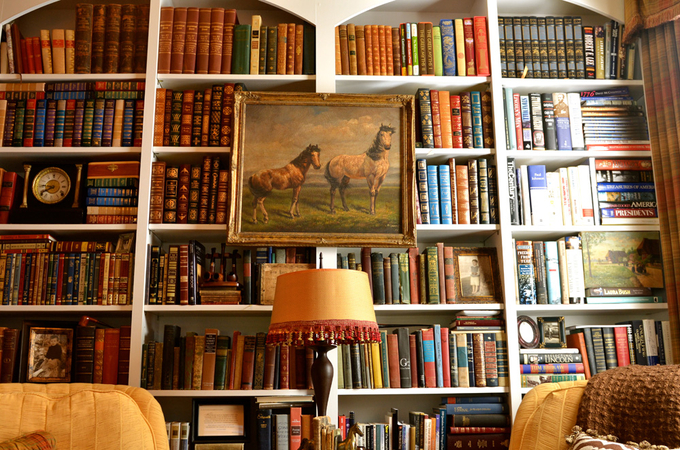 the wall opposite the bookshelves….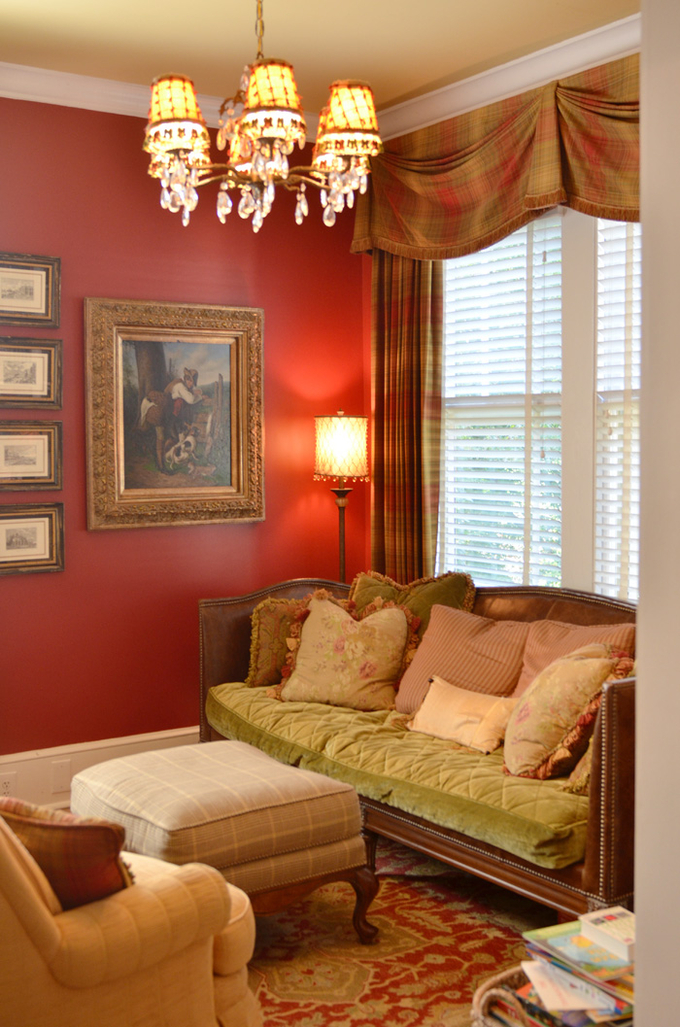 more bookshelf goodness……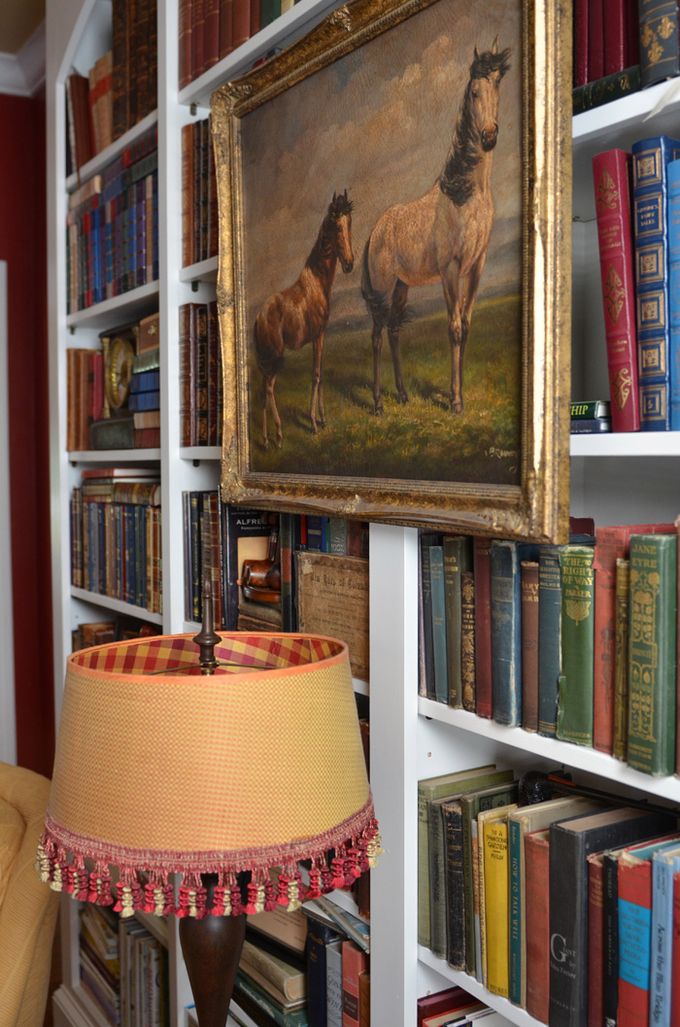 and just one more because I really couldn't stop taking pictures….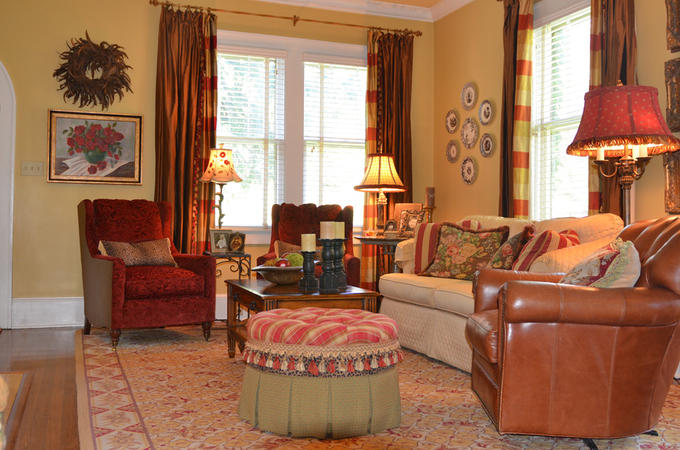 and that my friends is one of the most inspiring spaces I've ever been lucky enough to visit.
She should be in magazines.  Maybe I could convince her to start a blog!