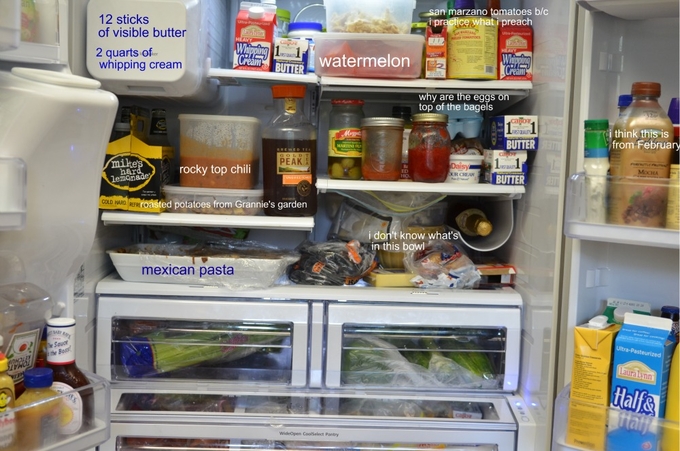 I learned a few things today from the contents of my frig.
the good:
-my crispers are full of good veggies
-we eat real butter (unlike some of my other very dear Lutheran friends who dare to cook with/eat margarine)
-we have plenty of left-overs, which adds to the lunch variety at home
-there's a variety of good cheese:  gruyere, parmegianno regianno, sharp cheddar, maytag blue,  stilton, and real mozzarella
-we have plums picked from Jeff and Vicki's plum tree that I must use soon (jelly?  tart?)
-i've switched to unsweet tea, which is not easy or normal for a Southern girl
-there's homeade salsa (made by me) and homeade strawberry jam (made by my sister)
the bad:
-there's 12 visible sticks of butter and plenty more that you don't see—don't be scared
-there are 2 pints of heavy cream
-and 2 quarts of half and half
-don't judge me
-there are five different containers/kinds of mayo
-repeat the don't judge me part
-there's two Jethro- sized half used ketchup bottles that make me wanna vow never to shop at Sam's again (there's something about the xl ketchup bottles that makes me lose respect for myself)
the ugly:
-there's a bowl of something that makes me afraid
-there's mocha protein milk from sometime in the winter
-there's a pack of petrified bulk sausage that i just discovered way in the back behind the mexican pasta
-there's full calorie mike's lemonade which may mean i've given up
When my new BFF Adraine issued this request to see inside our frig's, I did not tidy up or otherwise move things around (as if that weren't abundantly clear).   I think you should go right now and take a pic of the inside of your frig and post it on your blog and tell us all your dirty secrets.   Tell us in the comments if you do it.   I think this is big fun.
I vow to clean mine out.
Tomorrow.
You can peruse a host of frig's here. Some of them are very funny.   Maybe pantries should be next!