Darlene and I have been at it again and I couldn't wait to show you the design board for the living room. It's been such a fun collaborative effort, although she does all the hard work of placing and measuring and editing and I do all the fun work and sending a million links of things I love. And she finds the BEST stuff. She always comes up with the that perfect thing to tie the room together. I have so enjoyed this project with her. I'm kind of sad it's over but…..
I'm so happy with how it turned out!
The honeycomb mirror ensemble goes above the mantle and  there will be built in book shelves on either side.   The walls will be white with  a custom paneled treatment and the inside of the shelves will be painted navy.   I'd like to add some  magenta in the mix just for fun so I'm trying to decide where/how.    I decided on the sofa, the benches and the chandelier several weeks ago so I've already ordered those.   I learned the hard way in the girls' room design project  that some of the items takes 4-5 months to ship, so I need to order soon for the things that I want to have here by the time we move in.   I'm not ordering every last thing on these design boards because they are intended to be a guide for the room.    I sent Darlene about 7 or 8 inspiration photos along with the floor plan and links to items that I knew I wanted in the room and after 2-3 weeks and a bajillion emails later, she sent me this beautiful design board.


I'm undecided as to whether I like the blue "Eddie" renamed "Edie" chair (the turquoise leather) or the yellow zebra chair the best so Darlene did two design options so I could visualize the difference.   Do you have a preference?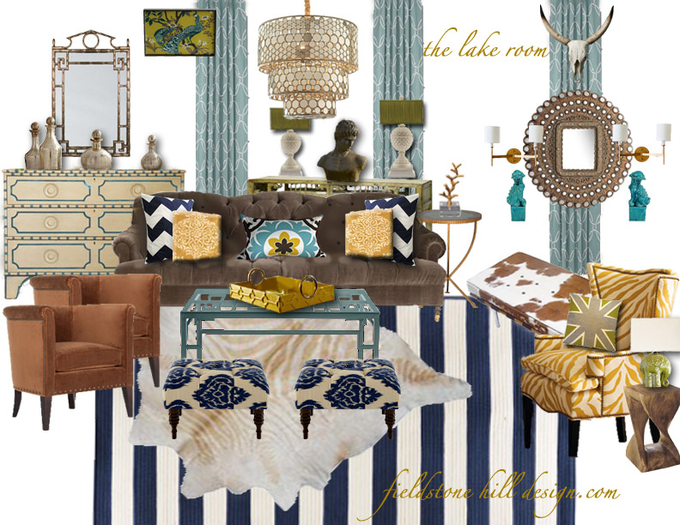 She then includes this key that correlates with the product spec sheet so that if I didn't pick out the item, I know where to buy it and what size/color.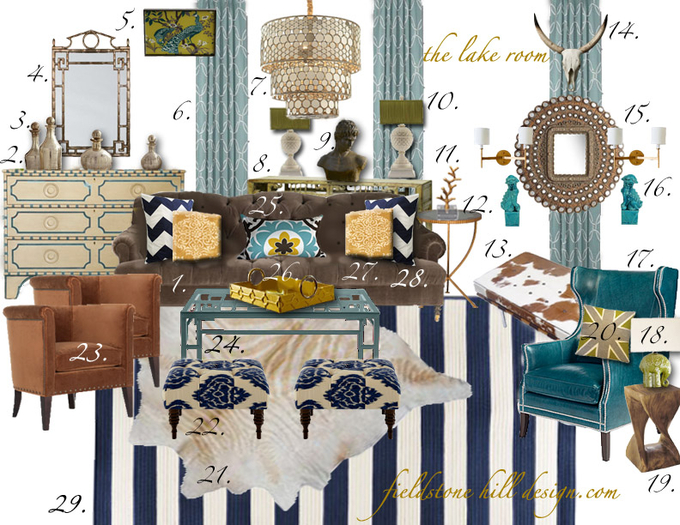 My talented friend Darlene is meticulous about placement and measurement of the furniture and she included two different floor plans for possible furniture placement choices.  I fell in love with this Horchow sofa first so we spent several days making sure we liked how it fit in the room.  It's a large sofa and this is a relatively cozy living room.  I like the contrast  of large furniture in a small space.
At one point in the process, I hit a wall.   I wasn't sure what direction I wanted the room to go in.   We had most of the large items chosen but I think we were both unsure which design path to take.   She encouraged me to go back and look at my inspiration photos and to come up with five words that would clarify my vision for the room.
My five words were:    elegant, layered, rich, storied,  fresh,  artsy.
Articulating those words and revisiting my inspiration photos really helped us finish the room.   She's so smart like that!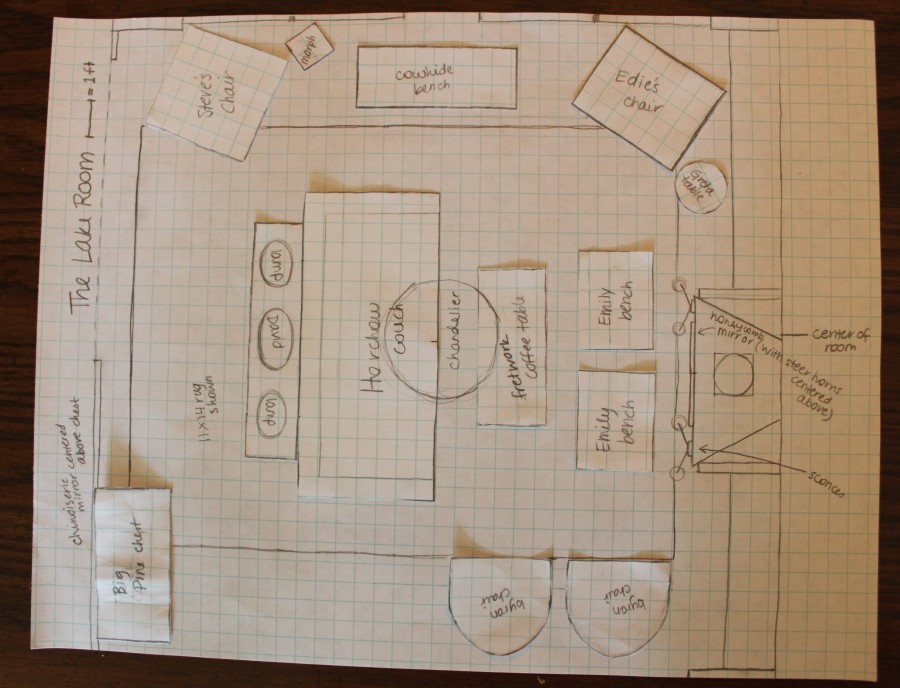 She also includes a very comprehensive spec sheet that references every item on the design board.   She often gives less expensive alternatives to the chosen items and works within the budget you've given her.   Since I was in need of almost every item in the room, my budget was generous.  The only item I started with was the honeycomb mirror.
The chinoiserie mirror that sits over the chest was featured on One King's Lane one day and Darlene sent me a time-sensitive email about it.  I loved it and snatched it up immediately because if you've shopped OKL, you know that you must act fast or the item will be gone. If you haven't begun your One King's Lane addiction, follow this link! You won't be sorry—but your husband might 🙂
This design has been so much fun for me and ALOT of work for her.  I'm so thankful to her for all the hard work and love she puts into her projects.  I can tell she LOVES what she does and I'm very aware that she is worth far more than her debut pricing would suggest.   Her design queue filled up quick in the last 2 weeks so there's quite a wait now but she's so totally worth it if you you're not in a hurry.
Overall, I think this design fits with my Texas, eclectic cottage self—with a little glam added in!
If you have any specific questions about the design, email me and I'll do my best to answer your questions.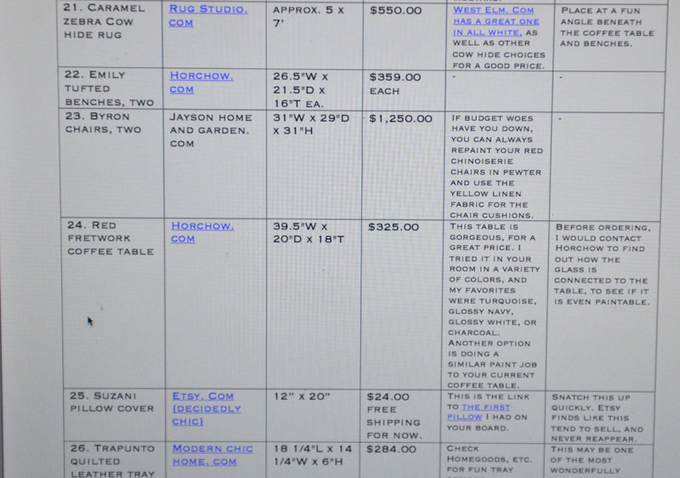 Hope you have a blessed Memorial Day! We'll be enjoying the lake today—wishing our house was done already!!
xo,
edie