After our house fire, I can't count how many times  I rehearsed the words over in my head these last few weeks?
"It's just stuff. It can all be replaced. Thank God we're all okay. Forget about the stuff."
I've said it a thousand times if I've said it once.
And I know it's true. I know it is.
And really, in the big scheme of things, none of it is permanent. It's all temporary.
So why am I lonesome for the stuff? For the house? For its' comforts?
Why is it so hard to let it go? Why do I wish I could walk in there one more time and look around and maybe just take a few precious things?
Why can't I just be happy and thankful that we have insurance and someday we'll have a house again?
We'll rebuild. We'll buy new furniture.
Family members will reproduce pictures. It'll all be back to normal soon.  If there is such a thing.
Some days and moments that explanation works and some days it just doesn't.
It's okay–and healthy even—to grieve it all. To miss it. To remember all the little things that are now gone.
On the hard days, here's what I think of: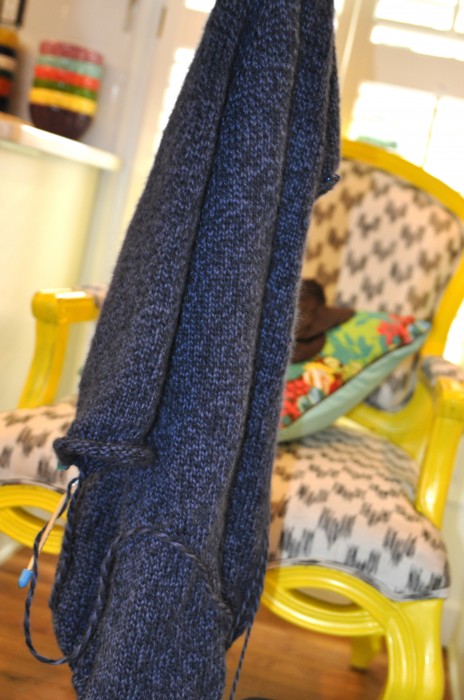 1. Caiti's sweater. I started knitting on it 2 maybe 3 years ago.  When Caiti left home, it was my therapy.  I prayed for her as I worked on it.   I cried, I prayed, and poured myself into it so that when she finally wore it, she would know that a mother's love is tenacious and deep; a shelter from life's cold.   I was about 2 inches on one sleeve from finishing it and hoped to wrap it up for her this Christmas.  Often, I took it with me wherever I went so it was frequently sitting in the front seat of my car.  I'm sure people were tired of seeing me tote it around.   I brought it inside a few days before the fire  to finish it.  And now it's gone.
2. My recipes.  I love to cook and had 20 years worth of handwritten recipes in a stuffed-to-overflowing binder.  That binder is so much a part of my daily life as a wife and mom.  I miss it alot.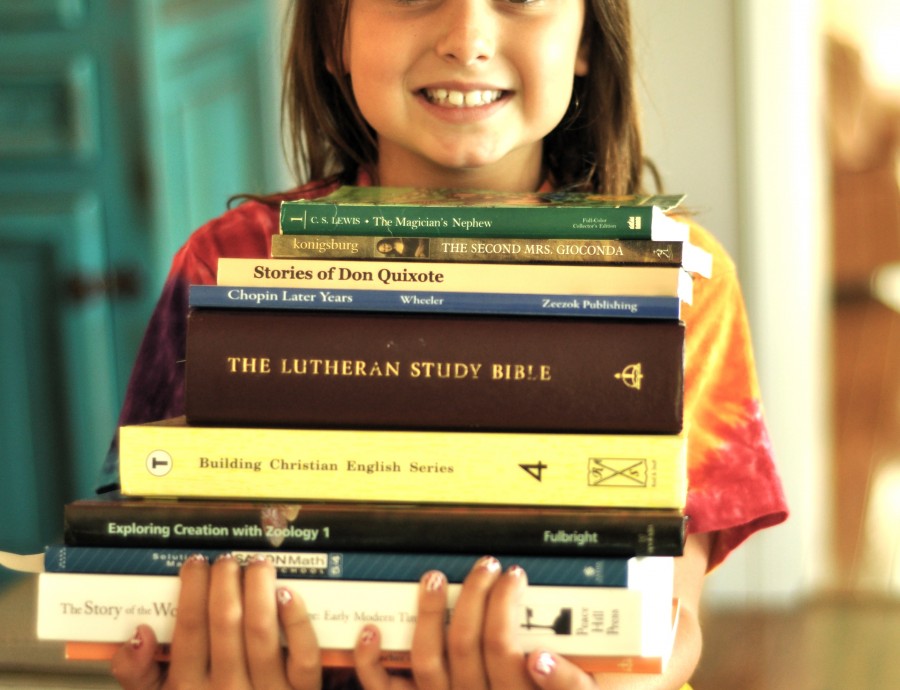 3. Our homeschool stuff. So much of our homeschool materials were an eclectic mix of things I've gathered over 3 years.   We had binders of all the memory work we've done over the past 3 years along with binders full of our *best* projects.   I'm so thankful some of it is preserved here online but I will never be able to recreate it.  So much of it is not 'purchase-able'.   But we'll do our best to carry on.
4. Our books. I know—we can buy more books.   But you know how your favorite books are dog-eared and marked in and coffee-stained and worn?  I miss my books.  I miss my Bible.  (Thanks to Denise and Lynn and Amy, I know have a new one!)  I spent this last year reading the Bible through and made copious notes in the margin.   I'll start over.  I'll mark it up again.  Mercies will be new.   The scriptures will sound different this time.   Perhaps for a short time, I won't take it for granted to have a Bible that I can read at my leisure.  As for the other books, I have the most amazing friends.  THank you so much to everyone who has so wonderfully began replacing my books.  I'm in awe of you, Darcy and Lana and Jessica and Jennifer and all of my bookclub friends.  To see my old familiar books is like seeing old friends.   So much comfort.   So many thanks.
and so many other things I miss…
~my grandmother's ring (I could hardly believe when Richella sent me some of her precious things from her grandmother.  My mom even cried when we opened it and said 'how do you get through these letters and gifts'.  So incredibly thoughtful, thank you sweet friend. )
~my many scrapbooks
~the afghan Steve made when he had a ruptured appendix at age 12  and his mom and grandmother insisted that he learn to use his hands productively during his 6 week recovery.
~the many hand-knit things from grandma
~ my mother's cookbook
~all my children's special boxes
~10,000 pictures (Jessica, you are amazing. I am so grateful for the album.  Such great memories.  Love you)
~my sewing machine
~a houseful of handmade things
~all my antique store finds
~my latte bowl collection (you have been so unbelievably kind to me Ms. Amy.)
~my vintage aprons
~Jadeite cake stand
~all my boots (oh and there were many)
~Taylor's senior picture
~ the queen chair
~ the bust of David (you are some kind of wonderful Nester girl, thank you for replacing him)
~ Mr. Orange Owl (I can hardly believe you girls replaced my owl!!!!—many hugs and thanks to Amy and Valerie–love you girls–I'm giving one to Caiti, who has always wanted to steel mine–it's the perfect gift for the angel on the bridge!)
~my yarn collection and all my finished and unfinished projects
So as I sit here in our temporary home, I can't help but grieve the losses.
Someday soon , there'll be something to knit, something to cook, something to read, a house to decorate, children to teach.
But for now, we sit quiet and thankful for the stuff of memories, those things we *ponder in our hearts*–like Mary—that nothing can destroy, for they are imprinted forever, wonderful gifts from God that will comfort us in our waiting and strengthen us in our doubting.
**here's what else I need you to know:  I have been completely swept off my feet by your kindness and outpouring of love and compassion.  The cards, the emails, the messages, the stories, the love, the gifts, the prayers, the blog posts, the food—-I don't even know how to tell you how much it has all ministered to me.  I don't know how I could have gotten through all this without you.  I really don't.  I'm still working my way through my birthday wishes but I get so emotional when I read them that I can only read a few a time.  I've read and enjoyed every  word you've written, whether it's been online or by mail.  I wish I could hug you all and tell you how much it all means to me.   Please know that I cherish you and thank you for every last precious word.   I will never forget.   Thank you.
**While my mother and my sister remind me not to buy chickens to roast until I own a roasting pan, my sainted brother-in-law spent the evening at IKEA in Atlanta for me last night buying desks/tables/chairs so we can start school this week.   He will surely receive special heavenly rewards for this.  My sister and I waited for his phone calls last night, half expecting at any minute for him to just dump it all in a pile on the floor of IKEA and leave the store muttering curse words in Swedish.  He was such a trooper.  I will NEVER be able to repay him for this.   And he will likely NEVER darken the doors of IKEA again.  Thank you Mark.  Love you.  You're the best.  You took one for the home team.  Stevie is now in awe of you. (I always have been.)
**Oh and btw, just for a little comic relief, here's a list of everything  I owned until a few days ago
a computer, a camera, a smattering of MAC makeup, a dutch oven and 3 pairs of boots.    psychoanalyze at your leisure.