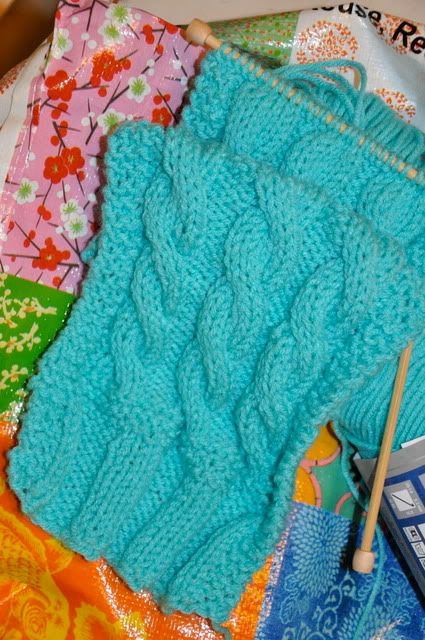 Steve's parents left yesterday and it was a whirlwind of fun; cooking, baking, knitting, and enjoying family time.
I was thrilled to learn to do cables and LOVE this yummy tiffany blue yarn.
Which brings me to the point of this post.
What if we all made an effort toward a more handmade Christmas.
Less stuff, more meaningful.
Not that we could go 'cold turkey' because last time I checked, noone was making handmade legos.
But you know what I mean. A little less Walmart, a little more from the heart.
So, to support and encourage us in our quest for more meaningful gifts, I plan to host
12 days of Handmade Christmas-Tutorials
beginning November 1 through November 12
here on my little old blog
with guest posters for 12 days straight.
Sounds like so much fun to me!!
I have been asking some really awesome bloggers/crafters to join me but I have some slots left
so if you want to show us how to make some Christmas-y craft/food/gift/etc
then let me know all about your ideas.
Or if you know someone
who knows someone
who knows someone
who's really cool and crafty
then by all means
tell a sista.
Y'all may be so good that it turns in 28 days of Handmade Christmas Tutorials!
And why in November?
Because I don't know about you, but I only have two hands.
And I'm working on some giveaways for that week too.
And I'm making wassail
And singing carols
And in general annoying all the people who hate the mention of Christmas
before Thanksgiving.
Let's change things up a bit.
How 'bout it?