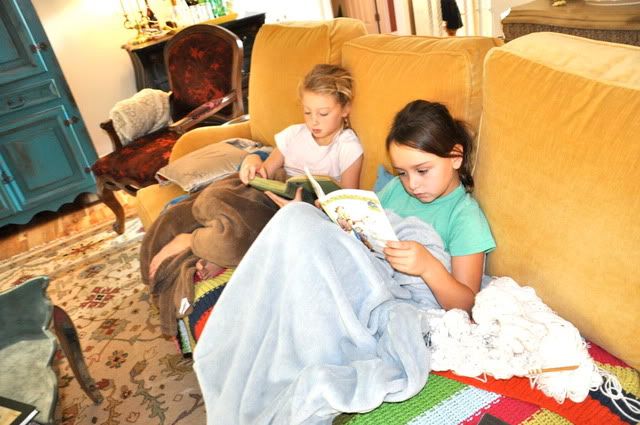 I am no pro at this. I am not even what most would call a 'seasoned' homeschooler. But as year 2 is delightfully underway, I am more convinced than ever that this is where I belong. I receive lots of emails about homeschooling and I am probably ill-equipped to answer them.
I wish I were more disciplined and patient and organized.
But one thing is for sure, I love learning and I especially love learning with them.
Kids are smart and can see right through us. They know us sometimes more intimately than we know ourselves. We can do everything 'right' on the surface and they know if something is missing. I think sometimes they're lack of lots of knowledge makes them more intuitive. I say all that to say that—they know if we are not living authentically—if we're just going through life's motions. My most important homeschooling advice is to live honestly and authentically with your kids. They can spot a fake a mile away. You aren't hiding anything from them. You might as well live in humility and forgiveness. That is a language they understand. So, don't fret so much about the small stuff—whether to do Shurley Grammar or Rod and Staff or whether to use this or that reading program. Live an
honest
, authentic life and they will learn to do the same. The rest will come easy.
So here's what's new and different and definitely working for us this year:
1.
Literature
We spend 30-40% of our day in whole books—either me reading to them, them reading to me or listening to books on tape. This is a big change from just doing a series of worksheets all day. Here's what our reading list looks like so far:
~
Pilgrim's Progress
We are reading this together—and so far I'm doing the reading. Soon enough, when I order more copies of it, they will read it aloud and to themselves. We are reading the unabridged version—-with all it's old english language and we're reading it slowly. Very slowly. Like 5-10 pages a week slowly. At this pace it'll take a year and so to finish it. Charlotte Mason recommended this very slow reading of Pilgrim's Progress as a way to 'live with the book'—to intimately get to know this book, its' main character Christian and its' themes. After one month of reading it with my girls, I am completely enamored with their ability to understand a complicated allegory with very formal language. And I'm also awed at Bunyan's ability to communicate theology in such an inspiring way. I would NEVER have believed that a 7 and 9 year old could understand, let alone, enjoy a book of this magnitude—-but they do. This is a highlight for us!
~
Shakespeare
by Charles and Mary Lamb~~ This is a wonderful adaption of many Shakespeare plays written with beautiful, complex language. We read one story a week in 2-3 sittings. The girls LOVE these. As you know, his stories are often convoluted and can be difficult to follow. But because he's a brilliant writer, they are compelling. The girls almost always want me to read more. And what a gift to give a child: to introduce them to the best in literature at such an early age. Every family, homeschoolers or not, should have this book!
~
Jungle Books/Robin Hood ~~
These classics are also read in smaller sections over a longer period of time according to the CM literature list. We're currently reading JB and will start Robin Hood (likely in January) next. Again, these are the original works and unabridged and meant to be read on a somewhat slower pace.
These books form the core of our literature and curriculum. I also use the CM reading list for the girls' 'reading' books. So far this year, they have read The Saturdays, Understood Betsy, and are currently starting Caddie Woodlawn. This is what I use in lieu of 'readers'—so they read these books on their own (usually a chapter a day) and then read a couple of pages aloud to me.
The website for incorporating the Charlotte Mason method is called Ambleside Online and although we are currently using only her literature method, we are heavily influenced by her philosophy.
We also add 2-3 books a week on top of that to supplement what we're learning in history. For example, because we're studying medieval history, we listened to an audio book on King Arthur this week and read aloud Sir Gawain and the Green Knight. As icing on this very rich 'literature cake', we listen to books on tape every night before bed—usually something 'fun'–like The Wind in the Willows or On the Shores of Silver Lake.
2.
Math
—I thought I'd have to jab sharp objects into the ear drums if I was forced to do another year of Saxon. Anyone who could—day in and day out—-read all those scripted pages for every lesson—deserves sainthood. So, in an act of desperation and self-preservation, I switched to Singapore. And now I know why Asian countries always beat us in math. This stuff is advanced. No more hand-holding and repetition like with Saxon. You're on your own baby. And sadly, I've come to miss the 'handholding' of Saxon a bit. I think our girls have inherited my general lack of enthusiasm for math—-hard as I try to feign it—and I find we need more repetition than Singapore. So, we're doing Singa-saxon, which is greek for 'my own chaotic mix of Singapore and Saxon. I'll let you know how it works out but so far—-so good. I've only had them in tears twice, I think. And my eardrums have been spared from sharp objects.
3.
History
—We are using Story of the World 2–The Medieval World. Did I ever tell you how much
I LOVE
this program. If you could see the list of amazing stuff we're gonna cover, you'd sign up to enroll at our school pronto. We just finished the lesson on Emperor Justinian and Empress Theodora from Constantinople—–which I love to say over and over again. Say it with me, Constantinople. Thankyouverymuch. And this week, we studied Mohammed and the Rise of Islam. As a supplement to our studies, we talked about Islamic extremism and watched YouTube videos of the towers falling and President Bush's bullhorn speech. Talk about wide eyes and questions and interested kids—-they couldn't get enough.
"Where were you , Mommy, when the towers fell?"
"Did you cry?" "Where was Daddy?" "Was I born yet?"
And we learned the five pillars of Islam, which they recited back to me last night, followed by questions about how they can possibly go all day without eating (Ramadan).
With history, I tend to focus more on Western Civilization, so we sometimes skip the lessons on India and the far East and spend more time on things related to christian history. But this program has become a favorite of my girls. They will often say that history is their favorite subject. I'm pretty sure when I was 7 and 9 that I didn't even know the meaning of the word 'history'.
4.
Memory
We are still going strong with our memorization. I bought the Andrew Pudewa program for memorization and have decided NOT to use it as it was intended. I am borrowing many of his selections but we're doing it in our own order and supplementing with other stuff too. There are so many great passages and poems that I want to memorize that I didn't want to be pigeon-holed into someone else's choices. That said, I love many of the poems in his book and we are currently memorizing "Rebecca, Who Slammed Doors for Fun and Perished Miserably"—-which is oddly quite an entertaining little piece. We're also still finishing up on the catechism for the ten commandments, doing regular scripture memory, and adding to our history catechism weekly—-which I basically make up from important events in history. (I also follow the Veritas History cards fairly closely). I use Luther's small catechism and The Harp and Laurel book for sources.
5.
Latin and Spanish
I am completely excited about language this year because we've been able to hire a latin and spanish teacher for the girls. She was their teacher at the classical christian school they attended two years ago and has done a phenomenal job so far with them. They are already conjugating Latin verbs and using conversational Spanish at the breakfast table. She comes for one hour 3x a week and if you live in the Morristown area, she has more slots available. Just email me if you're interested. I'll be featuring her soon on my blog because she also makes jewelry and has an Etsy shop. I feel so blessed to have her and the girls are learning oodles.
6. Grammar—I settled on a combination of Shurley Grammar and Daily Grams. The girls love the SG chants and this week we added the preposition to our arsenal of words we can diagram in a sentence. We do a 'Daily Gram' everyday and then do about 3 lessons in SG a week. It's working so far but I will likely switch (in a year or two) to Rod and Staff Grammar because apparently (according to Susan Wise Bauer) that is the only program that teaches the correctly and fully how to diagram sentences. For now, I like the chants and the question/answer flow of SG and the repetition of Daily Grams.
Our other subjects are basically the same and you can read about those
here
. We have also started piano this year, which has been so wonderful! And the girls are swooning over their new dance classes (Lakeway School of Ballet and Dance). Between the two of them, they're taking ballet, tap, jazz, irish, lyrical, hip hop and progressions. Basically, I watch little girls read and dance all day. What could be better than that?
This Irish dancing is contagious—and how about the fact that she's 7 and has had maybe 7 classes so far!!! They're trying to teach me but it could be a lost cause.
By far the best part of homeschooling is the sheer amount of time I'm able to spend with them. We share an intimacy that I wasn't sure was possible between mother and child. It's only made me more 'jealous' over them. Now I better understand why God is a jealous God. He wants our hearts—fully, completely. He loves us unconditionally, has our best interests in mind, and can teach us more about the world and about ourselves than anyone can. And that's what homeschooling has been like for me. It has the familiar 'ring' of a relationship that I know deep in my spirit. I was created for this—–to be in communion with Him and these little ones in a way that is often difficult to put to words. I couldn't be more grateful…..
to be here…..
today…..
in our home……