I have a strange way of grieving. Lately, I am always on the verge of tears. Today, my eyes welled up with tears at least three times and I can't even remember why. But I don't usually slow down or withdraw. I cry frequently and then feverishly keep my hands and my head occupied. (officially called being 'in a tizzy'). It's the only way I know to give my heart a break. So, in this grieving season of little birdies leaving my nest, I'm reading and knitting. Almost ravenously. Since we arrived in MN, I've knit and read nearly continuously. Except for the multitudinous breaks for eating. I guess I should add 'eating' to my list of grieving activities but it seems much less industrious than knitting and reading.


Like this beanie I made for Taylor this week, I couldn't get Psalm 139 out of my head.
You have searched me and known me

You search out my path and my lying down

You are aquainted with all my ways

You hem me in, behind and before, and lay your hand upon me

'You knit me together in my mother's womb'

Where shall I go from your spirit?

Or where shall I flee from your presence?
He will never be alone. His Lord will be ever present. And my beloved son will be 'hemmed in'. He will be surrounded by a hedge of protection. (And a cute little beanie hat). I know that I need not worry. But I also know that this is just one more stage in the process of letting them go. And I don't know any other way to walk through that valley except one painful step at a time. So bear with me. My heart is heavy. My thoughts and days are bitter sweet.
I guess I should be thankful that I'll still have this one home to make me laugh. I've been trying to think up a good rap name for him. Maybe S. Macdaddy Wads or better yet, all one word, Smacdaddy Wads. And just that quick I go from tears to belly laughs. Welcome to my emotional roller coaster.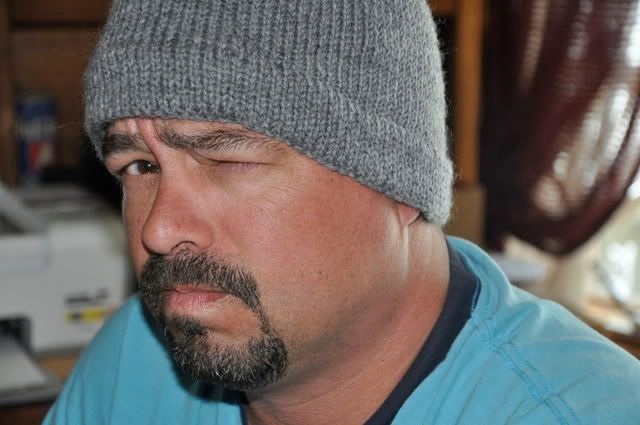 ~~BTW, I did NOT ask him to pose. This is his natural gangsta face. Be very afraid.
~~And thanks to Grandma Evadne for her patience with my facial contortions when she told me I was going to have FOUR knitting needles going at once. She's a saint with my questions and mistakes.
~~ Caiti like the beanie so much, I've started one for her. I feel a tsunami of tears on the horizon.