To the poet, to the philosopher, to the saint, all things are friendly… all days holy, all men divine. R.W. Emerson
Our homeschool starts almost as soon as we get back from vacation. I've been reading and searching and making our final selections. We're making some changes this year, mostly in literature and math. In literature, we've decided to follow the Charlotte Mason approach, introducing more difficult classic books at an early age. Our list for this year for my 2nd and 3rd grader includes Pilgrim's Progress (which is read very slowly over 1-2 years), Tales from Shakespeare, The Jungle Books, The Adventures of Robin Hood, English Fairy Tales, and Heroes, just to name a few. That list seems a little daunting but reading Charlotte Mason this summer has convinced me that children are much more capable than we think and tend to rise to the level of expectation. We'll continue to use supplemental literature from the time period we're studying which will be the middle ages through the Renaissance— from Story of the World.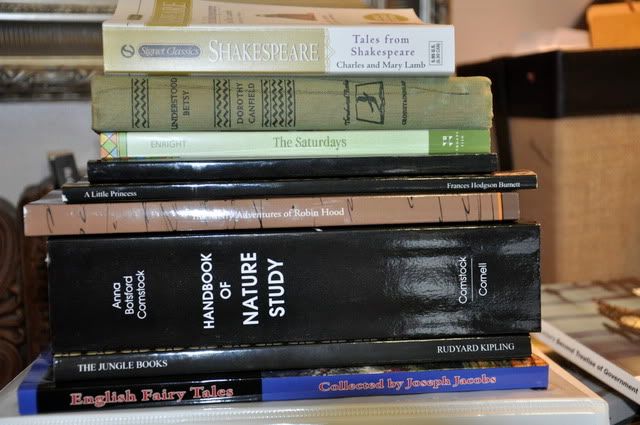 I've also been feverishly working on our timeline. I couldn't find not ONE free wall in this house for our timeline. Not ONE. I was sitting in the school room (ie. garage) mulling it over when it dawned on me that the perfect place for the timeline was right in front of me—-the garage door. So, I quickly got to work and couldn't be happier with how it's turning out. There's something just *inspiring* about a physical timeline right there in the open where everyone can see it—study it—digest it. I used black cardstock cut into strips to make the actual 'line'. Then I just printed off the dates and events from my computer. I basically followed the Veritas History Cards—with some of my own additions and omissions–to decide what events to include. Then to make it come alive, I've been printing off famous classical paintings or sculptures of that event or person and taping it above or below the timeline. It will take me a while to catch up, but once I do, I don't think this will be that hard to maintain. I plan to use the other garage door panels to hang maps. It's just perfect. There is literally ZERO wasted space in this schoolroom.


Other changes include substituting Singapore Math for Saxon and implementing Andrew Pudewa's Poetry Memorization program. We're also working on possibly hiring a Latin/Spanish tutor—-which would definitely warrant a series of hitchkicks on my part. I sorta drop the language 'ball' last year. Apparently, I can't do it all. And although I say that we 'start' school soon, I'm trying to change my paradigm—-we're always learning—school doesn't start and stop. So, on our little excursion to our farm this weekend, we learned about blackberries and ruby-throated hummingbirds……..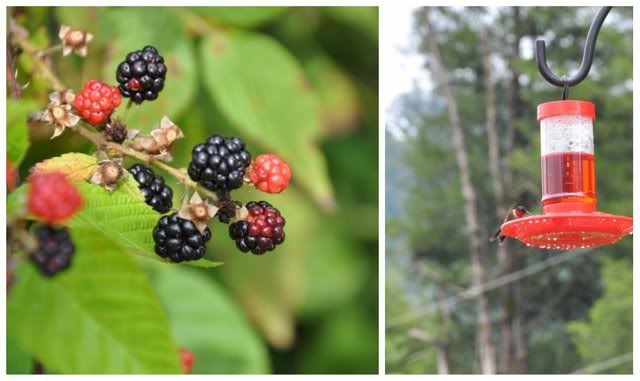 ……..and that fishing is extremely difficult without worms.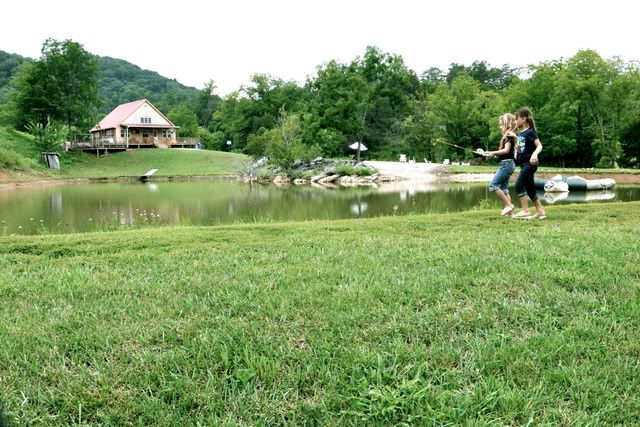 I can't wait to get back to our little cozy routine. And if we can manage this reading list, these girls are gonna be smarter than me by next year.
Spelling–Spelling workout C, D and Charlotte Mason's Spelling Wisdom
Grammar–Shurley Grammar and Daily Grams
Writing–Writing with Ease by Susan Wise Bauer
Literature–Charlotte Mason method reading list
here
.
Math–Singapore and some Saxon supplements
History—Story of the World 2
Science—Considering God's Creation and Nature studies
Latin—Prima Latina and Latina Christiana
Memory—Andrew Pudewa's Poetry Memorization program + our history and bible catechism
Bible–Veritas Judges through Kings—-also finish the 10 commandments and start memorizing the articles of the Apostles' Creed from the small catechism
Art–Study 3 artists: Raphael, John Singer Sargent, Claude Monet
Music—Study 3 composers: Beethoven, Handel, Brahms