We interrupt the regularly scheduled series—-which I shall certainly not finish by Monday—to bring you a few dynamite ideas for the Fourth of Juuuly.   That's how we say it in the South. 
Juuuu-ly.   
With an emphasis on the 'Ju'.  And I'll just confess this right now, I don't have a whole lot of Independence Day knick-knacks.  
Hold on, let me scan around the house one good time. (from the sofa I look quickly in all directions)   
Not even one.   I don't have one Fourth of Juuuly knick knack.   And I probably won't look like an American flag myself.   I'm just not a 'try to wear as much holiday paraphernalia as possible'  kind of a girl.   Not that I don't enjoy cute little girls or darling little old ladies decked out in holiday fare.   Because I do. And it's not that I'm not intensely patriotic.  Because I am.  I get teary eyed almost anytime I meet an honest to goodness soldier, or read almost any book about America's founding fathers, or see little girls and darling little old ladies decked out in flag-printed clothing.
Not to worry though,  I can often be 'over the top' when it comes to my tablescapes.  And I'm never in short supply of flags.   When I saw this
cute little idea
on Kimba's site, with the bandanas, I knew  it would work perfect for my upcoming 'luncheon'.   We dined inside but in true
picnic
style.  I used one of those genu-
ine
camping table cloths and my favorite white plates with red napkins.   Strawberries and cherries in fancy compotes completed the festive table.
 Okay, enough about the tablescape, I must introduce you to the star of the show:  
This recipe came from my favorite source for new recipes, Cuisine at Home.  Have you seen this little magazine?  I've been getting it for about 3 years now–since I stopped hi-jacking them from my mother's house– and have made so many scrumptious recipes from it.   You must subscribe.  I don't mean to make your mouth water unduly, but this is a homeade tart crust (prebaked for 30′ at 375), with basil and fontina cheese layered first, then mandolin-sliced zucchini, squash, red onion, and red pepper, layered next.  It's finished off with generous drizzles of olive oil and salt and pepper and then baked for thirty more minutes.
Then, I searched high and low until I found three cute little helpers decked out in red to skewer the kabobs–jerk chicken kabobs with kielbasa and veggies–from same said magazine.
My style is often to
mix
elements of style–a little retro with my cottage or picnic with my fancy–I think it makes decorating and living in general, more interesting.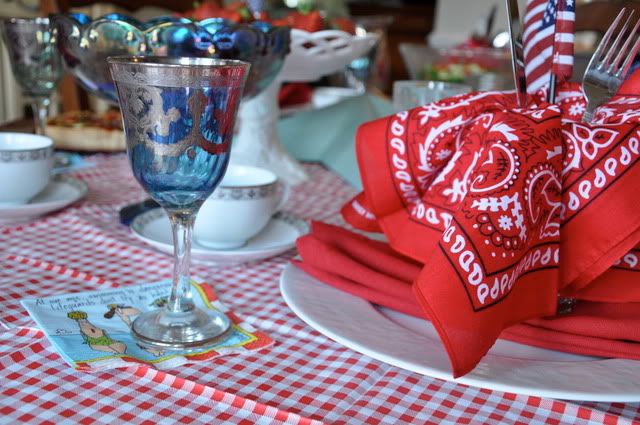 So, I wish you all a Happy Fourth.  Of Juuuly.    And I wish you were here to taste this tart. Stevie says it doesn't touch the homeade pizza I made earlier this week, but he was only mad because I didn't add salami, pepperoni, beef and sausage to this
tres chic
tart.  We're foodies around here, we can't help it.   
We had such a fun visit with our friends Sebastian and Sarah.   And can't wait to see them again!
I hope to post the 'Surround Them with Books' this weekend and then we'll finish up next week. I can't decide if I should do a linky or if you just want to post your ideas for 'Creating a Learning Environment' in the comments.   Let me know today in the comments and my girls  will pick one lucky (at random) person to give a one year subscription of Cuisine At Home.  And if you have any fun ideas for July 4th desserts (besides the cake decorated like a flag or the standard trifle) let us know! 
Disclaimer–I have no affiliation with this cooking magazine, I just love
it
….and
you
!
Post Edit:  It occurred to me while I was running this morning that you might need to hear Juuuly pronounced, at least those of you who don't live below the Mason-Dixon.    And when this song came on my iPod, I knew I had to share with you.   A little family trivia for those of you who enjoy such, our dog Scooter is named after Shooter Jennings—because I thought his name was Scooter Jennings.   And our dog Hank is named after Hank Williams—my daddy's favorite musician.  I'm not a fan of much current country music but I grew up listening to eight tracks of  Tammy Wynette and George Jones–so if I bust out into 'Golden Ring' or 'We're Gonna Hold On', consider it a form of mental disorder forced on me when I was 3 and cut me some slack.   Please, for the love of all things honky-tonk and patriotic, give Shooter a listen–at least until you see those darlin' girls with those sundresses and cowgirl boots (one of my all-time favorite looks)  and until he says
 'Foath-a-Juuuly-yyy"