It's no secret.   We're BIG fans of IssuesEtc. BIG fans.   Our children hum the 'bump' music as they play,  'Todd' and 'Jeff' are household names that need no further clarification.  And if we're talking about Steve's brother 'Jeff', we say 'BrotherJeff', so as not to confuse him with our friend, 'Jeff' Schwarz.  (A big thank-you to BrotherJeff, by the way, for introducing us to Issues). We're warming up to Craig (the newest addition to the crew), but I don't think the children would recognize Craig in a line-up yet.  They could pick out Todd and Jeff in a heartbeat, especially by 'voice' recognition.   They speak as fondly of them as they do their own uncles.   Keep up the good work though Craig, they'll come around.  And if we weren't such blasted procrastinators, we'd probably be on a plane to St. Louis by now to celebrate with our friends in person.  But here we sit.   Stevie in his Issues t-shirt and I with my mug, thinking back to all the great theological, political, and current 'issues' we've pondered over the past three years.  Most of all, I think, Issues has taught us, from the scriptures, the depth of our depravity.  We've learned one thing for sure.   We have 'issues'.   And lots of 'em.
But we're making strides……
We're trying healthy drinks (in our Issues mug)…..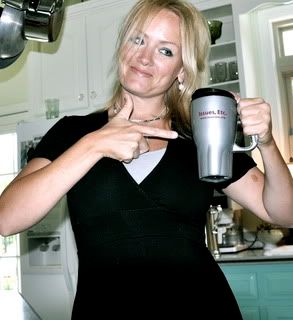 and
light
Lutheran beverages…….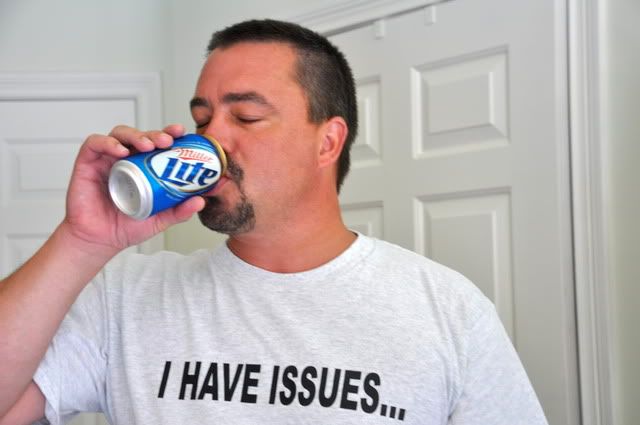 and parenting by grace…….
…..even our marriage has been strengthened to the point that we staged a small ceremony on Sunday to renew our vows and do the traditional wedding toast…..Issues style.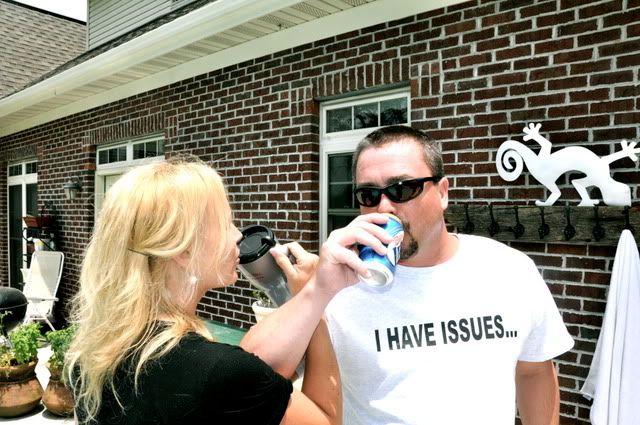 Okay, I'm just kidding
, that's exactly what you WON'T get from Issues, etc—–
How to be a better you.
What you will get is Christ-centered, cross-focused talk radio, where the gospel of Christ is always the answer.   This truly is '
talk radio for the thinking christian'.
They cover current issues such as
gay marriage
,
stem-cell research
,
abortion
,  current
fads
and
trends
in American christianity, and many other culturally relevant topics, including
book
and
movie reviews
and in-depth analyses of other
world religions
.  They also follow the liturgical calendar and teach about historical figures and
events
in the churchs' past always highlighting  events and
teachings
in the life of Jesus.   And our favorite is the theological topics that are so well taught such as Justification,
Baptism
,
the biblical view of marriage
, the Lord's Supper, Worship,  the
Theology of the Cross
, Sanctification,
the Ten Commandments
, the Fall,  
eschatology
,  
Creation
,
Apologetics
, Redemption,
Two kingdom theology
,
Vocation
and the list could go on all day!   This show is a treasure of excellent scholarship, with similiar benefits to attending a college of higher learning, without ever having to leave your house.
The host is Todd Wilken, a Lutheran pastor, who is
the
most gifted, well-spoken, scholarly interviewer I've ever had the privilege of hearing.  He's also an excellent speaker and preacher in his own right and has such a brilliant way of  'getting to the heart of the matter'  on almost any topic.   And Steve and I marvel all the time at how Jeff Schwarz, the producer, can possibly produce a schedule that is always packed with such relevant topics along with well-trained, gifted speakers who are experts in their particular fields.  They provide ten hours of new programming a week and you can listen 'on-demand'  by visiting their web-site, subscribing to them on your iPhone, or subscribing to their podcasts on iTunes.
We are so thankful for their faithfulness to the gospel and for the tremendous resource they have been to us in our discipleship and catechesis.  They're funny and smart and so down-to-earth.   This is christian radio like you've never heard it.  This is christian radio that men will listen to and learn from.   This is christian radio that is rough around the edges and authentic. This is christian radio that you can be proud of.  You will be challenged, inspired, possibly offended, encouraged, and instructed in the faith.
If you're not subscribing, do it today, on their one year anniversary of producing their own show.  I'll be listening live today, from 4-6, from my computer,  by clicking the 'listen now' button on their website.    Join us in supporting men who proclaim Christ, and Him crucified!
Todd, Jeff, Craig—we send you big Southern hugs (except for Steve, who's from MN—he sends a beer and a handshake) and hope you like your Tennessee paraphernalia, that should arrive today.   Thank you for being mentors to so many christian men.  We celebrate with you and stand with you in support as you continue to be faithful to the gospel of Christ!