Reading Lists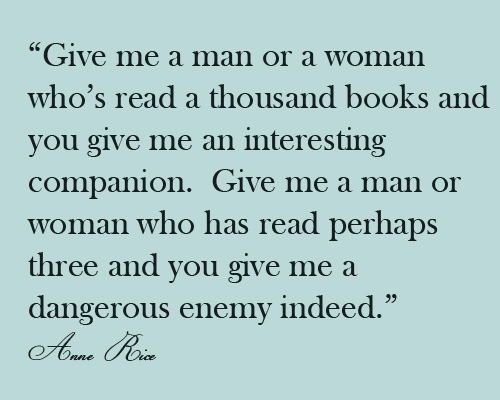 Welcome to our online classical book club. You can you more about the book club here but this page will be updated to reflect our current reading list along with the translations will be using. Below that are my personal reading lists from 2010-2012.
Classical Bookclub Reading List::
September—The Odyssey
October—Sophocles' Antigone
November—-Plato's Republic
December—-Shakespeare's Julius Caesar
January—-Virgil's Aeneid
February—-Ovid's Metamorphoses
March—Augustine's City of God
April—-Beowulf
May—-Dante's Divine Comedy
My reading list for 2012 so far::
2010 Reading List
1. Till We Have Faces
2. Medea
3. Lutheran Study Bible (3 mos schedule)
4. Harry Potter (Book 3)
5. Evangelical is Not Enough
6. Dr. Faustus
7. People of the Book
8. Harry Potter (Book 4)
9. Hamlet
10. Harry Potter (book 5)
11. Thomas Jefferson Education (A Home Companion)
12. Harry Potter (Book 6)
13. Orthodoxy
14. Phantastes
15. Harry Potter (Book 7)
16. The Problem of Pain
17. The Magician's Nephew
18. The Seven Laws of Teaching
19. Paradise Lost (still reading)
20. Wisdom and Eloquence
21. The Horse and His Boy
22. A Single Shard
23. Mary, Bloody Mary
24. The Voyage of the Dawn Treader
25. The Silver Chair
26. Indian in the Cupboard
27. Getting Things Done
28. Bloodroot
29. That Hideous Strength
30. The Return of the Indian
2011 Reading List
The Problem of Pain C.S. Lewis
The Church of Facebook
The Flip Side of Feminism
The Eternal Woman
Jane Eyre
The Wide Sargasso Sea
The Hobbit
Little Women
Anne of Green Gables
Anne of Avonlea
Anne of the Island
Anne of Windy Poplars
Anne's House of Dreams
Orthodoxy
Adopted for Life
Orphanology
Grace for the Good Girl
1,000 Gifts
The Core
So Big
Abigail Adams
I Loved a Girl
Elements of Style by Strunk and White
The Great Gatsby
The Quotidian Mysteries
You are not authorized to see this part
Please, insert a valid
App ID
otherwise your plugin won't work.