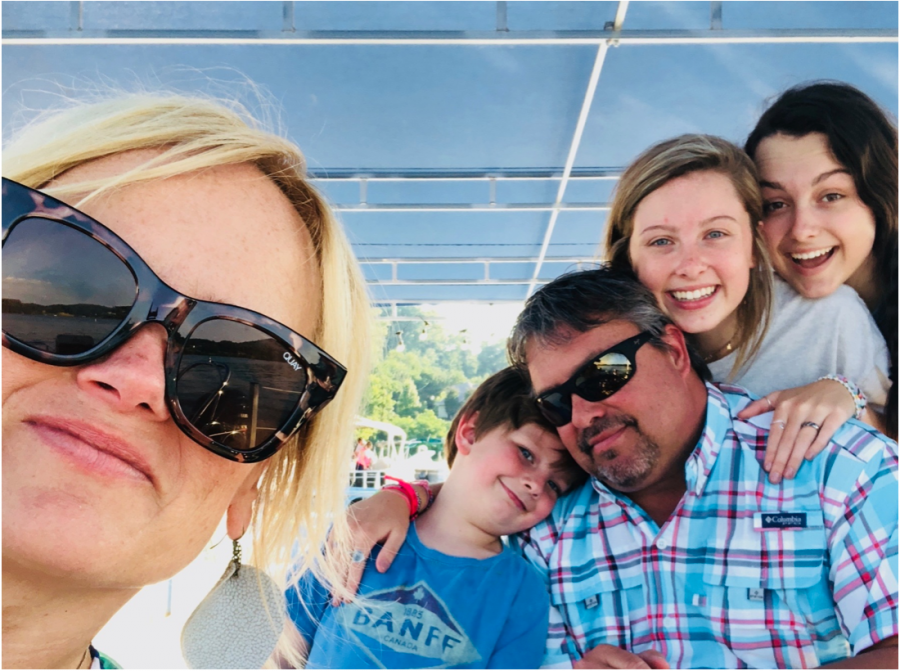 I got the sweetest message this weekend about my book.
A new friend was about halfway through All the Pretty Things (my spiritual memoir about growing up in Southern Appalachia in the midst of poverty, addiction, and abuse) and could hardly believe what she was reading. She told me she was proud of what I had overcome. Her message meant so much to me.
One of the most surprising things that came out of writing my story was that what I found when I excavated my past was not what I expected to find at all.
I went into writing that book feeling like a victim. I had felt like a victim my whole life. I carried that story around like it was my security blanket.
I'm fatherless. I'm not valuable enough to be loved. I've seen too much. My life has been so hard.
I played those words in my head like they were my favorite song. Over and over for 40 years.
Then I wrote it all down. And what I discovered is that for every time I was rejected, God sent someone who chose me.
For every time there wasn't enough, there somehow always was.
For every situation I had remembered being a victim, I actually was stronger than I thought.
Through the help of one of my mentors, I began to realize that the only pain my past was causing me was ME playing it over and over in my head.
I was sexually abused when I was eight, but I have abused myself with that story a million times.
And when I finally looked at my past from a different point of view, here's what I saw. I saw a girl who was resilient and who managed to get through those hard things without resentment. I saw a dad who was doing the best he could with what hand he had been dealt. I saw that hurt people hurt people and I stopped hurting myself with those abusive stories.
I saw that my past was EXACTLY the classroom I needed for the life I'm now living. It was all FOR ME. It was so imperfectly perfect.
I am no longer a victim to what happened to me forty years ago. I'm a compassionate, strong, and loving woman whose life was a mix of good and bad and who has chosen to rise above it and live life fully and unafraid. I am more than a survivor. I am a warrior.
That story motivates me to do good work, to be a loving wife and mother, to give myself to others in generous service.
How to know if you're being a victim
My question for you is this—how can you rewrite your story? How do you know if you're being a victim of your own life? Do you want to stop being a victim to your past?
The victim mentality can be characterized by some of the following traits:(I know because I was the expert for years)—
always blaming other people
the life is against you mentality
relieve painful memories that prove you are the victim
you feel powerless to your life
you coddle your victim story and refuse to question it, even when it's not serving you
you become cynical and pessimistic about your life
Look for evidence that you are a warrior
Here's the most surprising thing that came out of writing. What I realized is that for all the evidence that I could find in my childhood that I was rejected, that hard things happened, that I was never enough—for all the evidence that I could pile up to make my case to be a victim, there was just as much evidence to the contrary.
There was just as much evidence that I was loved, and adored, and chosen. There was just as much evidence that I had an amazing life, that I got to experience things that changed me in a way that nothing else could. That even though things were hard, I came out of it resilient. That it was the perfect classroom for my life today. That it was the perfect training for adopting a six year old that has come from a hard past. That it was exactly, exactly what I needed, that it was exactly FOR ME.
My life didn't happen to me, it happened FOR ME. And there's just as much evidence, if I really look in my past, there's just as much evidence to support that.
What I realized is that there was just as much evidence for the fact that I am a WARRIOR. That I am a freedom fighter, that I am strong and resilient.

There's was just as much evidence for that as there was for the story I had been telling myself that I was a victim.
Do you see what I'm saying? There was just as much evidence. And which story I choose to live my life from matters really matters.
Sometimes, if I'm being honest, I like the victim story because it's comfortable, and I know how to be the victim, and I know how to make myself feel better temporarily by saying, "Well, sure you struggled with this because look at what you went through."
Sometimes I do that, but most of the time I choose the other story and I choose the other story because it lights a fire in my soul. I choose to believe that things were exactly as they should have been despite the fact that they were hard.
What about you?
So I want to ask you this. Where in your life are you choosing to stay a victim? Did your husband leave, did you lose your job, are you convinced that bad things always happen to you?
So was I. For YEARS. Was I a victim of sexual abuse when I was younger? Yes. But you know what? That happened one time, and do you know how many a times I chose over the past 40 years to abuse myself with that story? A million times.
I just chose keep abusing myself with that story. And if you want to remain a victim, you can. You can keep your story. But at what cost? Is it serving you and is it lighting a fire in your soul for you then to go in the world and use your gifts?
Tell a better story

Here's another way I like to think about it. I was carrying around a huge, heavy weight. The huge, heavy, burdensome weight of my past was always heavy on my heart. It felt like it weighed a thousand pounds. If you'd give me half a chance, I'd tell you all about it.
Here's what I realized, the book that came out a couple years ago by Jordan Peterson, The 12 Rules for Life. One of his rules is to pick up the heaviest weight you can carry.
I love the image of that. We are built to carry heavy loads. But I don't want the heaviest weight that I'm carrying today to be my own past.

I want to be able to pick up somebody else's heavy weight. I want to pick up Thomas's heavy weight and carry his weight for a while until he is strong enough to carry it.
I want to pick up the heavy weight of my husband and carry that weight for a while. I want to be there for the people in my life.
I want to have so much room, I want to have this heart so cleared out that I can then bear the weight of people in my life.
When you allow God to heal your heart from what has happened to you, what has happened FOR you, you will be able to hold the pain of your past and do it without resentment.
Yes, it was painful. I acknowledge that, I'm not trying to Pollyanna sugarcoat it. But it's only painful today if I continue to think those thoughts over and over, and make myself the victim today. I was the victim when I was eight years old. I'm only the victim today, but of my own thoughts about it. And I truly, truly believe that the freedom that we seek is available to us no matter what happened.
And when we learn how to live in that freedom, we can so much more offer ourselves to the world. We're not burdened down by something that we've been carrying for 40 or 50 years. We've let that go, we've acknowledged that it was hard and that it was painful, and we've also decided that we're not going to keep abusing ourselves with it today.
What kind of powerful narrative has your life been and how can you leverage that to create the future you want?
The power is in you make your past mean whatever you want.
Make it mean something that lights your soul on fire, sister.
You are a warrior.
Enrollment in my coaching program begins at the end of August. Get on the waiting list NOW so you'll be sure to get the bonus when we first open up enrollment!