The Young Living specials this month will ROCK YOUR WORLD!! A FREE DIFFUSER for all orders over $300!!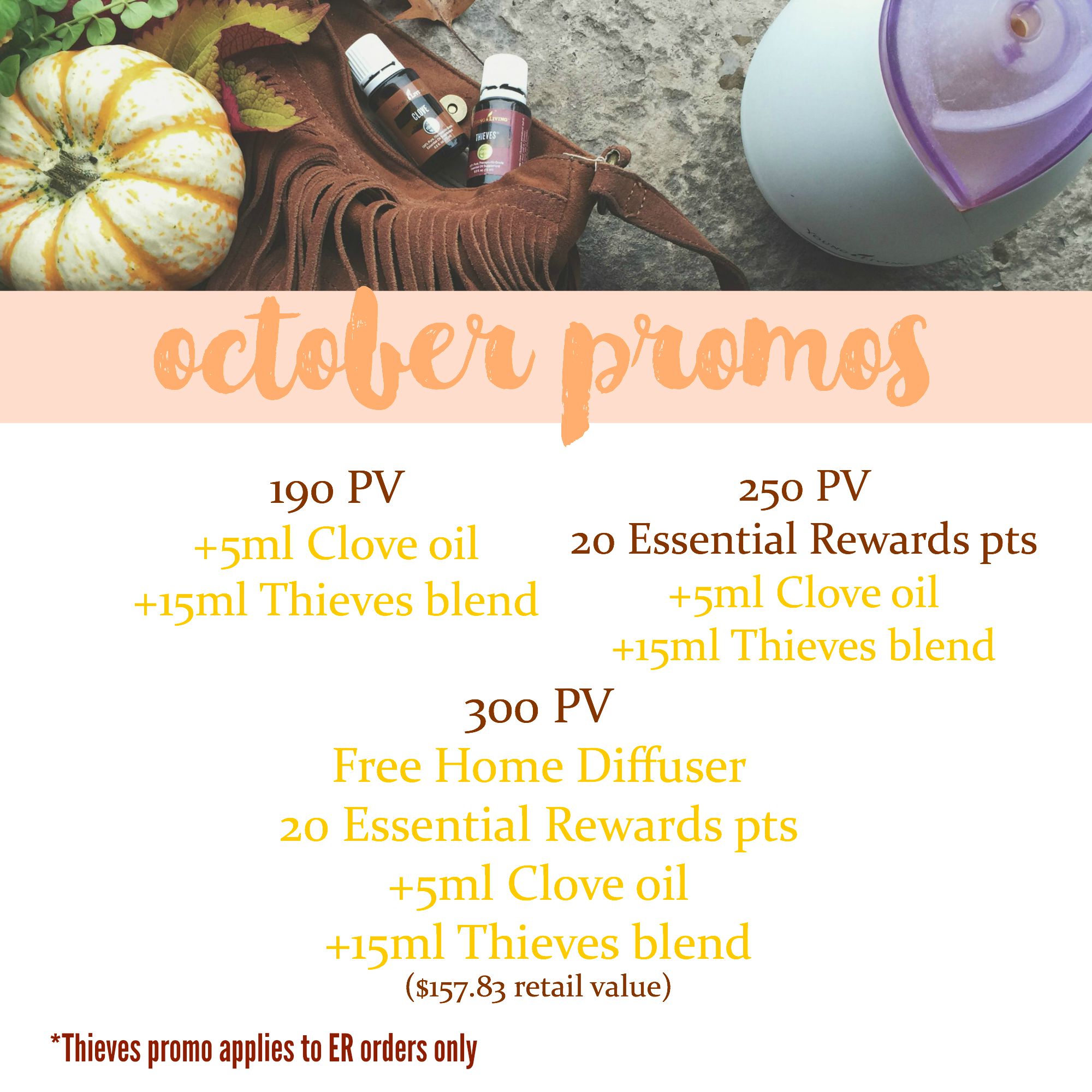 If there ever were a month you wanted to try to get ALL the promos, October is it!! With a $300 qualifying PV order, you will get a FREE HOME DIFFUSER, which happens to be my very favorite one! You will also get a 15 ml bottle of Thieves oil (only on ER orders), a 5 ml bottle of clove, and 20 additional Essential Rewards points, which brings your saving to $157!!!
This is such an awesome month to get started with Young Living, because if you join with a premium starter kit and then add the Ningxia Red Essential Rewards kit AND my favorite winter wellness oil (that doesn't come in the kit) OREGANO, you will spend a little over $300 and get $682 worth of amazing wellness promoting products. You will have everything you need to keep your family happy and healthy through the winter. And you'll have TWO diffusers so maybe you won't have to fight over them like we did when we first got started!
Sign up with me this month and you'll receive a small start guide and my custom immune blend to help you stay healthy this fall and winter!
Monthly Schedule:
Oct 2nd Skype & Live Class with Edie Wadsworth & Kim Miklosovic Essential Oils 101 in Morristown, TN (email for info, ediewadsworth@mac.com)
Oct 4th Facebook Class with Edie Wadsworth TEN Must Have Oils for a Healthy Fall & Winter, click here to join!
October 7th Essential Oils 101 with Edie Wadsworth & Jennifer Lowe in Knoxville, (email for info, ediewadsworth@mac.com)
October 8th Women of Wellness Health Fair,  First Presbyterian Church 4:30-8:30 with Jeannie Jett, Edie Wadsworth, & Lacey Miklosovic
October 9th Essential Oils 101 with Edie Wadsworth & Patti Brown
Oct 15th Young Living Corporate Event in Knoxville
Oct 27th Essential Oils & Structural Adjustment for Vibrant Health with Dr. Edie &  Dr. Heskett in Rogersville, TN
Oct 29th Healing Oils of the Bible with Edie Wadsworth & Jeannie Jett, 11:30, email for details
For more information about any of these classes, email us at lifeingraceandwellness@gmail.com.