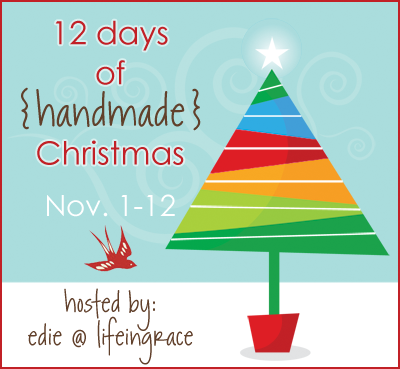 Welcome my new friend Crystal from the blog Little Bit Funky!  Crystal has a fun blog and a great Etsy shop, also called Little Bit Funky,   full of goodies.   Go visit and shop for some of those Christmas gifts before the madness sets in.  And it will set in.  Take it away dear!
I am a mom to two, wife to my one and only and a daughter of Christ. I love to sew and create and blog and share. I am real and honest and genuinely care. And apparently I can rhyme, too.

I love to laugh and think I'm pretty funny. I have an addiction to fabric, ribbon and pretty things that I have no intention of getting help for. I'm thankful to be living a downright dreamy life after all I have lived through. God is good. All the time. Love the messy. Love the beautiful.
Thanks for letting me participate!

Crystal
And for a little smaller project, here's how to make a tissue cozy:
1. Start with four rectangles of fabric of your choice, each measuring 5 1/4in by 4in.

2. Lay two of the pieces together, wrong sides together, putting the piece that you want facing OUT (this will be the bottom piece of the cozy) on top.