When I decided to homeschool, I knew right away where the homeschool room would be;  the GARAGE!  I had already,  four years earlier, painted the floor and the walls and converted it into a playroom, so the transition to 'schoolroom' was inevitable.   I bought bookshelves and the most darling sofa EVER from IKEA and bought an old antique desk from my neighbor Leigh Ann for $5.  My mother and I did all the painting, even the somewhat tedious job of painting the garage floor.  And I conveniently positioned the bookshelves over the GINORMOUS holes in the sheetrock that my Excursion made when I apparently tried to park in the dining room.  Turns out, Stevie didn't mind so much losing a garage;  it probably seemed better to him than losing the whole front of the house to my perilous parking habits.  That car is big, people.  Like you need a special class in parking big. 
We supposedly had some help from these two, but everytime I looked into the garage, they were decked out in bedazzled cowgirl hats and jammin' on the Hannah Montana guitars. 
 I guess your success with
The Verity
may very well have started here, boys.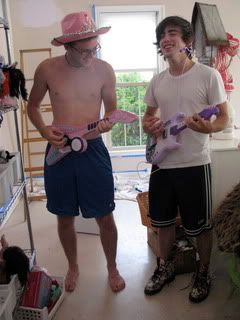 This room has been a place of wonderful
memories
 , has changed a lot over the last year and at this point needs to be ruthlessly de-cluttered.  But one of my favorite additions was the large letters that I decoupaged onto the walls.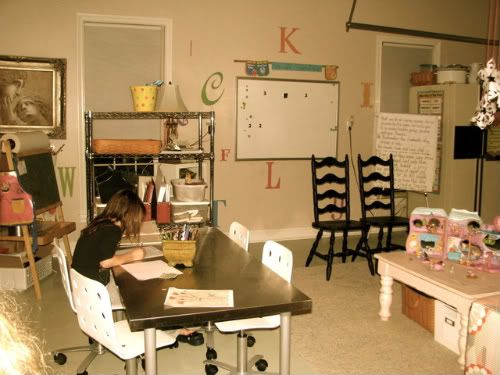 And my very favorite addition:  the vintage Swingline stapler.  It's very teacherly.  Who needs a cardigan with the A-B-C's on it when you have this stapler?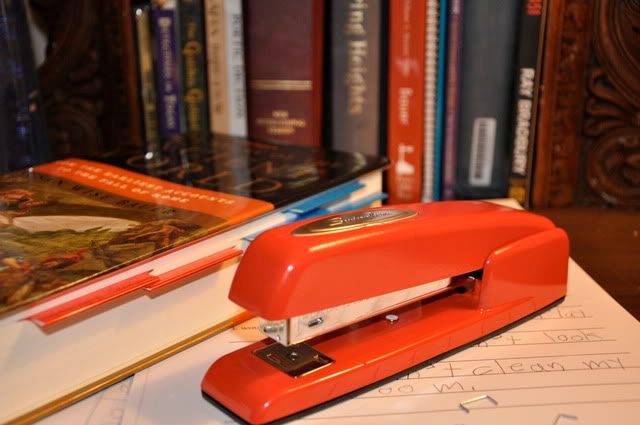 The most commonly asked question about my choice to homeschool in the garage:  How do you keep the temperature regulated?   First off, in the fall and spring, I keep the garage door up and it's kinda like indoor-outdoor school.  I LOVE having the outdoors inside and fresh air 'does a body good'.  In the winter, we use a space heater and in the heat of the summer, we're usually not having school.   Or we do school somewhere else.  Like by the pool.   I LOVE this schoolroom.  It greatly extends our living space and keeps our books and schoolwork from taking over the house. 
as I talk about inspiring and showing love to our families by the environment we create at home.   
for another episode of "Show Us Where You Live".  Check out other fun ideas
here
The Verity is now in Bushnell (near Chicago) at the Cornerstone Festival and are reported to be safe and happy.  They played at the new band showcase today and possibly may even have showered!!  I can't wait to see my Taylor on Monday.  Keep praying for their safety!