My way of saying 'bird watching' or 'linky love'.   Please name this post.   You must use the term 'grace' in your entry.   I will use this post a few times a month to show you great stuff I've found on the internet, but you must help me name it.   Come on, be creative.  Or at least enjoy these links!
1.  I will certainly be ordering  this sign. I found it
here
. Great blog too!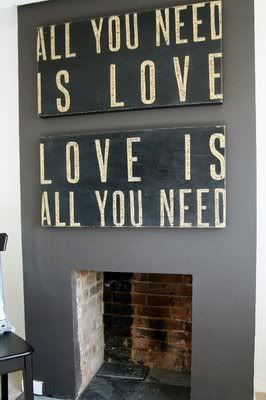 2.  I went to a homeschool conference yesterday for the sole purpose of buying books without tax or shipping and at 10-20% off. I took Nicholas and the girls with me. Nicholas was wearing a DEEP cut V-neck t-shirt with a skull on the front. He had his hat on sideways and wore Caiti's very large white sunglasses. Did I mention this was a homeschool conference? Yeah, I was sure we were gonna be kicked out. But I managed to buy this book. You MUST read this if you interested in education. My blog friend Jessica introduced me to this Thomas Jefferson Education with this audio file. PLEASE, you must listen and read. It will change the way you look at your children's education.   
3.  My friend Patty has a
blog.
  And she is such a good writer and such a good mother and such a good friend.   She brought me the yummiest plate of chocolate chip cookies last week and sends me the sweetest, encouraging emails.   You'll love her writing, especially
this
post she wrote on 'Daughters'.  
4.   Most of you know of my love for the christian talk radio show,
IssuesEtc.
  Steve and I subscribe to the show through iTunes (or our iPhones) and listen 'on demand' (whenever we want).   I usually listen in the mornings when I'm doing morning chores or as I sit and watch the kiddos play in the pool.   This show has radically changed my life.  It's intensely Christ-centered and cross-focused and has been a major part of my on-going 'educational pursuits'.   Their one year anniversary (of producing the show on their own) is this Tuesday.  We're planning to celebrate with them 'online'  since we procrastinated too long to fly to St. Louis.  They recently interviewed Pastor Bryan Wolfmueller on Evangelism based on an
article
he wrote on the topic.   Fascinating stuff!   You may listen
here
.
5.  And last but not least, my favorite 'painted patio furniture' link from my recent link party was
Mandi's.
 You'll love her and her blog!   Thank you Mandi and thanks to all of you who participated.
~~Update on the Verity:   I followed them to lunch yesterday but I did have a legitimate reason:  Taylor forgot his swim trunks.  I gave a few last hugs and left, before I cried again.   They made to SC and seem to be doing just fine.   Breathe.   Just breathe.  Emme has decided to wear The Verity t-shirt to bed every night until they get home…..so we'll remember to pray for them.  Not that there was any danger in this momma forgetting!
I promise to stop stalking them now, but I'm so happy that one of my blog friends might be able to spy on  see them in Ohio.