I'm the queen of kitchen remodels. I've done 3 kitchens in three years.  My newest one was due to a house fire that destroyed our home and is my favorite.  Here's a sneak peak but you can see the whole shebang here or just click on the photo below.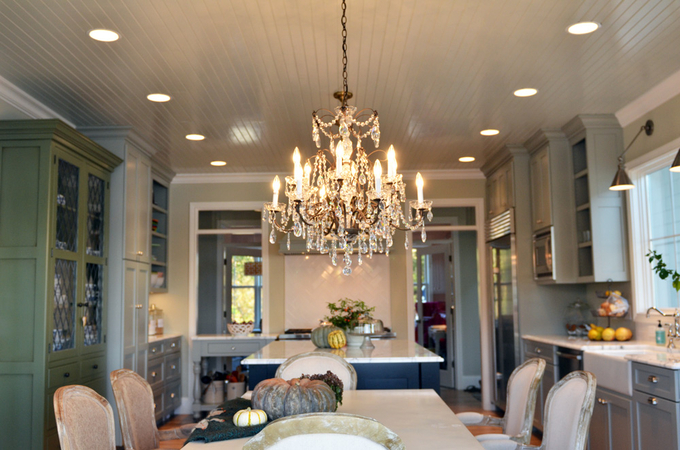 Now, onto painted cabinets!!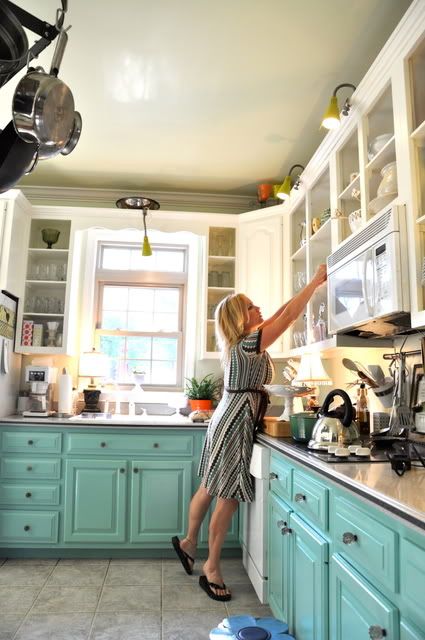 Welcome to my fresh new kitchen and my first ever Mr. Linky party.  I hope you'll join us and tell your friends about all the painted fun going on here at
lifeingrace
today.  I've included way too many photos in this post, but Mr. Linky is somewhere at the bottom of this montrosity.  If you have any painted wood projects that you've done or are considering doing, take some photos and link up with us!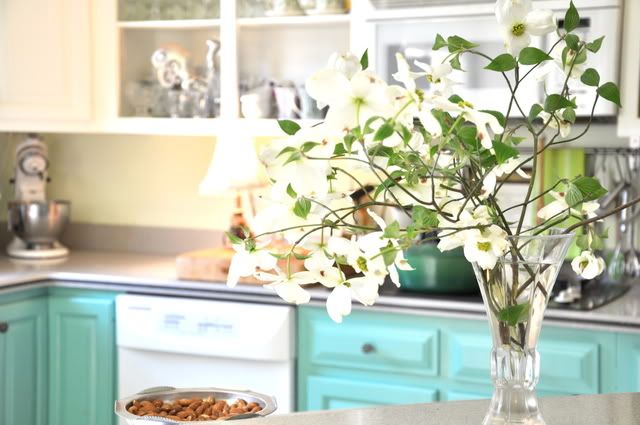 I'm almost ashamed to show you the 'BEFORE'.  I am obviously not a professional blogger, as I forgot to take 'official' before pictures.  So, I dug through my photo archives and found a few illustrations of why 'painted cabinets are pretty'…..and why you should take before photos.   Here's a photo ofthe cabinets before:
and here they are 'AFTER'!!!  I couldn't be happier with how it all turned out.
And although the results look dramatic, it's all cosmetic changes,
I like to paint, but I hired some help to keep it from taking a month to finish.  I painted while
he painted.  Then I painted at night.  And early in the morning.
And in my dreams.   Between the two of us, we painted nearly
every surface in this kitchen…..two or three times, including
the walls, the ceiling, all the trim , and all the cabinets.
This project is dedicated to Valspar primer, which claims to work
without sanding at all!  And I'll vouch that it does.  I would
not have wanted to do this project without it.  This is what
the cabinets look like after a coat of primer.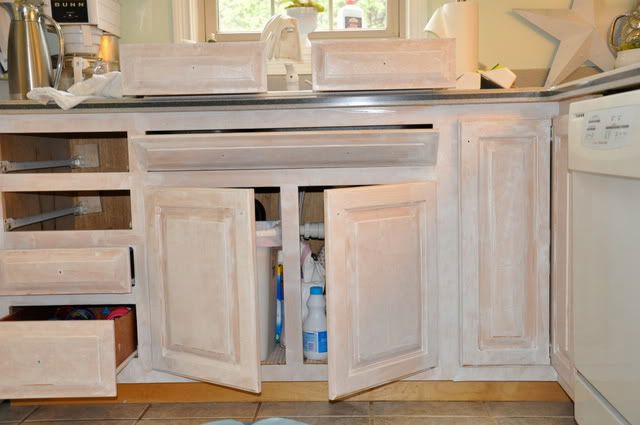 I can hardly believe how much paint can change the look and feel of a room.  I
feel like the queen of all the world in this new kitchen.  This room
sings to me.   It inspires me.    I feel connected to
all apron-wearing, vintage tea-towel collecting, homeade bread making
women everywhere.
I had several kitchens that I used for inspiration.  I wanted a Nantucket/1950's/Eclectic/Cottage/French look, with an ambiance of fresh, elegant and casual.  My genius friend and neighbor, Leigh Ann, gave me the fantastic idea of taking the cabinet doors that I had purposely removed from the upper cabinets and adding them to the back of the plain-ole-plywood island, for visual and architectural interest.  So I (meaning my painter Rick) did just that.
It may be one of the highlights of the project for me.  And I love the
contrasting colors of the island with the other cabinets.  It adds depth and character, along with the feel that the room has been done in stages.   It looks
fresh but feels old and new all at the same time.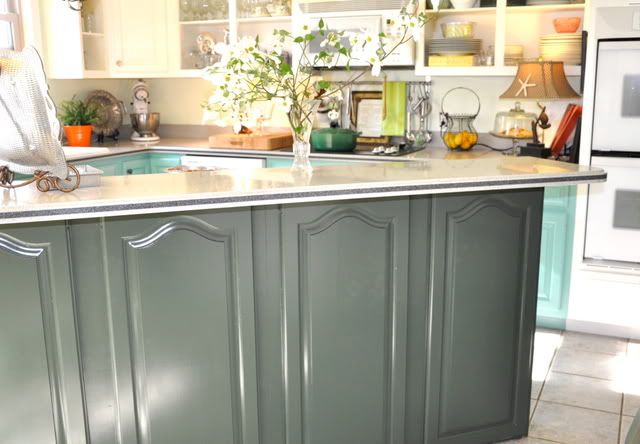 Removing the upper cabinets doors proved to add just the feel of 'open' and 'elegant' that I was looking for.  Nothing is more beautiful to me than dishes.   I've seen other open shelving cabinets that are very sparsely and purposely filled with exactly the right amount and color of dishes, but we live here my friends! So all my dishes had to go in….perfectly matching or not.  I drew the line at the coffee mug full of bacon grease.
It's safely hidden away behind closed doors!
The chalkboard walls that I painted a few years ago
flow seemlessly with the new color scheme.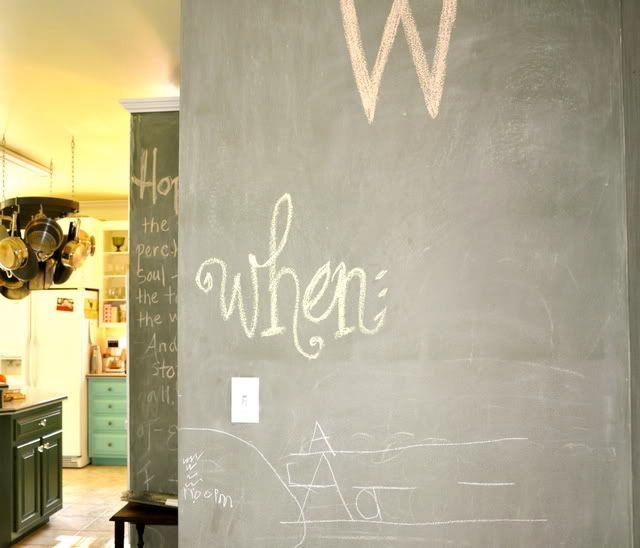 This little corner is a favorite with the lamp and the bird prints…..and of course, the homeade cookies.  You will rarely find that cake plate
empty at this house.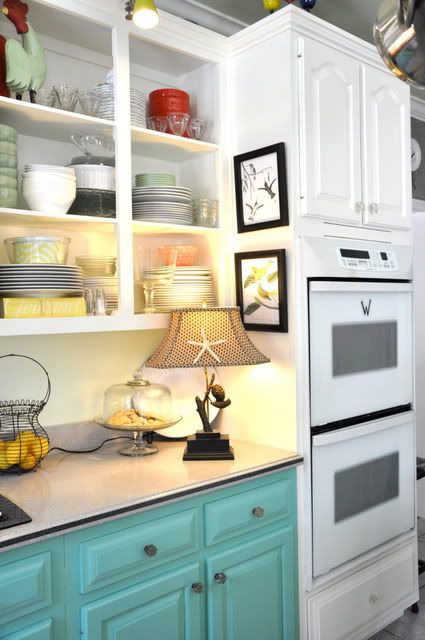 And how much fun do I have pouring my coffee beans from
that flirty orange tin?  Oh yeah, big fun.
And coffee stirrers never had it so good….their own little urn! (given to me
graciously by my angel friend, Donna)
When you're remaking a room cosmetically and on a budget, the details become crucial. I
love these vintage glass knobs that I found at Hobby Lobby.  And the white vintage milkglass compote (which has old fashion POWDER dish detergent in it), along with the splash of color in the potted fern bring just the right balance of
color, texture, old, new, and beautiful.
What once was dark and depressing…..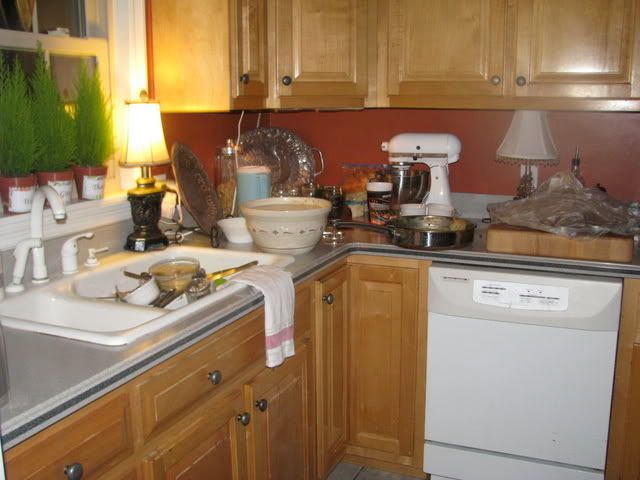 is now transformed to light and beautiful.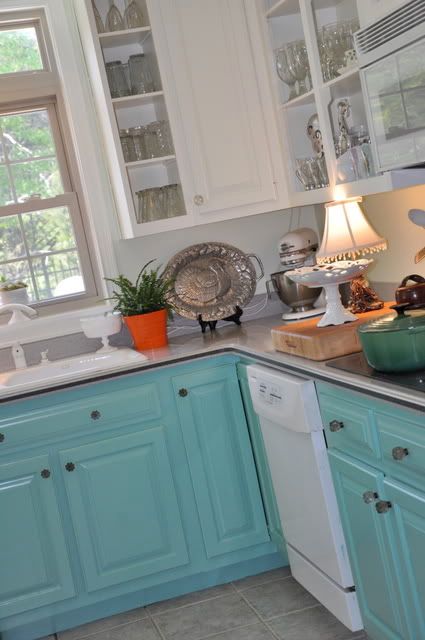 Speaking of 'lights', these bookshelf lights from IKEA could well be my favorite purchase at $4.99 each.  If you don't have custom
lighting, fake it.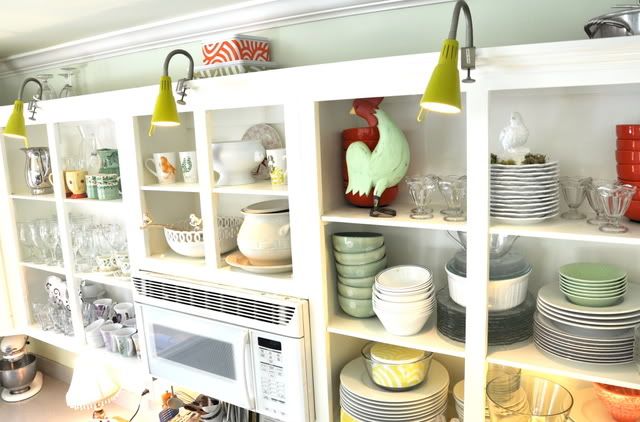 I hope you have enjoyed the tour!
The breakfast room is still a work in progress…..but it's taking on the retro cottage look like a charm!
For those interested, here's a list of the colors I used and where to find some of the items you see:
blue bottom cabinets:  Woodlawn Charm-Valspar/Lowe's
white upper cabinets and trim:  Roman column–Sherwin Williams
dark green island:  Cliveden Forest–Valspar/Lowe's
wall color:  Hemingway–Valspar
Ceiling color:  I'm too lazy to walk to the basement to look
Bookshelf lights:  IKEA
antique glass cabinet knobs:  Hobby Lobby
colorful tins:  IKEA
panels in breakfast room:  IKEA
bird prints downloaded from
here
vintage milk glass–local antique store
chocolate chip cookies–homeade by moi
fresh dogwood blooms–God himself
Still on the wishlist:  white granite countertops, farmhouse apron front sink, subzero fridge, Viking stove, wide-plank walnut floors, one-level VERY large island, sous chef, and  'Alice'
from the Brady Bunch!
Oh, and I almost forgot.  You must paint the ceiling.   It's a must do.   A shade or
two darker than the wall color.
Now I think I'll just sit in here all day and listen to Little Richard sing "Good Golly Miss Molly"!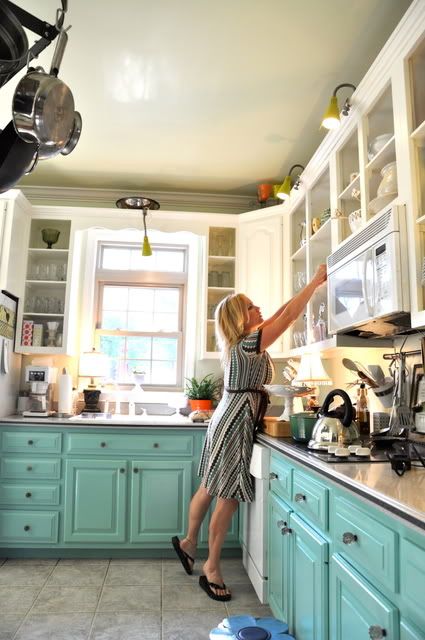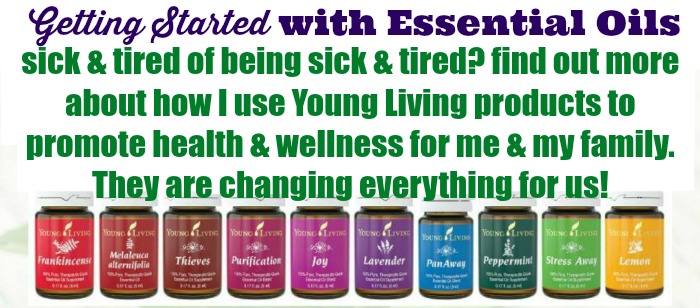 Click
here
to read more about how the essential oils are changing our family's health!
Pin It